A Christ-Centered Christmas — Blog Round-Up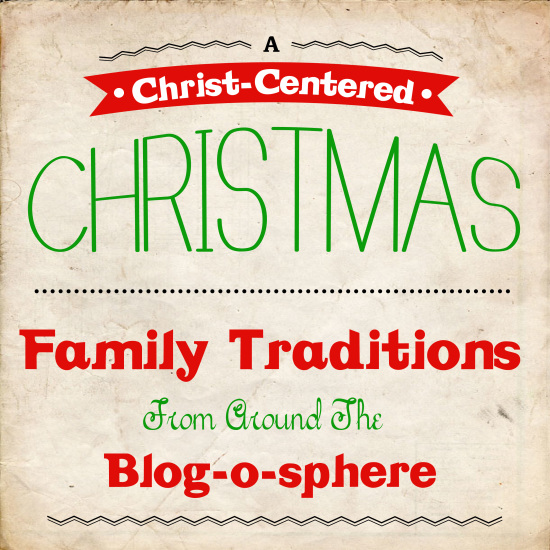 Before our Christ-Centered Christmas Traditions series starts up next week, I thought i'd kick it off with a round-up of some of my favorite Christmas posts I've found this year. There are some great thoughts and ideas in these posts so be sure to check them out!
If you've written a post about how to make your Christmas more centered on Christ I'd love to add it to this list. Just leave the url in the comments and I'll add it!
---
When Your Holidays are Having a Hard Time Keeping Up With The Joneses | Lisa-Jo Baker (Surprised By Motherhood)
"By this time last year, I'd gained a little holiday weight already. Several pounds of dissatisfaction had settled onto the hips of my heart. This time of year there are so many rich lies about what you need to fill you up.
The holiday season seems to be a smorgasbord of expectations impossible to live up to.
I've seen the pictures. The perfect tree, the perfect mantle, the perfect advent calendar countdown experience for the kids. In the past it has made me look around our house with dissatisfied eyes.
I've worried about what I am not giving my kids. And then I've worried about giving them too much. I've swallowed down the impulse to rush around instituting a rash of new family traditions that seem to make other families so happy and fulfilled. I don't bake or quilt or have the time or real desire to make an advent calendar from scratch. I am not a photographer or a crafter. But I've compared nonetheless. And I've come up wanting. And so tired."
 Favorite Advent Resources | Tsh (The Art of Simple)
"I love the Advent season. There's something special about the anticipation of something, about enjoying the destination towards a grand event. Advent comes from the Latin word that means "arrival"—it's the anticipation of a notable person, thing, or event."
5 Ways to Help You Be More Content This Holiday Season | Jessica (Life as Mom)
"As you know by now, the holiday season is ramping into gear. Black Friday ads, Christmas gift guides, and all kinds of marketing literally shout at us to Buy! Buy! Buy! It can be a little overwhelming when you don't have an unlimited budget. And even if you do, it's distracting from more meaningful pursuits.
I wonder if millionaires get in a frenzy on Christmas. I'm thinking they probably don't. They don't need to find the deals; they don't need to plan ahead; they have assistants they can send shopping, right? Iknow that even millionaires and celebrities aren't completely happy. Money doesn't buy happiness.
Whether the bank balance has ten digits or two, we all need the same thing: to be content with what we have." 
How to simplify the holidays without feeling like a Scrooge | Kat (the Art of Simple)
"If I'm honest, I think it all goes back to the fact I never knew my mom. Don't worry, this isn't a sob story, just a fact.
I never saw her leave a sink full of dishes or forget the snack she was supposed to bring to my school party. I never saw her stressing out about holiday cards or burn a batch of cookies.
…I never saw her fail at Christmas.
So, when I grew up with a home and family of my own, media perfection was my only example. I thought that in order to be a great mom at the holidays, I had to do All. The. Things."
How to Write Christmas Letters with Free Templates | Annette (Blessed Beyond a Doubt)
"Several years ago we noticed a trend setting in with our oldest child, who was just six at the time. As Christmas approached that year, he quickly began telling us what he wanted for Christmas. There were tons and tons of toys on his list. Then he became obsessed with asking how many gifts he would get that year. He would tell me he got "X" number of gifts last year, so he should get "XX" this year.
Uh…hold the phone! Wait a minute! Did I just hear him correctly?
Did he seriously tell me he should get more gifts this year?
OH NO! That had to stop."
Packing the Best Box(es) Ever | Amanda (ohamanda.com)
"I was scrolling through Facebook the other day and saw a picture of my friend Amy. Amy is the former Team Distribution Manager for Operation Christmas Child. She led my trip to the Dominican Republic along with about 8-9 other trips every year. She's the woman who goes into these communities, schools and churches and organizes the whole shoebox shebang.
Anyway, here's her picture:
But the best part is her caption, "It's National Collection Week for Operation Christmas Child. Two years ago in Zambia, there weren't enough boxes for all of the children that showed up. I sat outside with them and told them about Jesus while their friends were inside receiving a gift. They never got a box. Would you pack a box this week, and then another?! What a dream to have enough boxes for every child in the world.""