The BEST Children's Storybook Bible
Inside: What we think is the best toddler Bible! Your toddlers and preschoolers will LOVE it!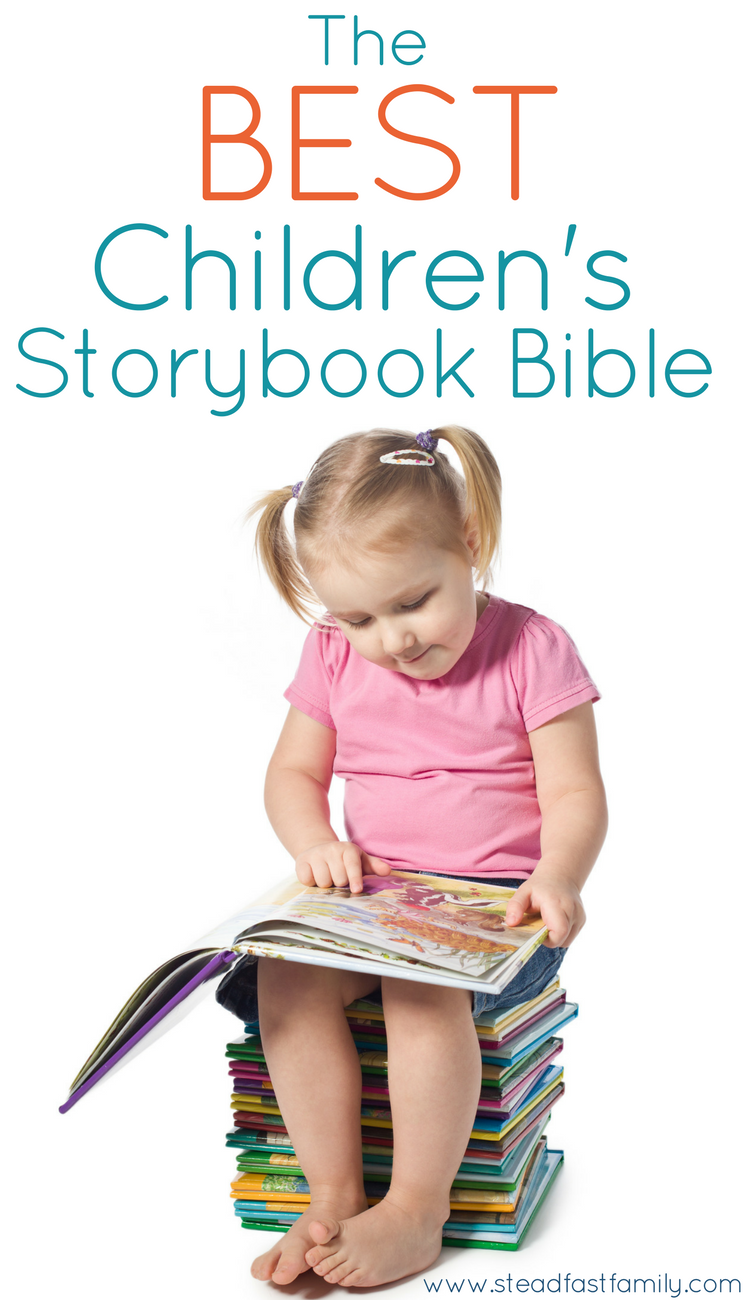 I am extremely picky when it comes to children's Bibles.
Extremely.
I'm looking for a lot in that little package. Biblical accuracy, lack of fluff, lovely illustrations, and all done with text that is engaging and interesting to the youngest audience.
It's a tall order.
So where, exactly, does one find a children's Bible that meets these high standards? Perhaps you've walked into a Christian bookstore or browsed the pages of Amazon lately to find one. If you went into that without a plan, you probably found yourself overwhelmed. An Amazon search for "children's bible stories" brings back a whopping 7,663 results to wade through!
And what happens if you choose the wrong children's Bible? In your desire to begin planting God's truth in your child's heart, you could instead be sharing inaccurate accounts and misleading picture of God's Word. Or worse, nothing at all could happen. The lack of an accurate and engaging story could leave your child bored, uninterested, and apathetic towards God's Word.
What Are You Going To Do?
Affiliate links included.
Well, you could spend a couple hours scrolling through Amazon, reading all the mixed reviews (do people ever agree on those reviews?). You could drive to the nearest Christian bookstore and page through all the Bibles on the shelf, maybe asking the employees for their recommendation (hopefully they've tested them out with their kids). Or you could hop over to Amazon right now and take five minutes to purchase our hands down, number one, most favorite Children's Bible.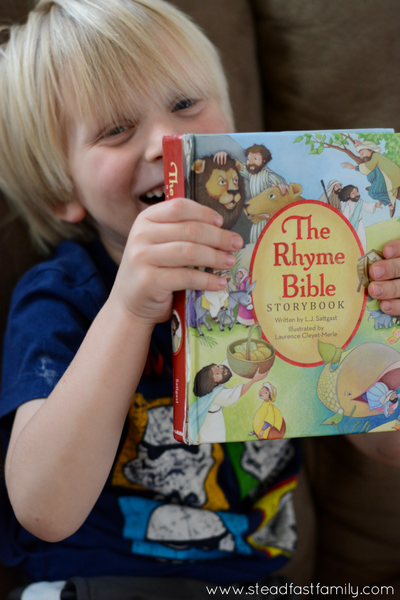 The Best Toddler Bible
We use Bible storybooks primarily for the toddler years, and this has been the best toddler Bible we have come across – and we've tried a lot!
We have been using The Rhyme Bible Storybook since my oldest was just a small toddler and we absolutely love it. We own multiple different children's Bibles, but this is the one we find ourselves coming back to again and again and again. (It's also the toddler Bible we used for the Play Through the Bible series)
And if that's not enough to convince you to go grab it right now, I want to give you a detailed review of why we love this Bible so very much.
(Want even more great toddler Bibles? Check out this post I wrote on just that topic!)
Biblical Accuracy
When it comes to storybook Bibles, this is probably my number one concern. In our attempts to make the stories digestible to children, are we staying true to the meaning of the actual Biblical text? In the many other Bibles I have read or flipped through, there are three common themes I see happening: too much extra fluff, important elements being omitted, and dumbed down stories. With the Rhyme Bible Storybook:
1) There is no extra "fluff" added. The author goes just a little too deep into their imagination, weaving a story that may not actually be implied in the original text. While these stories can be fun to read, they don't always give an accurate picture of what the Bible is trying to say. The Rhyme Bible Storybook is simple and to the point, while also communicating the important aspects of the text.
2) The most important elements are included. On the opposite end of the spectrum we have another problem, vital information being left out. This especially happens with children's Bibles that like to gloss over the more uncomfortable aspects of the Bible. I've seen the Fall skipped over, hard stories tied up with a pretty moral, and even the frighting omission of Christ's death on the cross. While no children's Bible is going to cover all the dark, nitty gritty moments in the Bible (nor should they), with its 35 stories the Rhyme Bible Storybook does a great job giving an overview of the Biblical story, including the most important aspects.
3) The stories are not dumbed down. You'll find this especially in the story Bibles that are marketed towards the very youngest listeners. Sure, the stories are short and simple, but there is not much there either. With the Rhyme Bible storybook, the stories are simple, yet also give plenty of information that can be discussed, dwelt on, and grown into. With this Bible both my one year old and my five year old are able to listen intently while still gaining something from the stories each on their own levels.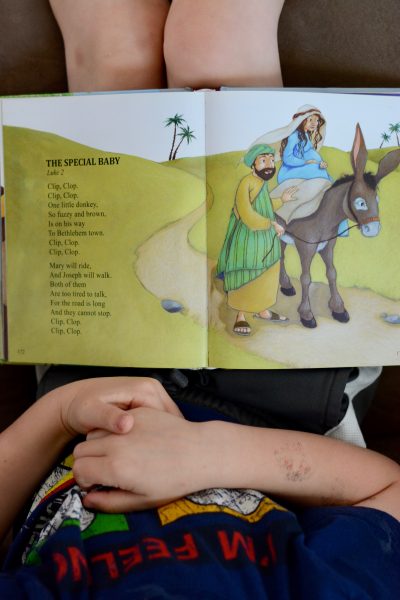 Simple Text
I mentioned this briefly before, but I think it bears repeating. The text in the Rhyme Bible Storybook is beautifully simple. Young children and older alike will be drawn into the lovely rhyming nature of the stories. Yet, the sing-song text is not overly flowery or verbose, unlike other popular children's Bibles that have not done well at keeping my children engaged (I'm looking at you Jesus Storybook Bible).
However, if you find that your younger toddler still has trouble following these short stories, I also recommend The Rhyme Bible Storybook for Toddlers. We have used both versions, and while we don't love the toddler one quite as much, the stories are even simpler, perfect for the youngest children.
Beautiful Illustrations
Beautiful illustrations may not seem like that big of a deal, but I can assure you, once you've glanced through some of the downright goofy looking children's Bible cartoons, lovely pictures are a nice change of pace.
The illustrations in the Rhyme Bible storybook are simple, colorful, interesting, and full of emotion.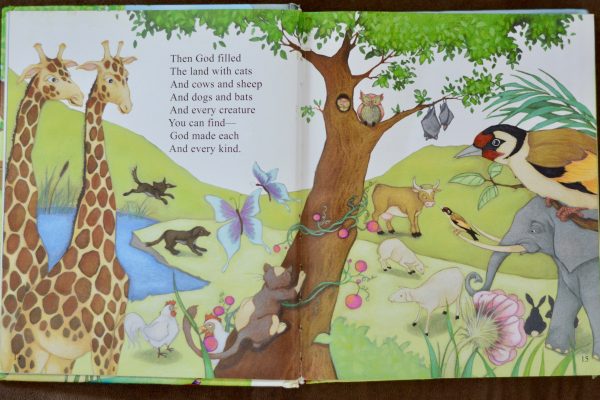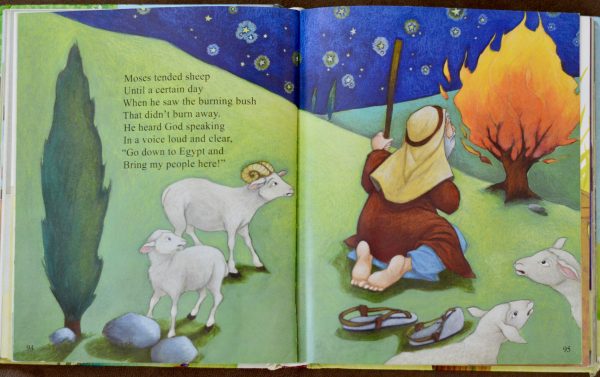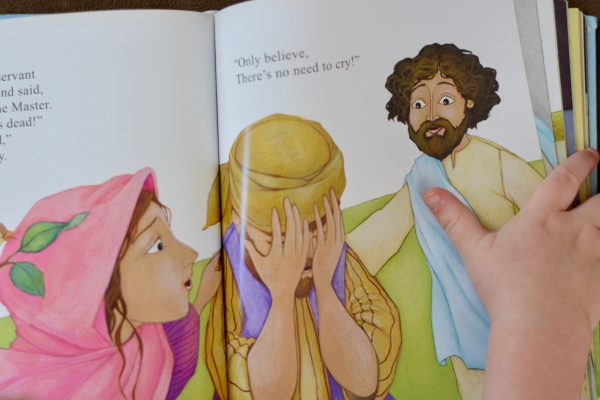 Just a note: there is an older version and a newer version with updated illustrations. We have the newer version of the Rhyme Bible Storybook and also the toddler version with the older illustrations. We like both! Some people do have a preference though and you can find both versions on Amazon.
Well Made Product
Lets face it, toddlers and preschoolers can be rough on books. They are still learning to turn pages gently, close the cover properly, and to not chuck books across the room mid tantrum. Our copy of this toddler Bible has survived multiple years and tons of use from two rough boys. It's looking a little rough around the edges, but still going strong. The binding is sturdy, the pages are thick, and it's made to last.
Engaging and Child Approved
Besides being Biblically accurate, an engaging story is probably the most important part of any children's Bible. If your child isn't interested in listening to the stories, reading them isn't going to do a whole lot.
Every child I have read the Rhyme Bible Storybook to, both my own children and others, have loved it. They have listened intently, captivated by the story being read. Every morning when we do our reading, every story is followed by pleas of "More! More! Another story!" And, while it's possible that your child is the exception, I think if you give this Bible a try you will fall in love!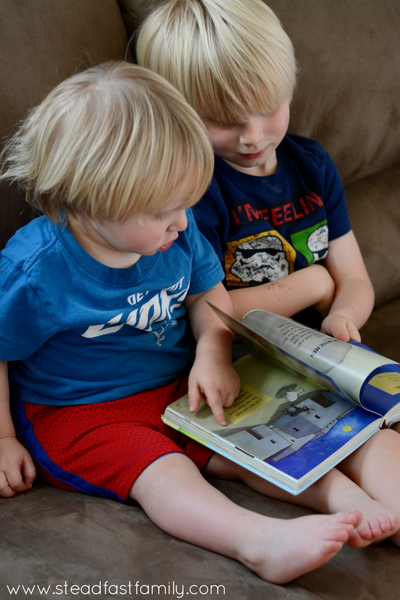 Where to Buy
While I assume the Rhyme Bible Storybook can be found at your local Christian Bookstore, the easiest thing to do is to hop over to Amazon and get it delivered right to your house. New versions of the book run for about $13, but you can also easily find it used for around $5.
Even if you already have other children's and toddler Bibles, this one would make a great addition to your collection. You won't be disappointed! It also makes a great gift to tuck in an Easter basket or give at a baby shower. You might love it so much you buy twenty and give them to all your friends!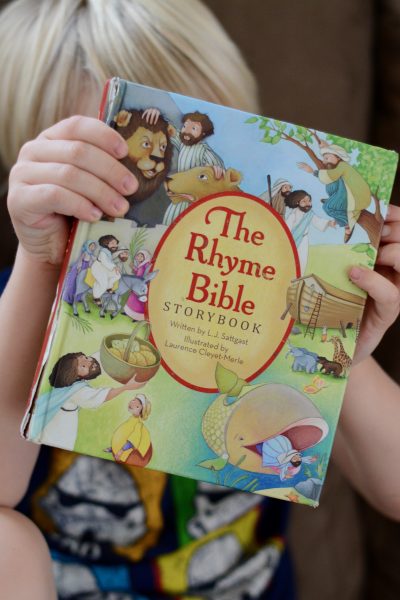 Need more storybook Bible recommendations specifically for toddlers? Check out this post I wrote on just that topic!  This list also looks like it has some great recommendations!
This is NOT a sponsored post – we just really love this children's Bible! There are Amazon affiliate links included, which does not change the cost of the book to you. Thanks for making purchases through my links!