If I could go back and give advice to my newlywed self… (#3 of 4)
My little sister is getting married this Summer and it has got me thinking back to when I was preparing for my own wedding seven years ago. The excitement and the unknowns of it all. The first couple years of figuring out what marriage is all about.
The truth is, we're still figuring out what this thing called marriage is all about, but if I could go back in time and share with my young(er) self my advice after seven years of marriage, I think I'd share four main things.
Today, I'd like to share the third thing.
 
#3 The trials you face will be some of the best things that happen to you.
I covered this a little bit under my second post of this series, but I think it bears digging into further.
You are going to go through some tough stuff. However, you're not going to want to change a thing. Here's three reasons why…
#1 It will force you to lean on each other
Going through these difficulties will really spur you on to develop a mindset of tackling problems together. This mindset will continue to help build and strengthen your marriage when you face problems both big and small later on down the road.
With the right attitude, the problems you face will do an amazing job of bringing you closer together. Sometimes one of you may have to do more of the heavy lifting, and sometimes there might be tension to wade through, but if you stick together you'll make it through.
One more added benefit to this is that, in the future, when you are struggling with the big decisions of life, you will know that whatever path you take you will be able to make it through it if you're in it together.
#2 It will build your character
Consider it pure joy, my brothers and sisters, whenever you face trials of many kinds, because you know that the testing of your faith produces perseverance. Let perseverance finish its work so that you may be mature and complete, not lacking anything. – James 1:2-4
I hate to break it to you, but at the age of 21 you still have a lot of growing up to do. Just like our muscles don't grow stronger when they aren't used, that maturing is not going to happen unless your character is put to the test.
Both you and your husband will be stretched and molded by God through all these trials. Seven years later you will still be learning and growing every day, but by the grace of God, you will be much further along than when you started.
#3 It will draw you closer to God
Much like you must rely on each other to get through your struggles, you must even more so rely on God. You will learn that there are hurts and trials that only the Lord can be the strength to get you through.
Your faith and love for Him will be refined through the trials you face. He will truly become your Rock during these times.
Not only this, but looking back over your life, you will be able to greater realize God's perfect plan for your life. So many things will not go the way you would have planned. Though you may grieve the loss of some of these plans, the joy brought from God's will for your life will far outweigh that.
In their hearts humans plan their course, but the LORD establishes their steps. – Proverbs 16:9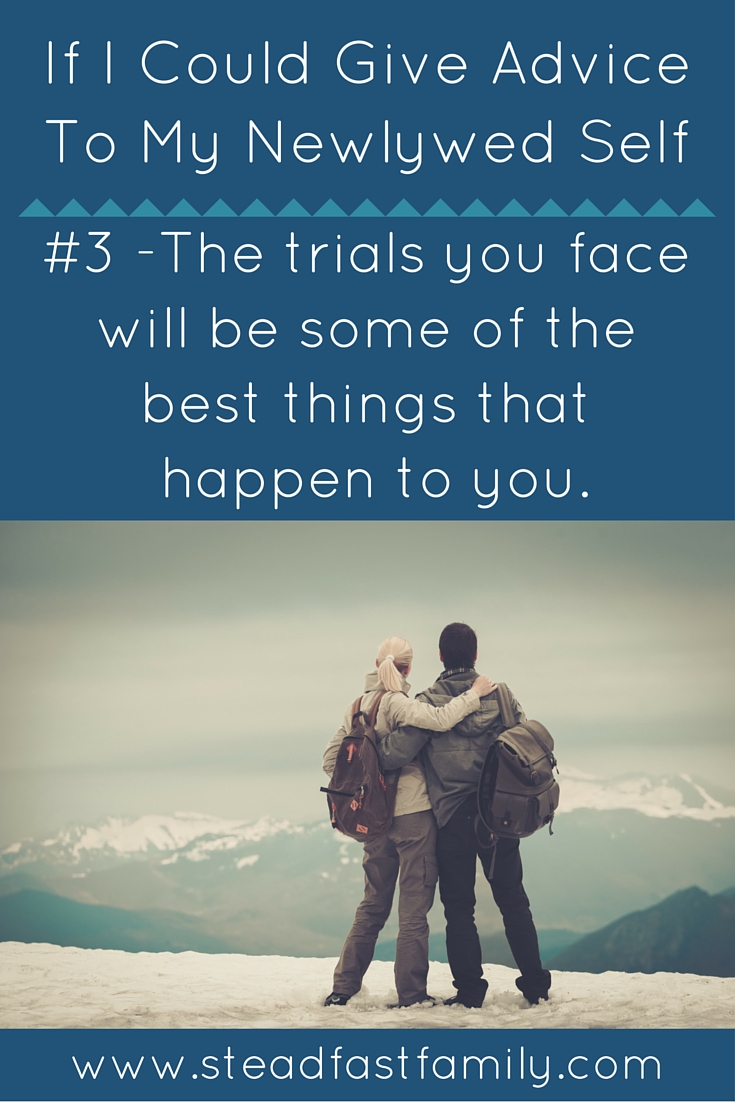 What lessons have you learned through the trials in your life and marriage?
Stay tuned next week for the final installment in this series!