If I could go back and give advice to my engaged self… (#4 of 4)
My little sister is getting married this Summer and it has got me thinking back to when I was preparing for my own wedding seven years ago. The excitement and the unknowns of it all. The first couple years of figuring out what marriage is all about.
The truth is, we're still figuring out what this thing called marriage is all about, but if I could go back in time and share with my young(er) self my advice after seven years of marriage, I think I'd share four main things.
Today, I'd like to share the forth and final thing.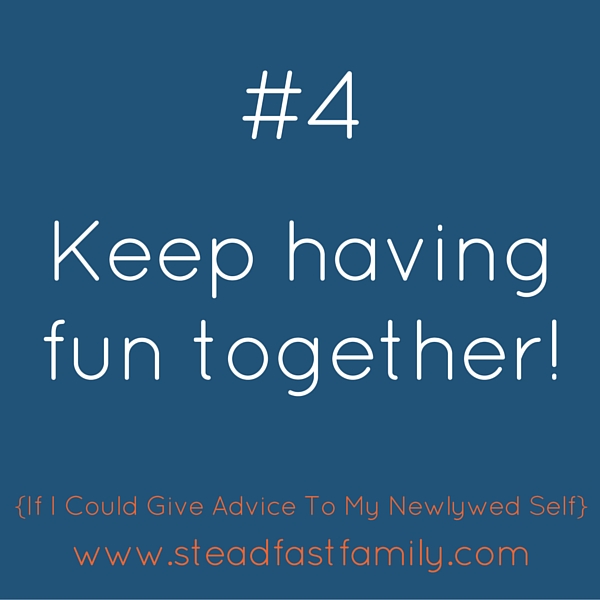 #4 Keep having fun together!
One of the best ways to feel connected is to have a good laugh together. It's so easy fall into the routines and responsibilities of life and forget to make time to have a little fun. I've definitely noticed that our marriage feels strongest when we are laughing and being goofy together.
Here's three simple ways to make it happen…
#1 Make time to just hang out
It seems simple, but it can be so easy in the busyness of life to let the days go by without making time to spend together. When my husband and I just hang out together, no matter what we are doing, we connect a lot through laughter and having fun together.
I will tell you this, these little people that call you mom and dad require a lot of your time and attention. Do what you've gotta do, get creative, but find time to be together, be intentional and have fun. We try to make use of the small pockets of time we do have – after the kids go to bed, in the car on the way to run errands, working around the house together, etc. You can't have fun together if you're never intentional about actually being together!
#2 Be silly together
I think one of the best things about marriage is that you have someone you can just be 100% you with. You can relax, let down your guard, and just be downright goofy.
Maybe it's just the kids keeping us young, but we've got a lot of silliness going on in this house. Dancing to loud music, making weird faces, watching funny television shows, laughing with the kids, and yes, even some bathroom humor (lets face it, I'm outnumbered by boys!). My husband is great at this – he is one of the goofiest people I know. There's good feelings all around when the whole family is laughing.
#3 When things go crazy – you've gotta laugh
A few months ago we took the whole family to one of our favorite pizza places for dinner. It is definitely fancy for a pizza joint, but the food is delicious so we had to stop when we were in town for a visit.
On the way there K, our four year old, starting complaining of a belly ache. We didn't think much of it, because this is a common complaint for him, usually ending up being nothing. We figured he was probably just hungry.
As we got to the restaurant, settled into our table, and started making our orders it became more and more obvious that K was really not feeling well. We suffered through appetizers as K began to make more and more of a fuss. (Never mind you, one year old J was also pulling his usual restaurant shenanigans.)
I took K out to the car and he fell asleep, only to wake back up and continue his (loud) lamenting. After a brief argument over whether this was really a serious ailment or if he was just milking it, I finally insisted we get the rest of the food to go.
Then…as my husband finishes up our order and communicates to the waiter that we need our food to go… K vomits all over him.
The waiter took it all in stride (thank goodness we were seated outside!), we cleaned up a bit, and made our way home.
It was terrible. But in the end – all we could do was laugh. Because it was stressful and huge bummer, but it was also ridiculous. So, instead of continuing the tension and frustration, we just had to laugh.
Let's face it, life can be absolutely crazy. There are a lot of good days, but there are also a lot of rough days too. Whether it's just the busyness of life, or you are treading through difficult waters, sometimes a little fun and a good laugh goes a long way towards brightening your outlook on life.
How do you bring laugher, silliness, and fun into your marriage?