5 Tips for a Successful Bible Time with Kids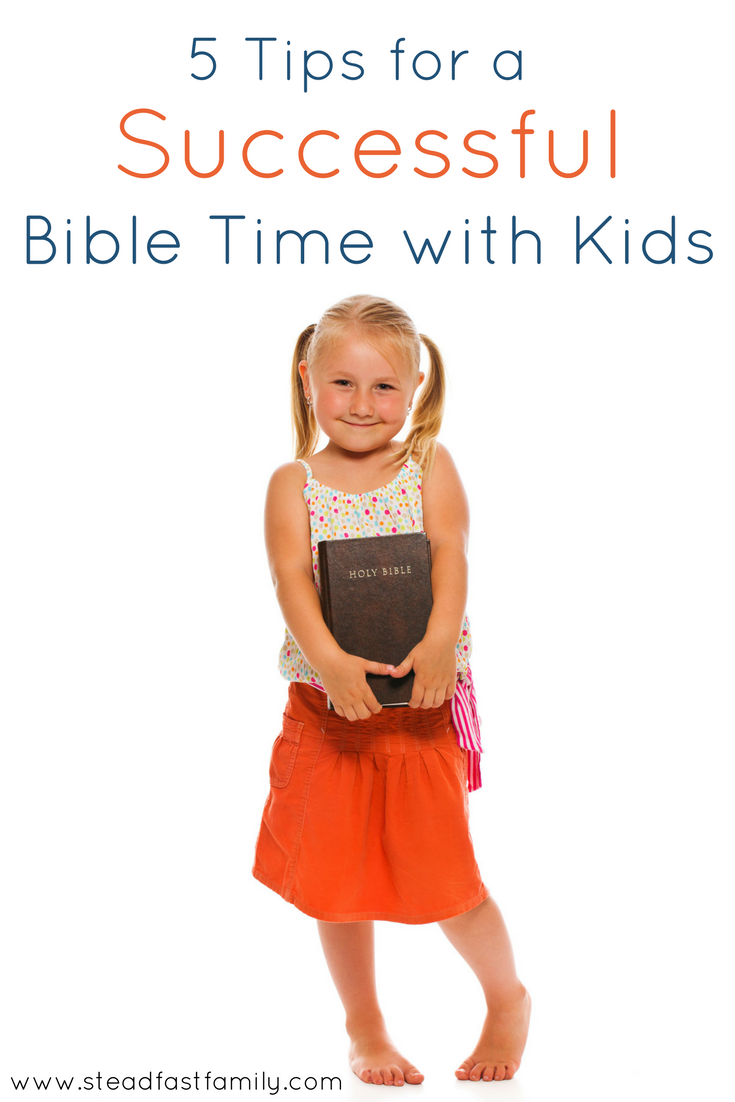 I have a confession.
After completing the Play Through the Bible series I did a terrible job at having a consistent Bible time with my kids. We started and stopped, and started and stopped again. I had lofty goals and didn't see them through. Most of the time I just plain didn't know where to start.
Have you found yourself in this place too?
You know it's important. The desire is there. But the days keep slipping through your fingers without these goals being met.
I've been there. In fact, I'm still there sometimes. However, over the past few months I feel like I've finally landed on something that works.
We haven't been perfect, but we have consistently had a morning Bible time together, opening the doors for lots of great spiritual conversations.
Today, I want to share with you how we made it work.
#1 Find a time that works for you
Does it seem like everyone else in the world starts their days with the picturesque scene of kids delightfully learning about God's world around the breakfast table, but at that hour of the day your brain feels more like your gray bowl of oatmeal?
Say adios morning Bible time. 
Seriously, let it go and be you. Maybe your family works better during a quiet hour when the baby is napping or in the evening when dad is home to lend a hand.
Set a time, embrace it, and then stick to it.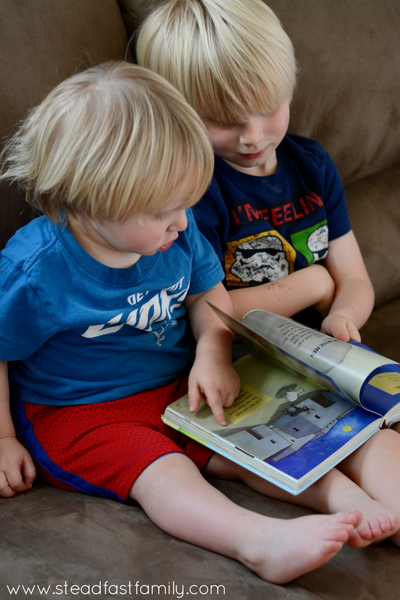 #2 Keep it simple
Like, ridiculously simple.
At least for me, it is so easy to fall into the trap of feeling like I can never make Bible time "enough." Wiggly kids, lack of time, and unmet plans leave me feeling discouraged and I eventually give up.
I finally realized that something small is better than nothing at all. In fact, it's actually quite freeing and opens the doors for continued, yet unplanned, conversation.
And I'm not talking about a "simple" lesson plan or a "simple" list of things to get out of the Bible time. Oh no. We started with one short Bible story at breakfast.
That's. It. 
No lesson plans. No crafts. No memory verses, songs, or lengthy discussions.
We slowly got in the habit of daily starting our day with the Bible. We built our discipline muscle. The kids started to expect the story and look forward to it. We would miss a day or two and then quickly pick it back up again because we could feel it missing.
We stayed here for a long time. We didn't read just one story for a week and declare it mastered, starting to add new elements. This one story was our home base and we stayed and made it nice and cozy until we were able to venture out and add more.
Your home base doesn't have to be a Bible storybook. It could be a song you sing, a simple prayer, or a chapter from Psalms. Whatever feels like home for your family in the stage of life you are in currently.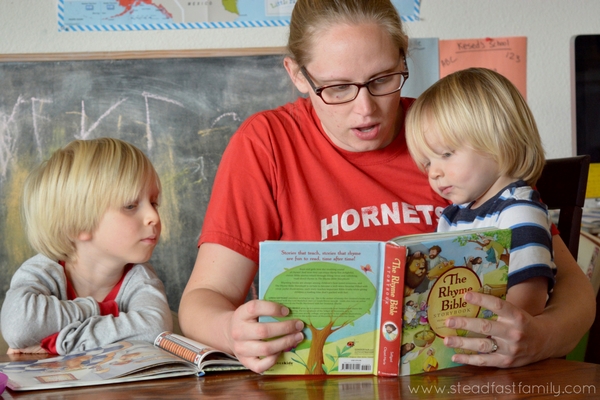 #3 Slowly add more to your Bible time
After camping out in your home base for as long as it takes to build that habit (no rushing!), slowly add in other elements to your Bible time.
Don't feel tempted to add in a bunch of things all at once now that you're feeling confident in your new habit. Pride comes before the fall, yeah? Make a list of the things you would *someday* like to accomplish and pick one.
Introduce that one thing and give it time to become part of the routine. If, at any time or during any particular day, your new routine starts to feel overwhelming – go back to your home base. Do just that one thing and pick back up the new the next day or the next week.
I cannot emphasize enough to take it nice and slow with no pressure. We have been doing this for at least two months now and this is what our morning Bible time looks like (with a 5 and almost 2 year old):
Read Bible story and briefly discuss/answer 5 year old's questions
Read a few pages from God's Wisdom for Little Boys (awesome book by the way!)
About ten minutes of listening to and learning a hymn
That's all. And if we don't do it all, that's okay. If we miss a day, we just pick right back up where we left off. Eventually I'd like to add more, but for now we will probably be hanging out here for quite a while.
Bonus tip: when you do get to the point of adding more, do them on a rotation, instead of trying to do everything every day.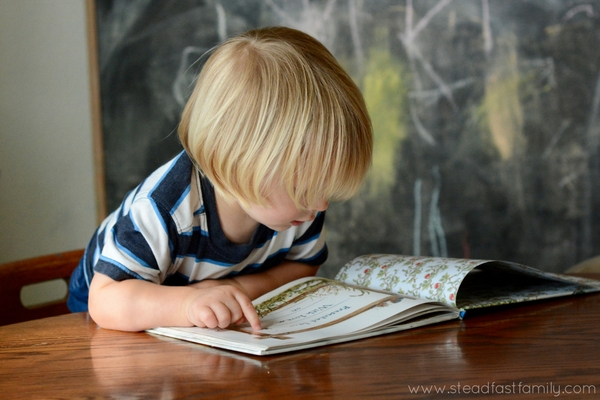 #4 Roll with the punches
It's easy to feel discouraged when things aren't going how you expected.
There are going to be days when your kids are more interested in the squirrel out the window than the story you are reading or would rather run off and play than sing worship songs. Life will get crazy and you will skip a day here and even a week there.
Just keep going, keep coming back to it, keep building the habit. Hold your plans loosely and keep an eye toward the future.
Remember, Bible time is not the ultimate measure of your godly parenting ability. 
While it is definitely important to set a precedence for digging into God's Word and going to him with prayer and worship, you have many more hours in the day. Hours where just walking along side your children through the daily tasks of life can speak more into their hearts and souls than you'd ever imagine.
One of my favorite parenting passages is Deuteronomy 6:5-9…
Love the Lord your God with all your heart and with all your soul and with all your strength. These commandments that I give you today are to be on your hearts. Impress them on your children. Talk about them when you sit at home and when you walk along the road, when you lie down and when you get up. Tie them as symbols on your hands and bind them on your foreheads. Write them on the doorframes of your houses and on your gates.
Let go of having the "perfect" moment and fill your home with the love of God and talk about him daily.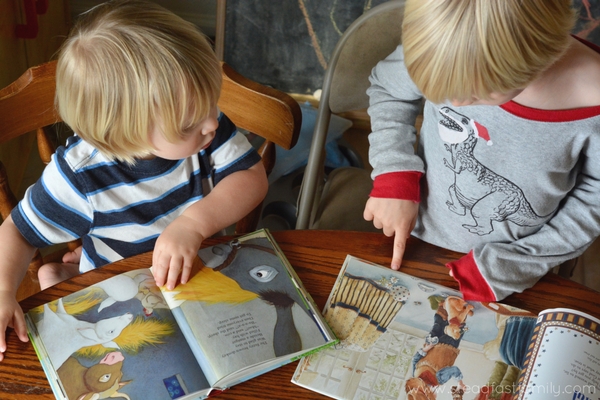 #5 Cover your goals in prayer
In their hearts humans plan their course, but the LORD establishes their steps.
-Proverbs 16:9
Don't try and do this on your own strength. Go to God for his grace and wisdom. Spend time praying over your goals. Spend time praying for the spiritual maturity of your children.
Even with the simple steps we've discussed here, we will just be turning our wheels without God establishing our steps.
Take the next step
So, friend, if you found yourself knowing that having Bible time with your kids is important, but you just weren't sure where to start, I hope you have a much clearer plan now!
If you are ready to take the next step and you could still use a little guidance – I've got you covered! I've created a FREE printable worksheet to help you plan out a Bible time that works for you.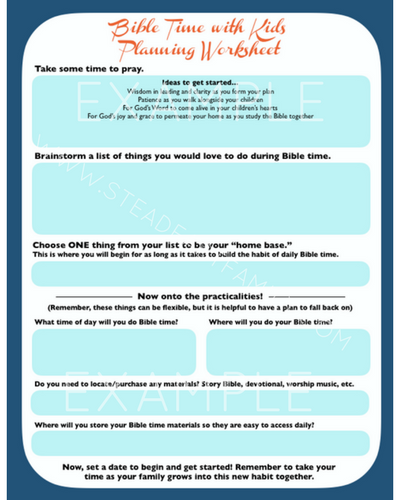 *Affiliate links included.