This post is part of the series "Home Preschool 101." It is a peek into how we do homeschool preschool.
Here are all the posts (links will go live as published)…
Our Simple Preschool Plan 2015-2016
Our Top Eight Preschool Building Materials
Our Top Five Preschool Science Supplies
Our Top Ten Preschool Arts and Craft Supplies
Fruit of the Spirit Curriculum Review
My Favorite Preschool Resources
---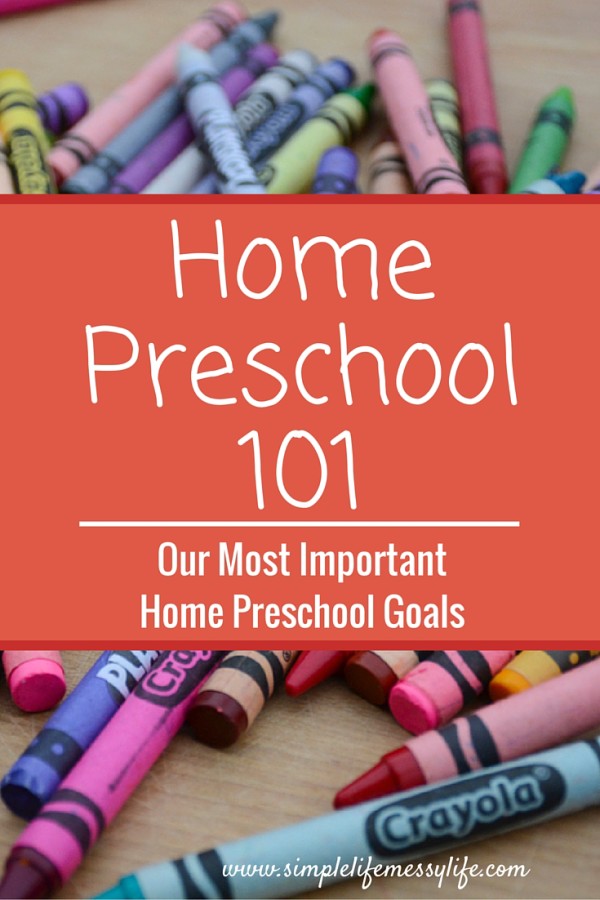 Since K has been born I have done a lot of reading on theories of early childhood education. I am very drawn to Montessori and Reggio Emilia, but overall our homeschooling methods are very eclectic. That's one of my favorite things about homeschooling – having the ability to mishmash things until they are perfect for your family!
So, today I wanted to share with you my top ten goals for home preschool. These are complied from all my reading, my time as a preschool teacher before K was born, and from our experiences so far.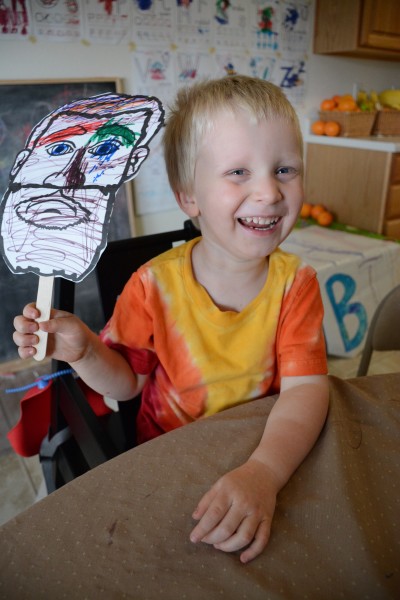 Having fun doing a Bible craft
1. Experience that learning is FUN
While I know that not all things in life are always fun, and that applies to learning as well, overall I believe that learning about new things is an enjoyable thing to do. Even if you are someone who never liked school, I think you can agree that you enjoy learning about things that interest you.
In our house learning is enjoyable and a lot of this is caught rather than taught. So, K sees me excited to go to the library, reading books of my own, eager to look up answers to questions, and enjoying spending time in nature.
We also use things like flash cards and worksheets sparingly in favor of more fun hands-on activities.
Note that this does not mean that I am bending over backwards to create elaborate, super fun activities. Honestly, I think kids are born with a love of learning (just look at all a baby eagerly learns in that first year), so my goal is to just continue to nurture that love that is already there.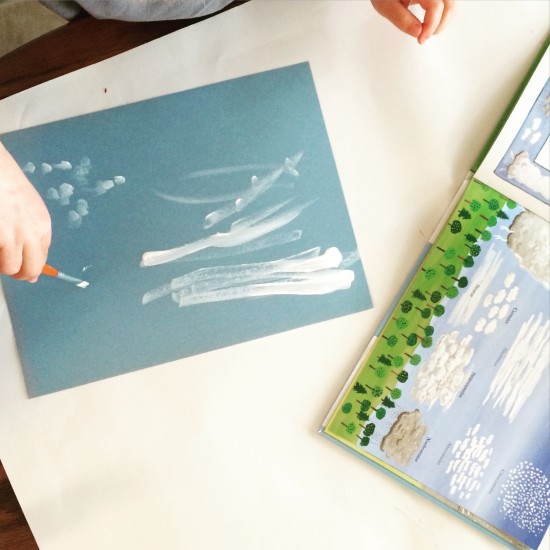 Learning about clouds during our interest-led weather study
2. Use primarily delight-directed (aka child-led) learning
This goes hand in hand with #1. In keeping a love of learning alive, we primarily use a delight-directed approach.
For me this means that not only do we delve into topics that my son becomes interested in, but also I become a student too – of him! I pay very close attention to what makes my child tick, and I take that into account when planning our school activities.
Doing things this way has meant that I have had to change some of my own thinking in order to better teach K. For example, I am a firm believer that a child will learn to read when they are ready, even if that means holding off reading instruction until 6 or 7 years old. So, although we discussed letter sounds often, I was in no hurry to teach K to read. However, soon after he turned three it became increasingly obvious that he was ready to learn to read. So, we started reading lessons, and he loves it!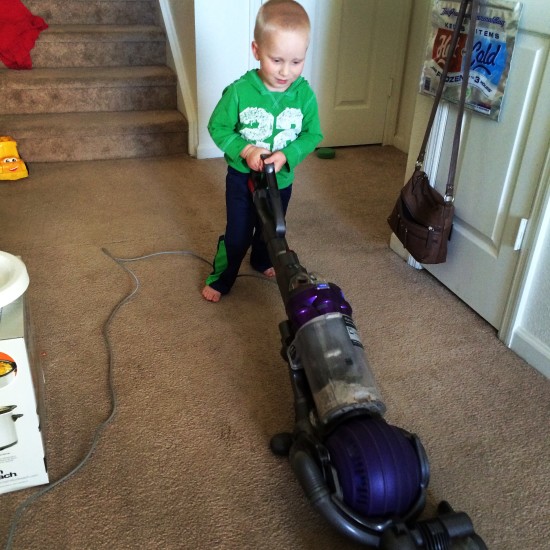 Learning to vacuum
3. Focus on the School of Life
In Montessori education it is called "practical life", Charlotte Mason called them "habits" – whatever you call it, one of the most important parts of early childhood education is just learning how to function in society.
This includes character building, like learning manners and obedience, and learning life skills such as dressing, washing, cooking, and cleaning up. Don't forget social skills such as knowing your place in the family and interacting with friends of all ages.
For me, these types of things are way more important than learning the alphabet or how to count to ten. The early years are the foundation of training and I want to lay the groundwork of good habits as early as possible.
The school of life also means that we learn so much just from living life. We learn about math when cooking, see letters at the grocery store, hear the birds when we play outside. There are things to learn all around us.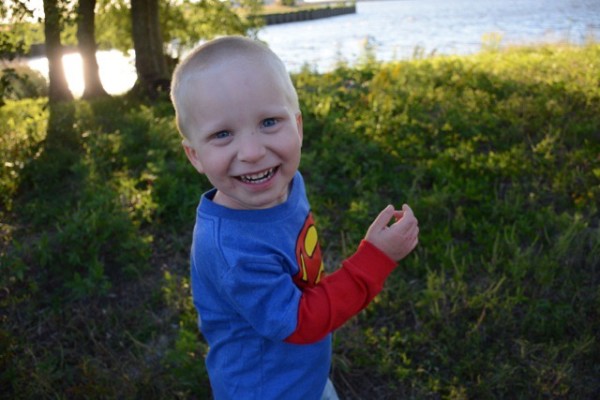 4. Experience nature
As Charlotte Mason said, "Never be within doors when you can rightly be without." Being out in God's amazing creation is so important for body, mind, and soul. Nature is the biggest, most amazing playground there is.
We try to spend as much time outside as possible. I can't wait until the weather cools down here bit so we can get outside more!
Read more about the benefits of play in nature here.
Playing with clay
5. Utilize sensory experiences as much as possible
Learning is done primarily through the senses (especially for young children). We remember the things we hear, taste, see, smell, and feel. I am not going to go into all the benefits of sensory play here, but you can read two excellent posts about the topic here and here.
We incorporate sensory experiences through nature play, sensory bins, and hands on activities.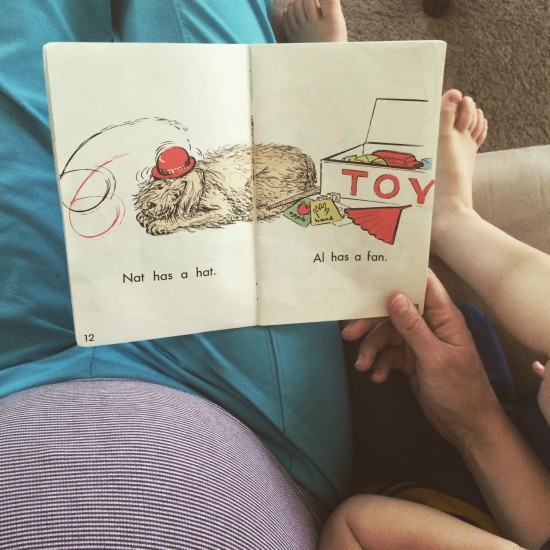 Reading a book together
6. Read many great books
K has been going to the library since he was a baby. He finished the "1000 Books Before Kindergarten" program in under three months, when he was two. Needless to say, we love reading around here.
Life can get busy and we may forget about picking up a book for a few days, but we never last long. K has recently made the jump to listening to chapter books too, so that has opened up a whole new world for us!
You can read more about the benefits of reading to your child here and here.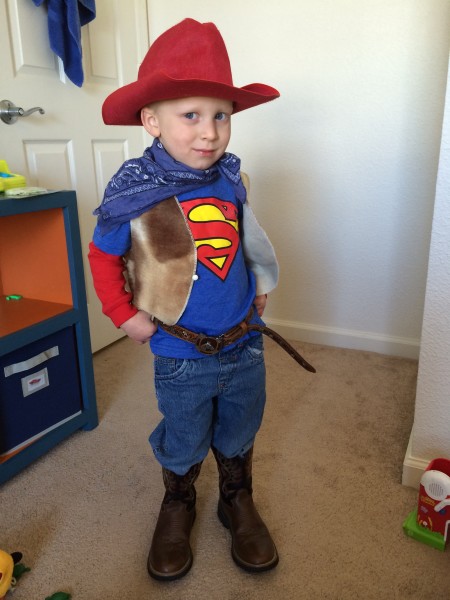 7. Let imagination and creativity run wild
Imagination and creativity are so important. Without them we wouldn't have the lightbulb, the automobile, or this computer I'm typing on (and of course much more!) – not to mention life would be pretty dull!
Here are just some of the ways I nurture creativity and imagination in our home preschool:
Listen to my son's crazy made up stories
Encourage pretend play
Spend time outside
Offer open use of the arts and craft materials
Invest in quality toys that promote open-ended play
Listen to all different types of music
Of course, I also give plenty of time for play, play, play. As Mr. Rogers said, "Play is often talked about as if it were a relief from serious learning. But for children play is serious learning. Play is really the work of childhood."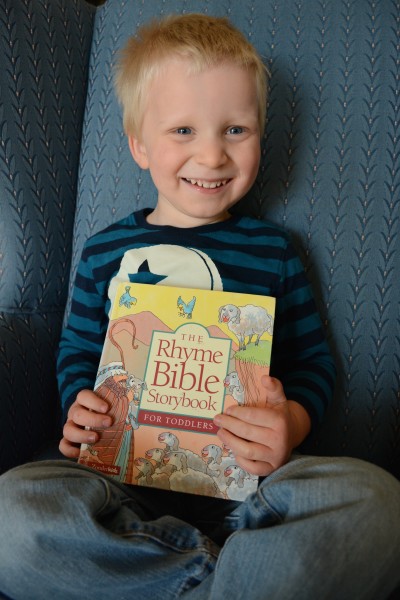 8. Make discipleship a priority
I could have made this #1 on the list, because it is definitely #1 in my heart. My biggest desire for my children is to see them walk with Jesus. So, we make this a priority in both school time and everyday life.
If you are looking for ways to disciple your young child, here are some posts that can help you…
Reach Their Hearts Early: Discipling Your Preschooler
The ULTIMATE Round-Up of Resources for Teaching Toddlers about God
5 Ways to Teach Your Toddler About God
Using a Bad Day to Point Your Child to the Gospel
The Play Through The Bible Series (A complete Bible study for toddlers and preschoolers)
6 Tips for Making Bible Story Time Come Alive for Your Toddler
The Summer Search for God Series

Working on math
9. A gentle transition to future schooling
When I think through what I want to include in our home preschool, I don't just think about what I want K to accomplish now. I also think about what our future schooling plans will hold.
For me, I am drawn to Classical Education
and Charlotte Mason methods. By grade 1 I would like to be incorporating principles from those methods. So, in our preschool we start a slow path in that direction. For us that means reading a lot, practicing narration, studying nature, and slowly beginning memory work, among other things.
Your preschool will look different based upon your future schooling goals as well. Maybe you are drawn to another type of educational philosophy and in your preschool will see some reflections of it. Perhaps preschool is all you are planning on homeschooling. Then, you may spend more of your time preparing your child for a traditional schooling environment come Kindergarten.
Counting with yellow cubes
10. Cover the preschool basics
Ah, here it is, finally tucked away at number ten. The traditional preschool "academics." If you hadn't noticed by now, these things are not at the top of my priority list for preschool. Also, even with these subjects we are still heavily focusing on goal number number two, which is to use delight-directed learning.
We work on the preschool basics insomuch that K finds interest in them, and that has worked well for us thus far. He has plenty of years ahead of him for formal schooling and anything he doesn't learn now he will pick up easily when he is a bit older.
Here are some of the basic subjects we cover:
Pre-reading and reading skills
Math
Gross and fine motor skills
Science
Art
History
Spanish
Well, if you've made it through all that, I applaud you! Hopefully our goals have given you some ideas for goals for your own home preschool. If you already know some of your goals for preschool, I'd love to hear them. Please share them in the comments!
Affiliate links included. Thank you for using your purchases to help support Simple Life. Messy Life.