This post is part of the series "Home Preschool 101." It is a peek into how we do homeschool preschool.
Here are all the posts…
Our Simple Preschool Plan 2015-2016
Our Top Eight Preschool Building Materials
Our Top Five Preschool Science Supplies
Our Top Ten Preschool Arts and Craft Supplies
Fruit of the Spirit Curriculum Review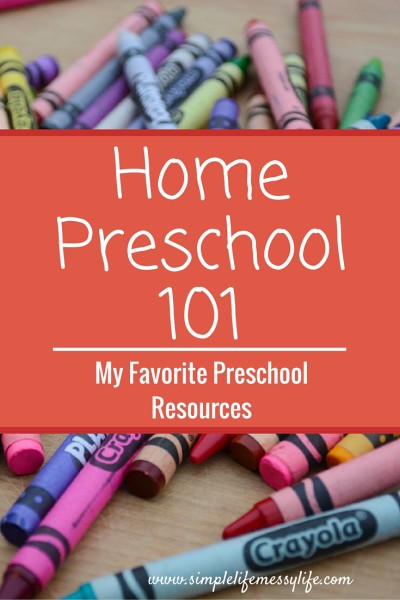 For this last post in the Home Preschool 101 series I wanted to share with you a few of my favorite preschool resources. These resources have both shaped my educational philosophies and give me daily inspiration as we do preschool activities.
I hope you enjoy them as much as I have!
Websites
An Everyday Story – Kate from An Everyday Story is amazing. I follow her blog and her Instagram account and I love what she does with her two kiddos. She uses an inquiry-based, Reggio Emilia approach to her children's education and does an amazing job explaining her thoughts behind what she does.
Simply Charlotte Mason – I love Charlotte Mason's methods! I never was able to find a great book on CM, so I have been really grateful for the Simply Charlotte Mason website. It is full of explanations of CM philosophies and tons of amazing resources.
I Can Teach My Child – A wealth of information on early childhood education with tons of lesson ideas. This website is also really easy to navigate with everything organized by age.
Christian Montessori Network – A great resource for those who want to incorporate Montessori methods into their home preschool.
Books

The Well-Trained Mind by Susan Wise Bauer – This book only includes a short section on preschool/kindergarten, but I still found it very helpful! As mentioned in this post, part of my goal for preschool is to slowly transition into what I want school to look like in the future. For us, that means some Classical Education elements. So, it was good to read this book to get a better idea of what we are shooting for.
Montessori From The Start by Paula Polk Lillard and Lynn Lillard Jessen
 – This book was great. Even if you aren't planning on homeschooling for preschool, I still recommend this book for just general parenting. I read it quiet a while ago, so I really need to go back and read it again!
Teach Your Own by John Holt and Pat Farenga
 – John Holt – the original homeschooling pioneer. I finally read this classic homeschooling book this past spring and I loved it! Even if you think you are the farthest thing from an unschooler, you will still be able to learn so much from this book.
Instagram Accounts
Note: Instagram is one of my favorite-ist places to get homeschool inspiration. Personally, I love getting glimpses into other families lives. However, you do have to guard yourself against the jealousy monster and against the temptation to try and do allthethings. 
Are you on Instagram? I'd love to connect with you there! Follow me here!
What are your favorite preschool resources?
Affiliate links included. Thank you for using your purchases to help support Simple Life. Messy Life.