The Expeditioners by S.S. Taylor – Middle Grade Fiction Review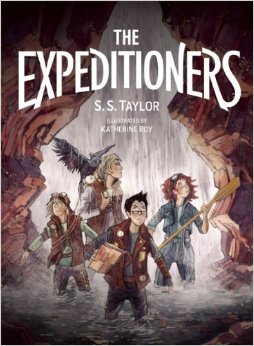 THE EXPEDITIONERS
by S.S. Taylor
Summary
Kit West's map-maker father died under suspicious circumstances while on an Exploring mission, leaving him and his brother and sister orphaned and alone. However, Alexander West did not leave his children empty handed. When a mysterious man with a clockwork hand gives Kit a book from his father, the adventure begins for the three siblings.
My thoughts
The Expeditioners is one of my favorite books that I have read recently. S.S. Taylor's rewriting of history paints a fascinating world for the West children. Their adventure is full of twists and turns and packed with excitement. With both boy and girl characters, this book will appeal to any young person who loves reading adventure stories. And not only that, but it makes a great book to read together. Just be warned, you might find yourself sneaking in reading time alone to finish the book yourself – it's that hard to put down!
Discussion Points

The Expeditioners seamlessly weaves in moral issues surrounding the conquest of new lands. This can lead to great discussions in regards to the true history of Native Americans and other displaced peoples. Also great for discussions on greed and power.
Kit's younger sister, M.K. is rough and tough. She drops a 2 or 3 "damns" during the course of the book.
In this world the government is corrupt and not to be trusted. Various members of government agencies are the antagonists. At one point, M.K. knocks out two government workers so that the kids can escape.
Bottom Line
Grab this book at the library! You won't regret it!