3 Thoughts for the Weary Mom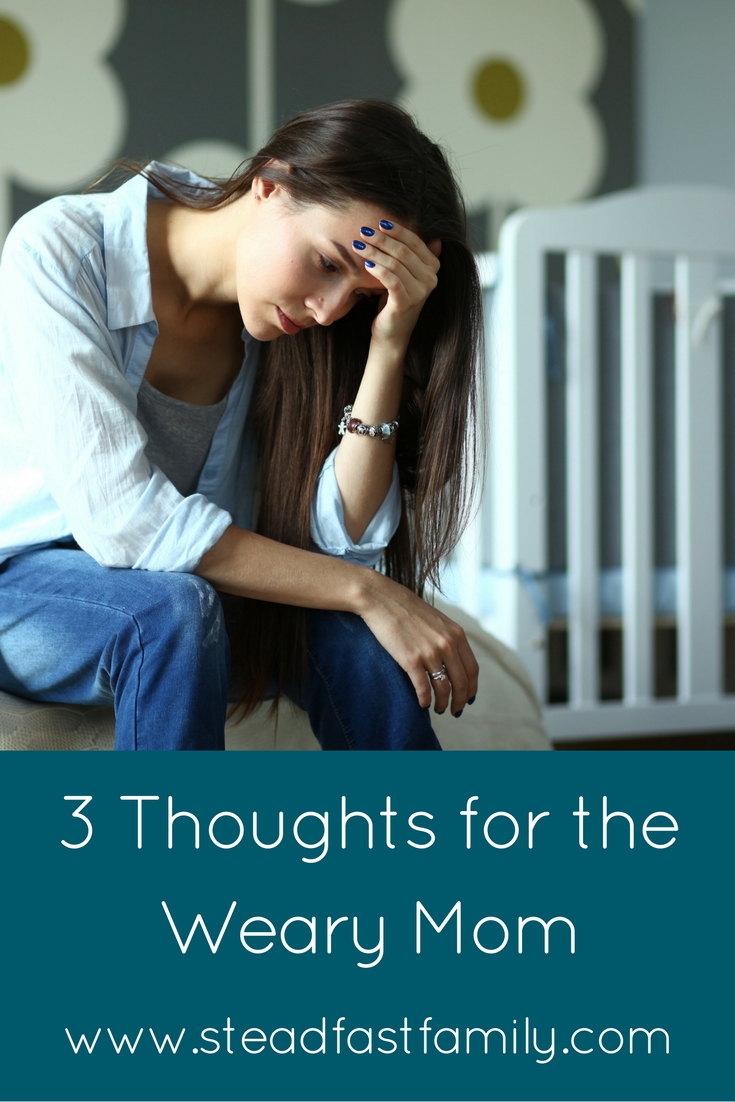 I walk down the stairs. Laundry is piled high on the couch (like, seriously high), dishes are still strewn about the kitchen from dinner, toys are scattered across the floor. It is 8:30pm and I just tucked my boys into bed over an hour late. As I type this, I'm sitting here praying I don't hear screaming over the baby monitor in five minutes.
My husband is gone this evening. It was supposed to be my quiet night to myself to put the boys down at 7, quickly clean up, and watch some non-husband approved tv while catching up on that laundry. Mostly just enjoying the peace and quiet (hello introvert!).
However, instead I had a toddler who fell asleep in the stroller at 6:30 and after multiple failed attempts would not transfer over to his crib. So I gave up and let them both play outside with friends, enjoying the slightly cooler weather this earlier sunset has been bringing.
We came in and restarted the bedtime routine for the second time tonight. Baths, (skipped toothbrushing – shhh!), pajamas, stories, prayer, hugs and kisses, and goodnights. Finally in bed.
And now, the dishes are calling me, the dog is giving me the "I'm hungry" look, and the rest is going to have to be transferred to tomorrow's already bulging to-do list.
What can a tired, busy mom do to find that balance between those little people who need all of you and that to do list that threatens to run you over at every turn?
A few things are spinning around in my own sleepy head tonight…
#1 Always remember that your kids are people, not another item on the to do list
Bath – check. Clothes – check. Food – check. School – check. Discipline – check.
It can be so easy to make parenting a part of the to do list – at least for me. I've found that I really have to slow down, look my little people in the eyes, and remember just that – they are people too. People with needs and hopes and fears and feelings and thoughts of their own. 
They need a mom who connects with them, not treats them like yet another list of things to accomplish in the day.
It seems so simple, that your children are people too, but when I keep it on the forefront of my mind I find it really changes the way I view things.
#2 Stuff's still gotta get done
It's also easy to get stuck in the feel good chatter…
"Be present."
"Babies don't keep."
"The dishes will still be there tomorrow."
All very legitimate statements. Truth all around. But am I the only one who finds that when they follow the "the dishes will still be there tomorrow" mentality I find myself starting tomorrow already feeling behind and stressed?
Because as much as it is a goal of mine to be present, enjoy the fleeting time with my kids, and leave those darn dishes for tomorrow, the truth is it's all got to get done sometime. Tomorrow arrives and sure enough, the dinner dishes are still there, and now the breakfast ones are too.
So, I've found that I have got to have a plan. Cut back on the non-essentials, schedule our days wisely, and be diligent in not wasting time (I'm looking at you Facebook!). When I can stay on top of this, the stress subsides, making it a lot easier to be present with those babies who truly don't keep.
This takes a lot of adjusting, trial and error, and practice (well, at least for me – some may be naturally gifted). Practice, practice, practice. For some reason this surprised me. 7 years of marriage and 4 1/2 years of parenting later and I think I may slowly be starting to show some improvement. 😉
#3 Lean on Jesus
But He said to me, "My grace is sufficient for you, for My power is perfected in weakness." Therefore I will boast all the more gladly in my weaknesses, so that the power of Christ may rest on me. That is why, for the sake of Christ, I delight in weaknesses, in insults, inhardships, in persecutions, in difficulties. For when I am weak, then I am strong. -2 Corinthians 12:9-10
I have always loved this verse. It is often misquoted – "when I am weak, He is strong" – probably because of the popular children's song. And while, of course, He is strong, the beauty of the verse is the paradox that it is when we are weak that we are strong. Because it is when we are weak that God's grace and power can shine through in our lives. Instead of acting like he had it all together, Paul boasted in his weakness because it meant Christ's power was in him!
So remember that, as much as we'd like to, we don't have to have it all figured out. We don't have to be strong on our own. And we definitely don't have to be supermom.
I may never find that balance between the kids and the to-do list. However, I do know that God has called me to this job and He is the one who will provide the means to accomplish it. I just need to remember to turn to Him.
Well, my husband will be home any time and those dishes are calling my name. Here's to another night with small children, I pray Christ's strength for us all!