Baby's First Christmas – Gift Guide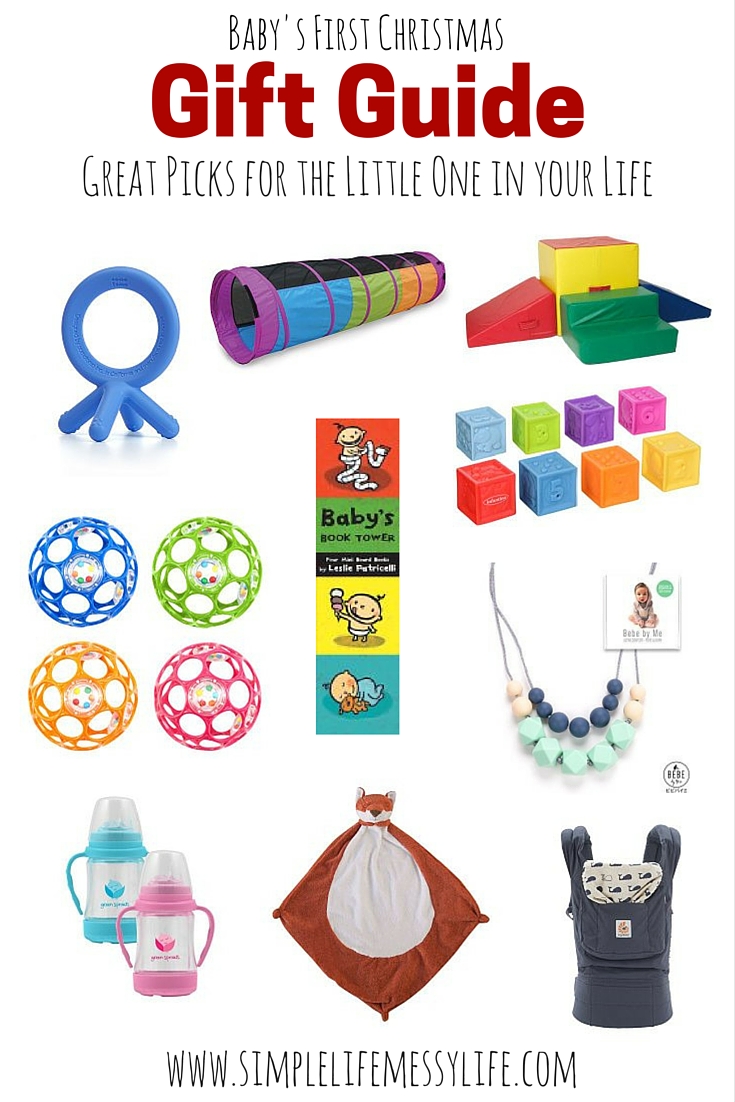 *Affiliate links included*
K was born five days after Christmas, so he was just about one before he got to experience his first Christmas. Because of that, I didn't really get to experience "baby's first Christmas" since by his first Christmas he wasn't really a baby anymore! J, however, will be 7 months at Christmas time, so this year we will have baby's first Christmas! Hooray!
In honor of that, I thought it would be fun to round up some good gifts for a baby. I hope you enjoy these ideas for the little bitty one in your life!
1. Comotomo Silicone Baby Teether
I bought this neat little teether for J when he was about four months old and already chewing like crazy. It is his favorite teether, he loves it!
The ring part is really easy for little hands to grab and the little fingers are the perfect size for chewing. Plus, the silicone material is safer than plastic and such a great texture for ouchy gums.
2. Pacific Play Tents I See U 6′ Tunnel
This is a gift I am thinking of getting my newly mobile baby to perhaps discourage him from the thrill of crawling under the table.
It is something that would be fun for both him and big brother to crawl in, but will also easily fold up to be stored away since we don't have a lot of room for big toys like this.
On the topic of toys for climbing, this is another gift I am pondering for this Christmas. While a little pricey, these awesome climbing blocks would be a toy that both my boys would play with for years.
They are perfect for gross motor building (especially when you can't get outside some days) and are open ended for lots of imaginative play. I know my fellas (and all their little friends) would love them!
4. Green Sprouts Glass Sip 'n Straw Cup
Since J is six months old now, I have been looking into getting him a water cup. While I don't mind plastic for things that will be drank right away during a meal, for a water bottle that will be sipped all day, I do prefer glass or stainless steel.
I really want a small stainless steel straw cup with handles, but haven't been able to find one with all those qualifications. This Green Sprouts cup is close, but it is glass instead of stainless. For a BPA free plastic cup, I thought this one looked good.
A little blue Oball was the first toy K ever played with when he was a baby and J loves it too. They are so easy to grab and throw and the rattle aspect adds an extra fun element.
Ball's are one of my go-to baby gifts and would make a perfect stocking stuffer!
6. Baby's Book Tower (Leslie Patricelli board books)
When K was a baby, he had a set of tiny board books, I believe they were Baby Einstein. He loved them for the longest time. They were the perfect size and only had a few pages, he loved being able to "read" them by himself. I always kept a couple in the diaper bag.
I found these Leslie Patricelli baby books and they look awesome! The same style books, but with the always adorable Leslie Patricelli style. I'll definitely be looking at these for J.
7. 
Angel Dear Blankie
Isn't this little lovey the cutest thing?! I bought this precious little fox recently for my newborn nephew and would have gotten one for J too if he didn't already have way too many.
Don't care for the fox? No worries! There are 13 different styles!
8. Infantino Squeeze and Stack Block Set

J is always trying to move in on big brother's block buildings, so I'm thinking I might need to get him this set of soft blocks that are perfect for babies.
Soft enough to chew on, yet sturdy enough to stack, I think he would love having these to play with.
9. BEBE Designer Teething Necklace
I have a teething necklace like this one, but I would love to have one of these really cool silicone necklaces – I know J would love it too!
 Isn't it pretty?
Plus, it's a two for one gift – a gift for mom and baby!
One more gift that is a little bit for you, a little bit for the baby! We received an ERGObaby carrier when K was born and it has been well used.
Perfect for fussy, clingy babies, or babies like mine who just want to be up and seeing the world, this carrier is my absolute favorite. Now that J is big enough, my favorite way to use it is in the backpack position – makes life so much easier!
What are your favorite gifts for baby?