Cheap Easter Basket Ideas (That are Still Meaningful!)
In need of some cheap Easter basket ideas? Look no further.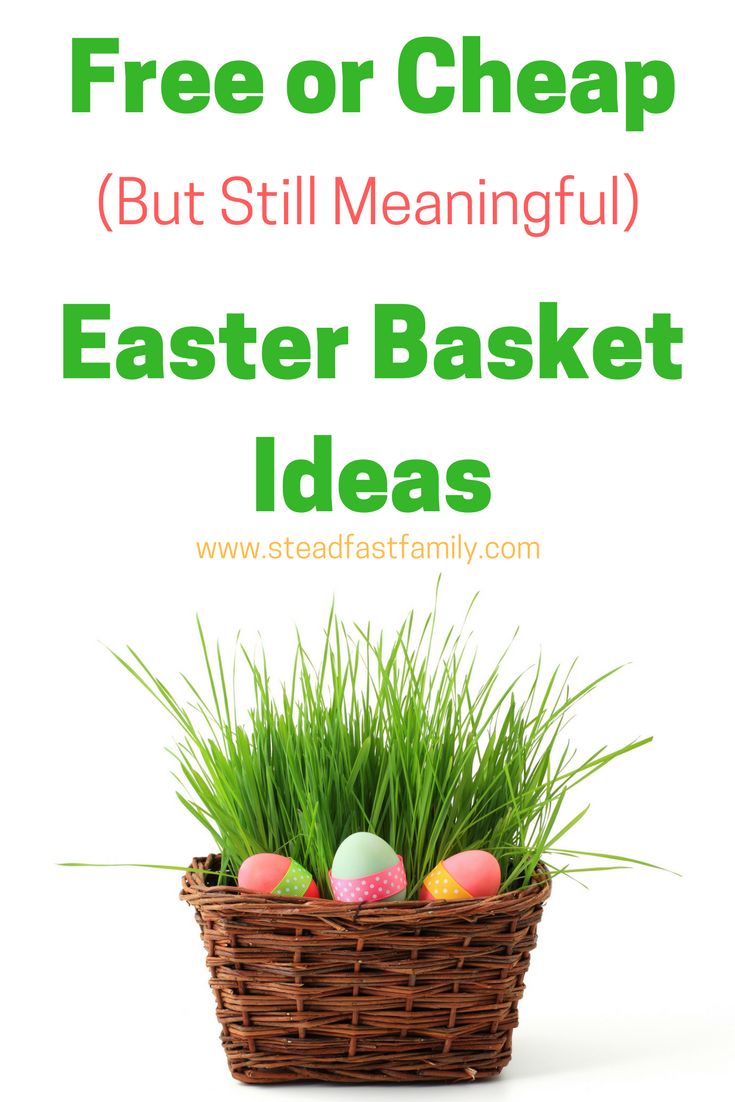 One of my favorite Easter traditions that I just love doing each year is unEaster baskets. (If you've never heard of this fun and meaningful tradition, you can read more about it here.)
Whether you do unEaster baskets or a traditional Easter basket, one thing is for sure, the cost of the items in the basket can add up really fast! Especially if you have multiple children!
For multiple reasons, this year the budget is low for Easter gifts. Like, really low, pretty much no budget! Since maybe you are in a similar place I wanted to share some of what I have come up with as creative ways to still have something meaningful in those Easter baskets while not spending much.
10+ Cheap Easter Basket Ideas
(Affiliate links included)
#1 Home Made Treats
Skip the more expensive fancy Easter candies and bake your kiddos their favorite treats! Right now my oldest is loving homemade Oatmeal Creme Pies and my toddler is all about anything with sprinkles on it! They will be super excited to see their favorite cookies in their Easter baskets.
Another fun idea would be to tuck in some granola or breakfast bars for something to munch on before heading off to church!
#2 Mom or Dad Date Coupon
This doesn't need to be for a fancy event either – kids just crave that one-on-one time with mama or daddy! I'm thinking of putting in a few coupons for my oldest to do an art project together and my toddler loves baking with mom! Some other ideas are a park date, snuggling up with a good book, an at-home movie night, or a cheap outing like a donut date!
Such an easy, no-cost addition to your cheap Easter basket!
#3 Wash Cloth Bunny
I saw this cute little bunny on Facebook originally and thought it would be a really inexpensive addition to an Easter basket! You could pair it with some kid's soap (hey, gotta buy soap anyway right?) or a homemade bath bomb.
#4 Origami Creatures
My oldest has just started getting into origami, so I know he would really enjoy an Easter basket decorated with some fun Easter themed origami (try Art for Kids Hub for easy video instructions). Tuck in some inexpensive origami paper and an "origami date" coupon to make it a complete package!
#5 Handmade Gift
Depending on the type of craft medium, handmade gifts can sometimes be really expensive. However, I don't know about you, but I have a bad habit of collecting a large stash of unused craft materials!
Use up some of your stash to make a fun handmade gift for your kiddo!
I'm thinking of making a simple costume with some left over fabric. Get creative and resourceful with what you already have laying around!
#6 Scavenger Hunt
What kid doesn't love following clues to find a surprise!? Do a quick google search for "kid's scavenger hunt" or make up your own personal clues. Print it out and tuck the first clue in their Easter basket!
Or, use these fun Easter story themed clues from the Happy Home Fairy and go on a scavenger hunt for the basket itself! So fun!
#7 Homemade Play Dough
Are you sensing a theme of going homemade? It's such a simple way to keep things cheap! And you can't go wrong with Play Dough made from pantry items you already have on hand! Package it in plastic Easter eggs to make it extra fun!
Here is a simple recipe like we've made before!
#8 Do a Budget Borrow
One way to make a little extra room in the budget is to steal from another budget category by including something you were already going to need to purchase anyway.
I am planning on purchasing my son one of these awesome missionary biographies to read together, but I'm going to include it in the budget under his school supplies. Sneaky!
Some other ideas could be: other school or art supplies, personal hygiene supplies (yay for new toothbrushes!), rain boots, or garden seeds.
Doing this doesn't necessarily make for a cheap Easter basket, but can make it easier to fit it in the budget.
#9 Buy Used
A while back I scored some awesome picture books super cheap at a library sale and I'm wishing now I would have saved some of them aside for Easter baskets! I might still pop into my favorite thrift store to see if they have a few nice books (usually only like $0.50!).
Whether it's the thrift store, garage sale, Facebook BST groups, or hand-me-downs – used gifts are totally great! 
#10 Experiment Kits
What it is about "science experiments" that kids adore? My son is always asking to do experiments!
How easy would it be to package up some of the ingredients for simple kitchen science experiments? Print out the instructions and tape them to your "kit" and it's a mess making kiddos dream! 🙂
#11 Bible Journal
A while back I purchased a really nice, spiral bound sketchbook for only a few dollars at Walmart for my oldest to use as his Bible journal. A notebook, sketchbook, or journal to use along with Bible reading would be a great addition to a cheap Easter basket.
#12 A Family Heirloom
What items do you have that might be gathering dust on your shelf, but would make a really meaningful gift for your child? Maybe the Bible you used as a kid? The stuffed animal you grew up snuggling? A special piece of jewelry?
Raid your storage (or maybe Grandma's attic!) for something special you could pass down to your child.
I hope that gives you a good start to get your own ideas flowing for a cheap Easter basket!
Just don't forget that what's in that basket isn't the real focus of Easter morning. Don't be afraid to keep it really simple and focus on the resurrection!