CREATION – Play Through The Bible – Week One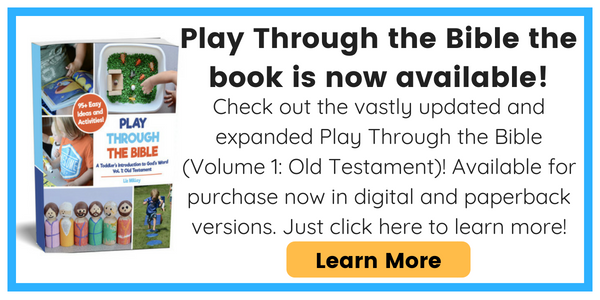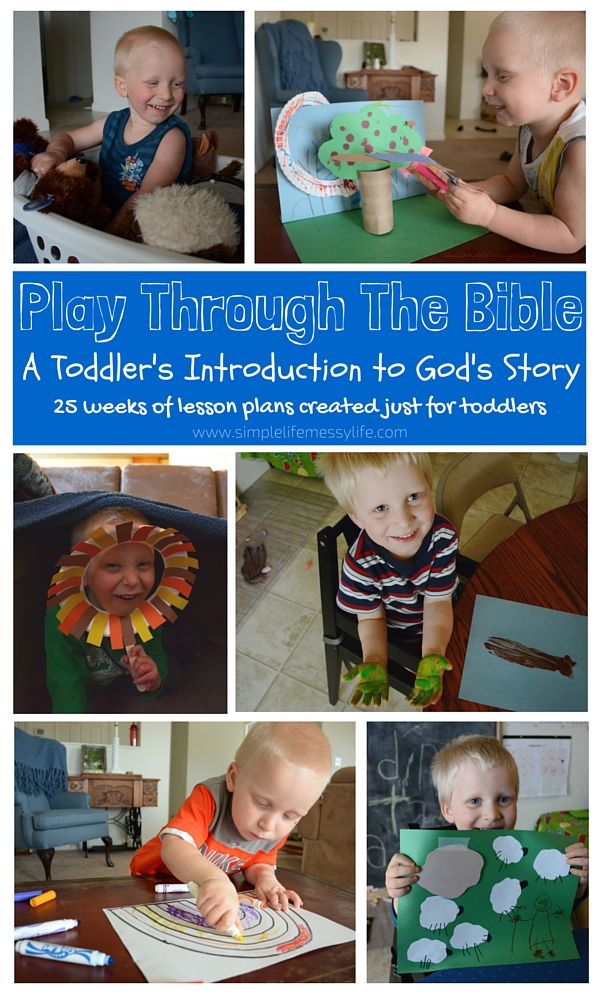 Hooray! Welcome to our first week of Play Through The Bible! And of course, what else would you start with than with The Beginning? You guessed it, this week we are studying creation. I hope you enjoy this week of activities – it's super simple and super fun. Don't forget, I'd love to see how you're using this curriculum so leave a comment or use the hashtag #playthroughthebible. If anything below is unclear or you have any questions please don't hesitate to ask.
If you haven't read the introduction to the series yet I recommend you go here. For all the lessons in one place go here.
Still need to select a storybook Bible for your toddler? Check out this post!
So, without further ado… week one!
---
Week One – Creation
Focus Point
God created everything.
Story Time Tips
We read "A New World" beginning on page 6 of The Rhyme Bible Storybookand "God Made Everything" beginning on page 8 of The Rhyme Bible Storybook for Toddlers.
During story draw attention to each thing that is being created. For example: turn the lights on and off when light is being created, point to the sky, pretend to be a bird, make the animal noises, rest at the end, etc.
After the first few readings, pause at certain points and let your child say the next word. For example on the first page of the story in The Rhyme Bible it reads: "The world was once as dark as night, But then God said…." At that point my son would thoroughly enjoy shouting out "LIGHT!"
Activity
Go for a walk in your yard or neighborhood. While doing so, point things out and ask "Who made this?" If it's not a nice day to play outside, you can also do the same thing while looking through a book.
Discussion
Parent: "Who made this?" (Point to something you've talked about before)
Child: "God!"
Parent: "Who made you?"
Child: "God!"
Parent: "That's right he made you and loves you very much."
Daily Craft
Day One – Light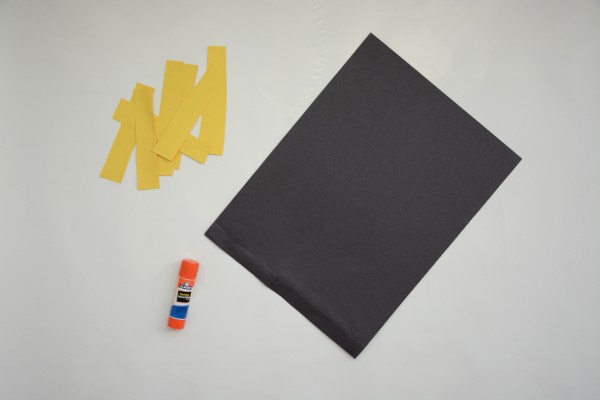 Materials needed: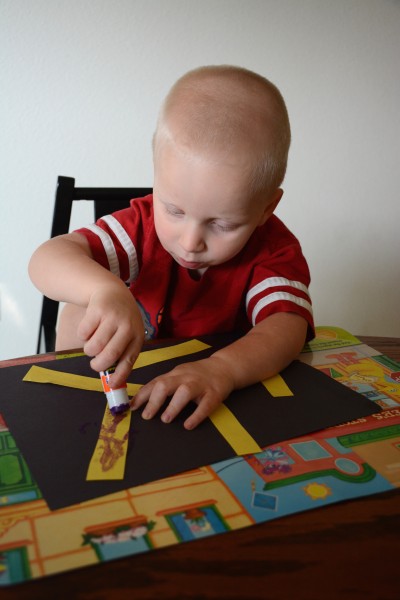 Use glue stick to glue yellow strips of paper  onto the black paper. They are the light appearing out of the darkness. So ridiculously easy,  I know, but every toddler I've done it with loves it just the same!
Day Two – Sky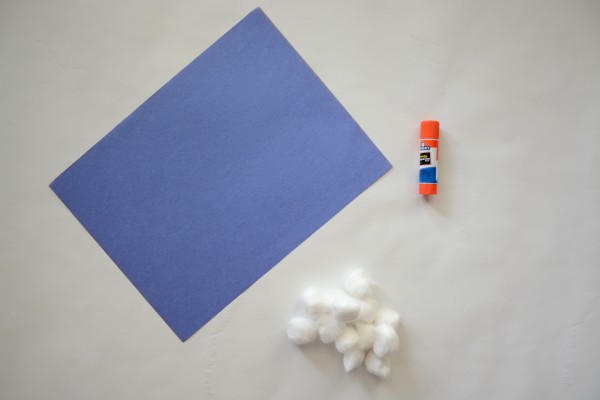 Materials needed: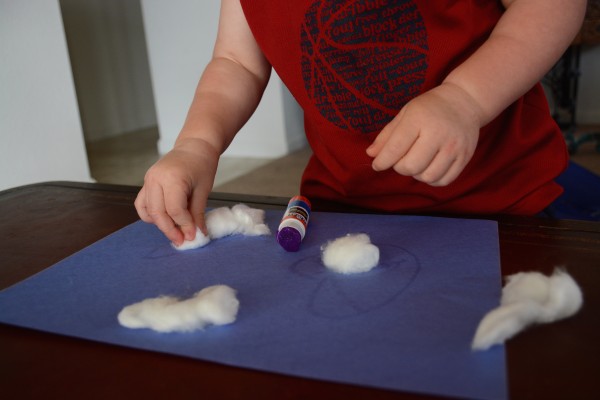 Fluff cotton balls a little bit by slightly pulling them apart. These will make some nice puffy clouds. Then, use the glue stick to glue them onto the blue paper sky. If your glue stick isn't doing a very good job at securing the cotton balls you can also use Elmer's glue.
Day Three – Plants and Land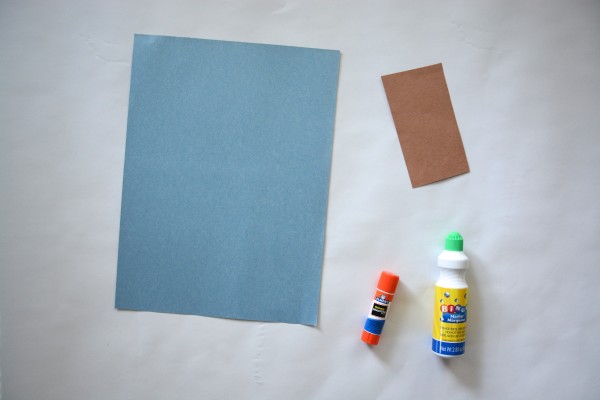 Materials needed: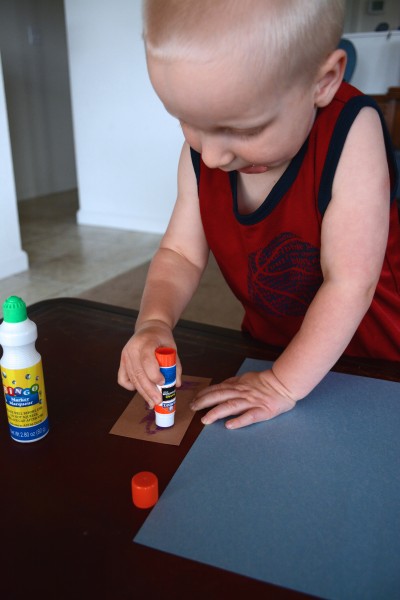 Glue brown rectangle (the tree trunk) onto the bottom of the blue paper.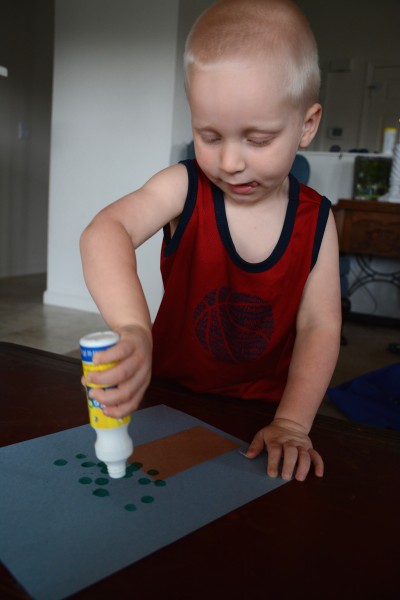 Use the dot marker to make leaves on the tree. If you don't have dot markers (they can be purchased cheaply at the dollar store) feel free to sub green paint and a paintbrush or even markers.
Day Four – Sun, Moon, and Stars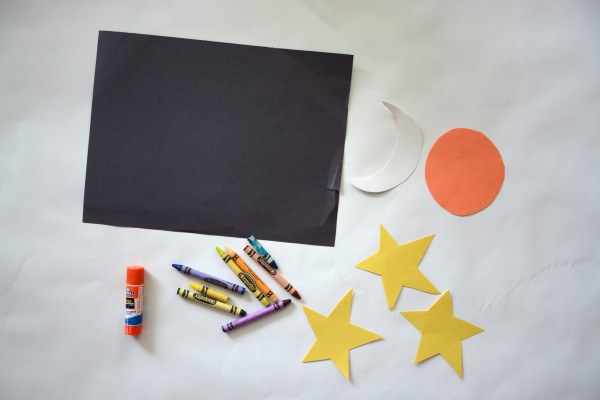 Materials needed: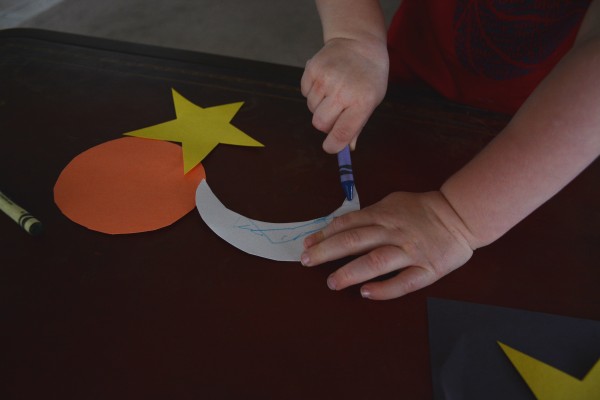 Decorate the sun, moon, and stars with the crayons.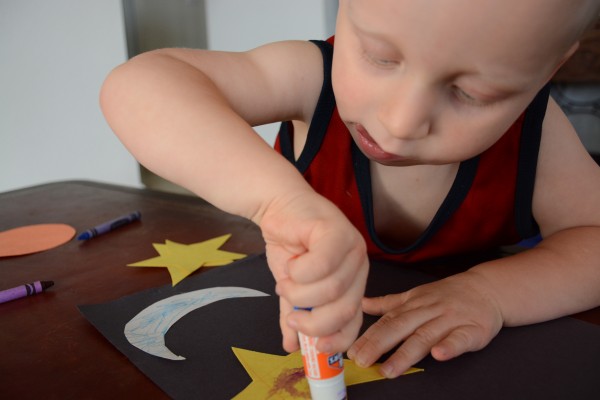 Glue the shapes onto the black paper.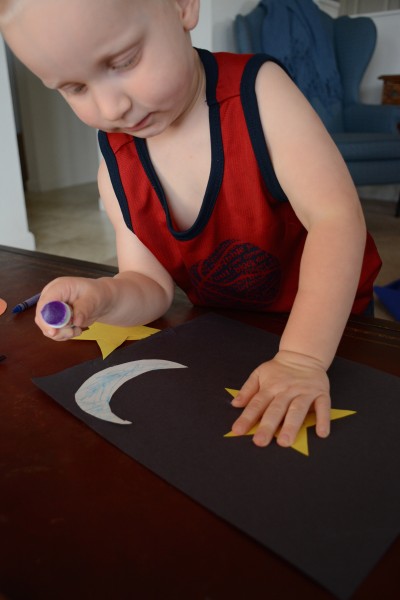 Day Five – Animals and Me!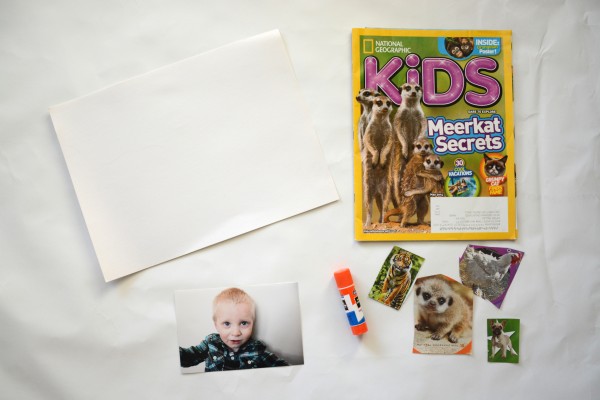 Materials needed:
Cut pictures of animals out of magazine (you can do this beforehand or have your child do it depending on their age/skill level). Glue the animals and picture of your child onto the paper to create a collage.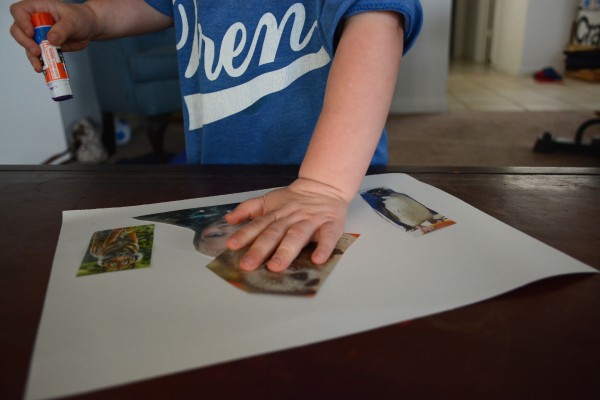 We hung our pictures on the wall (they are actually in a different spot now, but still up!). This makes it really easy to continue to talk about and reference the creation story. K loves to go down the line naming off each thing on the pictures he made.

Extra Resources
Creation Song via youtube
---
Well, that's it for this week. Again, I'd love to hear from you! Leave a comment below or use the hashtag #playthroughthebible on Twitter or Instagram! 

Affiliate links included.