One Year Old Gift Guide (Things They'll Play With For Years To Come)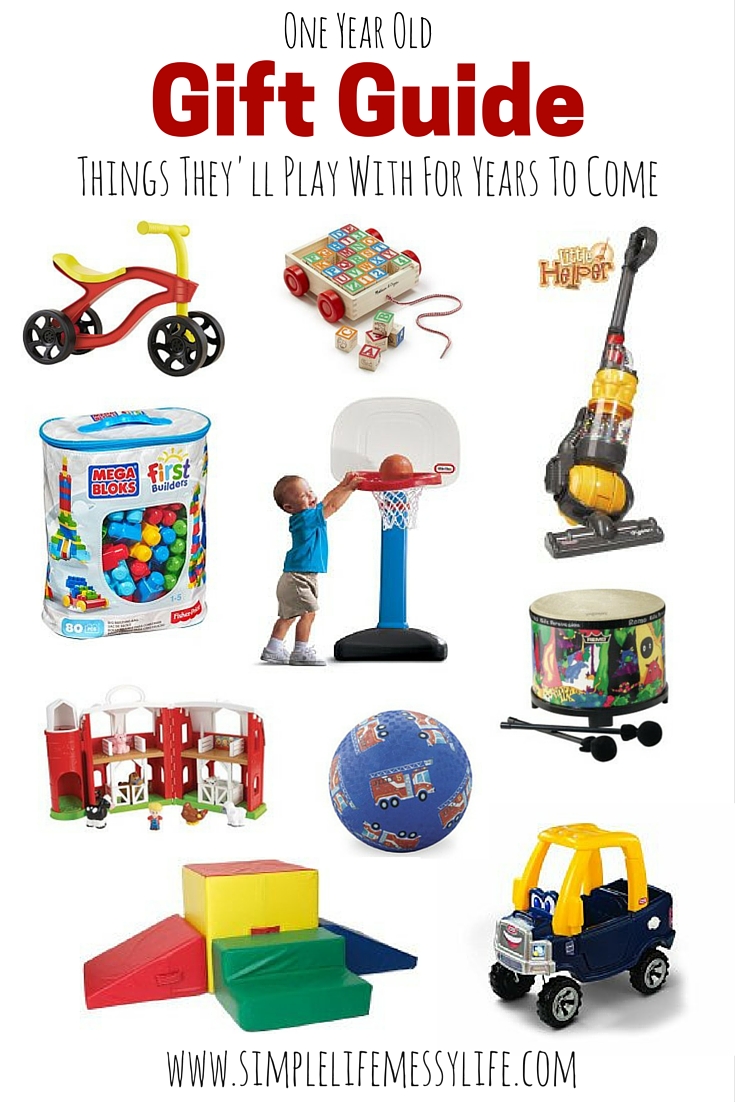 *affiliate links included*
Recently a friend of mine's little boy turned one and as I was trying to pick out a gift for his birthday party, I realized just how difficult it is to find good gifts for that age. Sure, there is an abundance of overpriced plastic toys that light up and make noise, toys that generally are played with for a short time and then either forgotten or outgrown.
The last thing I want to do is spend money on something that my child (or yours!) is going to use for a few weeks or months and then move on from. I want something that a learning, growing, rambunctious one year old will be able to play with for years to come! Something that is fun, but also supports their rapid development and growth.
Is that too much to ask for?
I don't think so.
And to prove it I want to share 10 great gift ideas for the one year old in your life. Perfect for Christmas, birthdays, or any time!
1. Little Tykes Scooteroo – Riding Toy

This nifty little bike is the gift I finally settled on purchasing for for my aforementioned friend's little boy.
Small, lightweight, and super cute – this little riding toy is perfect for beginning walkers and toddlers to scoot around on.
And, hold the phone, swimming in a sea of pricey ride on toys, this little gem clocks in at only $15! What?! It's a no brainer.
2. Melissa & Doug Classic ABC Block Cart
Blocks are the toy that never grows old and your kiddo will play with these for years to come. This exact set is a gift that my son got for his first birthday and he still plays with them now at almost 4 years old.
The little cart they come in is an added bonus, opening up even more avenues for fun play.
3. Crocodile Creek 5″ Playground Ball
I don't think I've ever met a little one who doesn't like playing with a ball. Similar to blocks, it is a classic toy for a reason.
These playground balls are extra durable for lots of fun games and they are a little smaller, perfect for little hands. Plus, they come in a ton of different styles – these cute firetrucks, a globe, flowers, pirates, and a whole bunch more!
One or two of these are definitely on my list for my kiddos this year.
4. Dyson Ball Vacuum With Real Suction and Sounds
This neat toy vacuum cleaner was another gift that my son received when he was one. He thought it was the coolest thing to be able to vacuum like momma!
3 years later, the toy vacuum can still be found in the playroom, getting plenty of use by my son and his friends.
5. Little Tikes EasyScore Basketball Set
Yes, yet another toy that my son got for his first birthday! (Are you sick of hearing that yet?)
The only difference is that the one we have isn't adjustable like this one is. I actually thought I was buying the adjustable one, but got the wrong one. Definitely get the adjustable one though! Then, you'll have a gift that will grow with your child for quite a few years.
Although they are on the pricey side, these awesome climbing blocks are something I am seriously considering getting as a gift for both my 6 month old and almost 4 year old.
Perfect for gross motor skills and hours of open ended imaginative play, I think they are worth the investment and would be something they'd play with for years and years.
7. Fisher-Price Little People Animal Friends Farm
For K's first Christmas (his birthday is a few days after Christmas), we actually bought him the Little People Nativity Set. He loved it that first year and continues to enjoy playing with it every year when we pull out the Christmas stuff. I highly recommend it as a Christmas gift.
If you are looking for a non-Christmas gift though, there are a bunch of other sets to choose from. I thought this little farm was perfect for a one year old!
K's little cousin has this "souped up" version of the classic Cozy Coupe and I think it is pretty great.
It is a little bit bigger which means it has a bit more leg room for continued use as your child grows. It also has a fun trunk in the back, great to play with even if you can't ride around in it yet. Plus it has the nifty little footplate that can go in the bottom, so that young riders can be pushed around without their feet getting stuck.
9. Remo Kids Percussion, Floor Tom
K got his Remo drum for his second Christmas
, but it would have been just as good of a gift for his first (we have a larger version, similar to this one). Even J, at six months old, enjoys playing with this high quality drum.
I love buying my kids kid-sized versions of real things, and these drums are a perfect example of that.  This drum is the real deal. You just might want to get some earplugs to go with it, or do what we do and keep it in their bedroom! 🙂
10. Mega Bloks First Builders Big Building Bag 
K has a giant tub of these blocks that he received as a hand-me-down and he has been playing with them since before he was one.
With their simple design, Mega Bloks are the easiest toy of their kind for young builders. If your child is older, and you have a little more money to spend, I recommend Duplos, which are the toddler version of Legos and have more building options. However, both Mega Bloks and Duplos are great building toys.
Also, whatever set you're buying, I always recommend starting with a simple set of plain pieces first. Let them practice connecting the pieces and building with their imaginations before introducing pre-made sets. 
What are your favorite toys for one year olds? Anything you'd add to this list?
Affiliate links included. Thank you for using your purchases to help support Simple Life. Messy Life.