Holy Week – Play Through The Bible – Week 25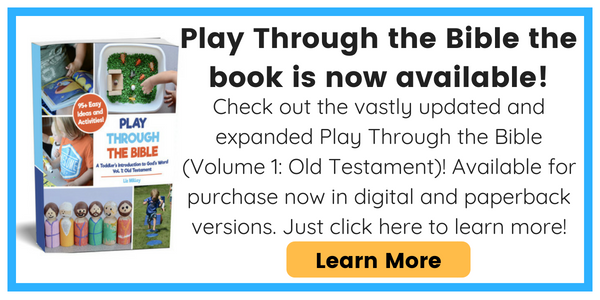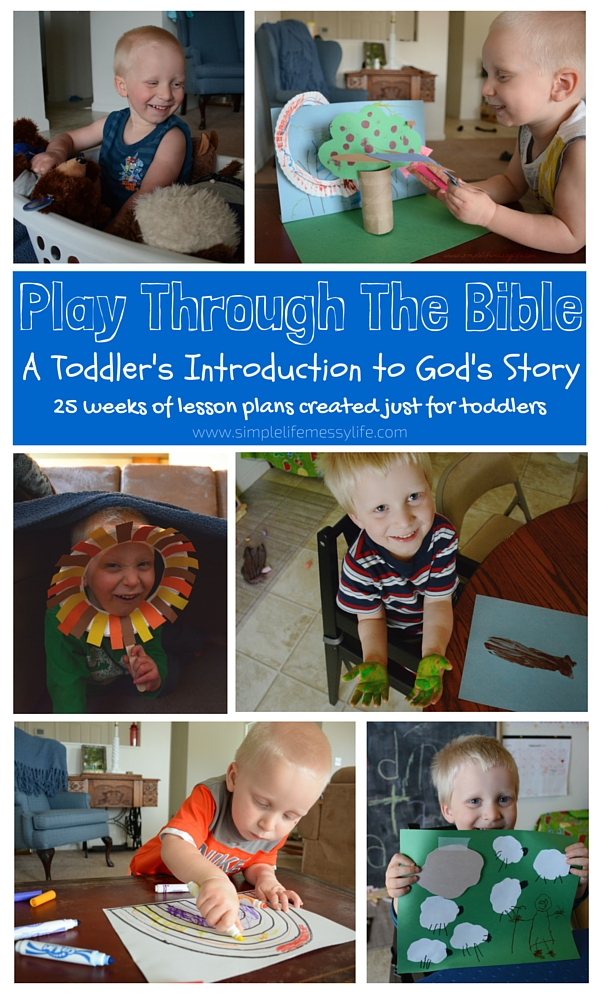 Week 25 of Play Through The Bible is our final week! I cannot believe we've made it all the way through! For this last week, I decided to combine all the Holy Week stories into one unit. It made it a lot easier for us to get the whole story that way.
Sorry this post ended up being late! I tried to blame it on the busy week we've had – warm spring days outside, freezer meal prep for when the baby comes, last visits with grandparents before they leave, fun weekend at an air show, etc. However, if I'm honest with myself I knew that wasn't really the case.
I was avoiding this week.
Even though we've talked about the gospel story before, the significance of it was weighing on me. The emotion, the heaviness of it all. I wanted to make it meaningful. So I kept putting it off. Finally, I realized that I just needed to do what I always do – keep it simple.
We did a simple craft for each part of the story and it ended up going great. I hope you enjoy it too!
If you haven't read the introduction to this series yet I recommend going here. For all the plans in one place, go here.
---
Week Twenty Five – Holy Week

Focus Point
Jesus loved us so much that he died for us and then He rose from the grave!
Story Time Tips
We read "Jesus is Coming" starting on page 234, "Jesus is Alive!" starting on page 244, and "Good-Bye" starting on page 250 of The Rhyme Bible Storybook for Toddlers and "The Day Jesus Died" starting on page 316, "Jesus Is Alive!" starting on page 326, and "Good News!" starting on page 336 of The Rhyme Bible Storybook.
We sat down and read each of the stories in a row and then went back through them and talked about what happened. It is a lot for a three year old to grasp, but he tried really hard!
Lately K has been very interested in trying to be good. Every night he asks me "was I good today?" While I am grateful for his effort, I have had to remember to remind him that there is only One who is good all the time. We have talked about how everyone (even mommy and daddy!) do bad things, but only God does only good things. This was the beginning of our gospel talk because it is the foundation of understanding why Jesus had to do what he did. He is trying really hard to wrap his mind around God being so good that people who do bad things can't be with Him, so Jesus came to be good for us. It is a conversation we will continue for all his growing up years!
Activity
Put on some praise music (try this fun song!) and wave your palm branches around (that you make in Day 1's craft).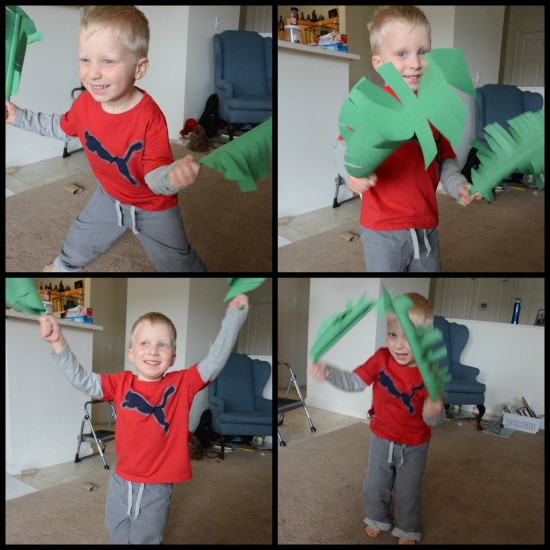 Discussion
Parent: "What happened to Jesus?"
Child: "He died on the cross."
Parent: "Then where did they put him?"
Child: "In a tomb."
Parent: "What happened when they looked in the tomb?"
Child: "He wasn't there."
Parent: "Where was he?"
Child: "He was alive!"
Daily Craft
Day One – Palm Branches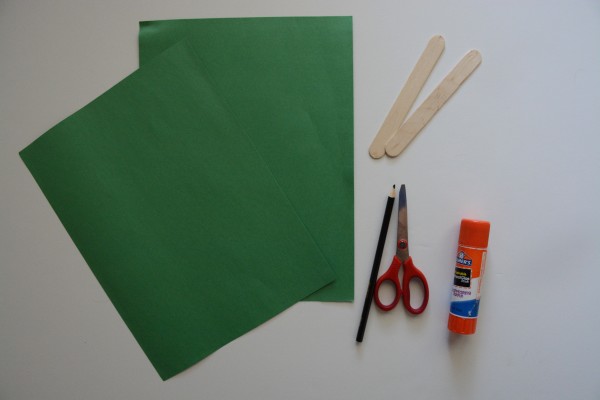 Materials Needed:
Green construction paper
Scissors
Pencil
Glue
Craft sticks (we ended up not using them, but using more paper instead)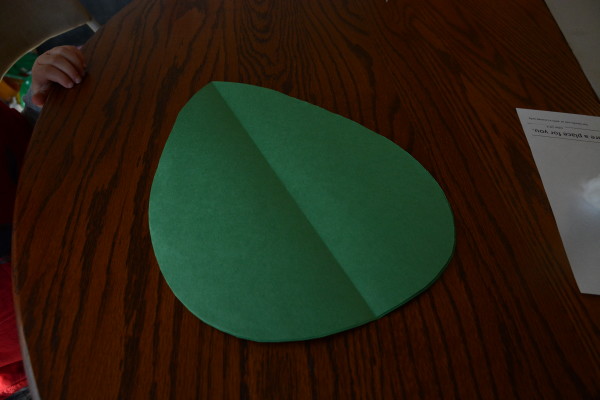 First, cut out your leaf shapes. Fold the paper in half long-ways and cut it out similar to how you would cut out a heart.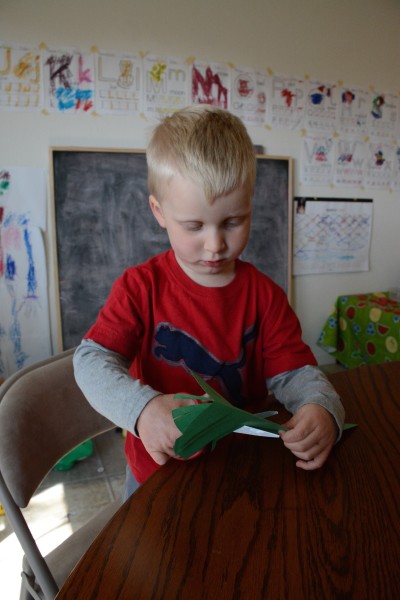 Leaving the leaf folded in half, make cuts down the side almost to the middle.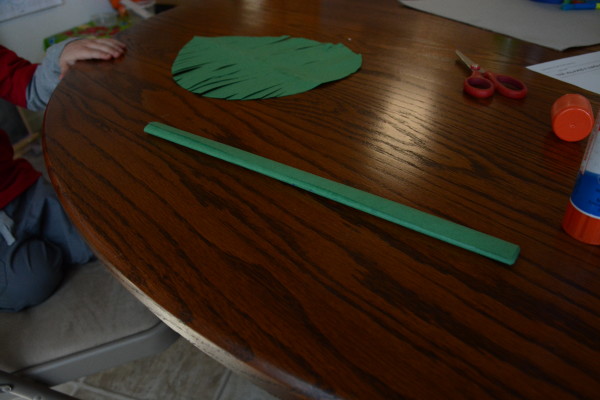 Tightly roll a piece of green paper and glue it closed.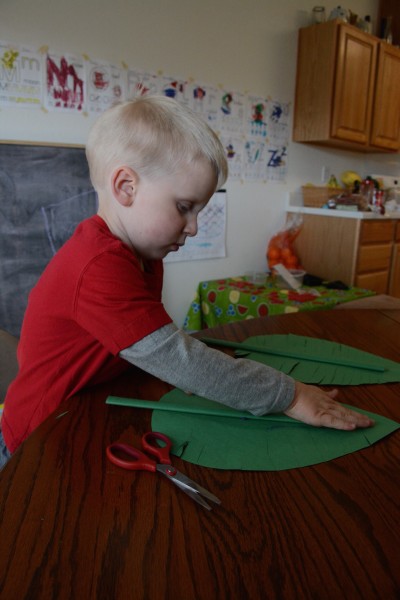 Glue the rolled up paper onto the middle of your leaf.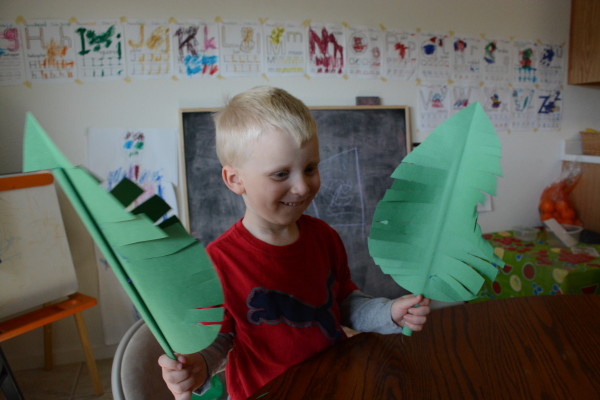 Make another if you'd like. Perfect for waving around! Hosanna!
Day Two – Coloring Page
http://whatsinthebible.com/eight-best-easter-coloring-pages/ 
Day Three – Cross Painting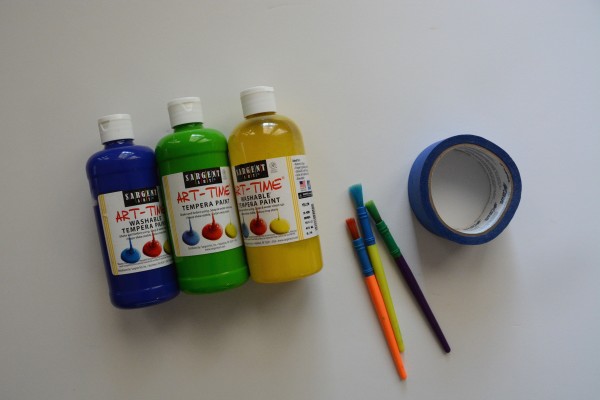 Materials needed:
Painters or masking tape
Paint brushes
Paper (not pictured, we used a large piece of lightweight cardboard)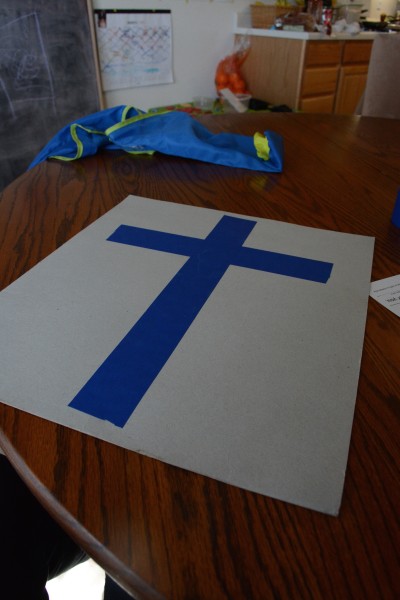 Use the tape to outline a cross onto your paper.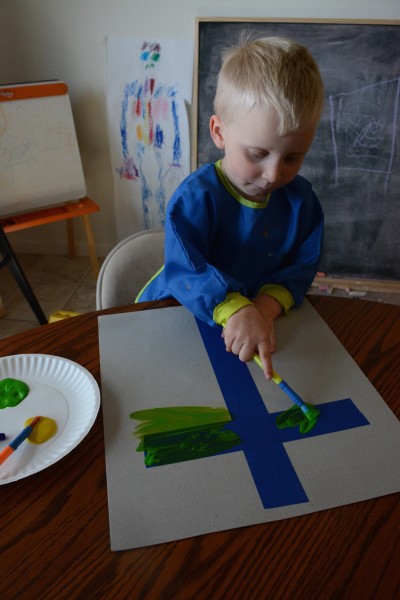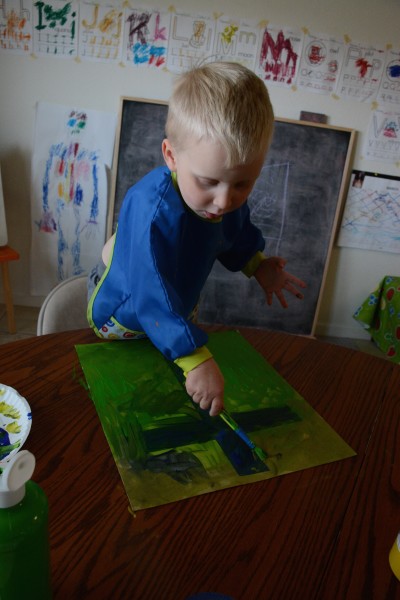 Paint all over your "canvas."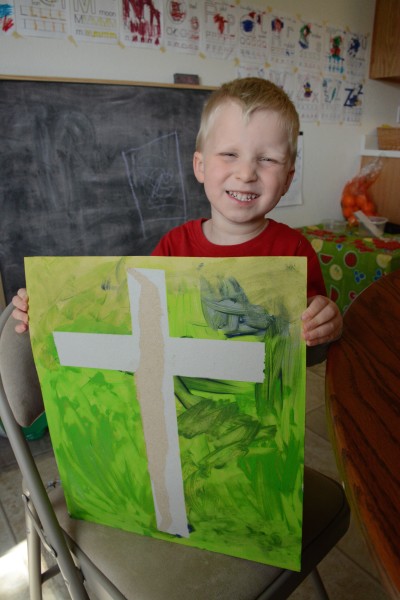 Let the paint dry and then remove the tape!
Day Four – Empty Grave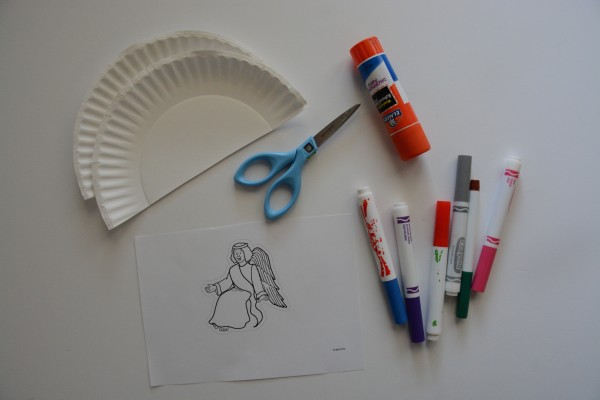 Materials needed:
Paper plate, cut in half
Markers
Scissors
Glue
Angel printout (got it here)
The inspiration for this craft was found here.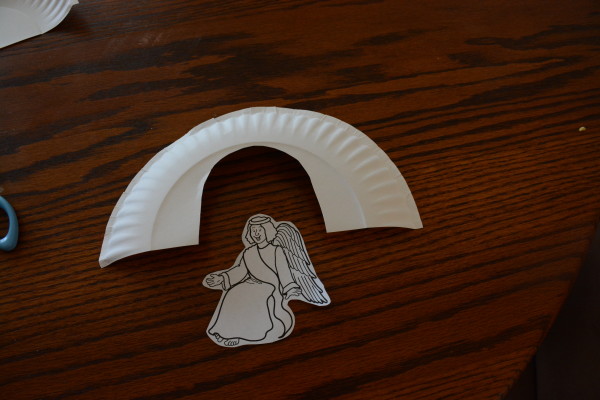 Cut an opening in one of the paper plate halves and cut out the angel.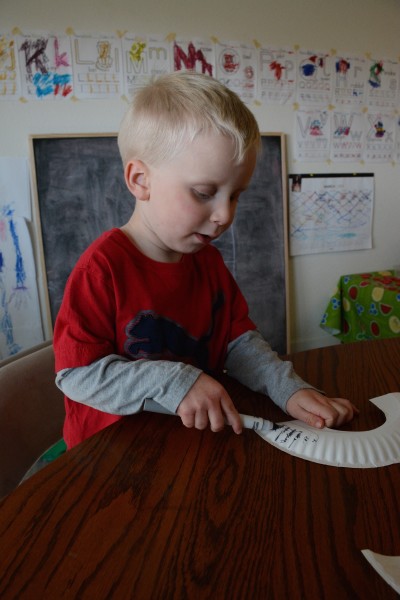 Color the paper plates gray.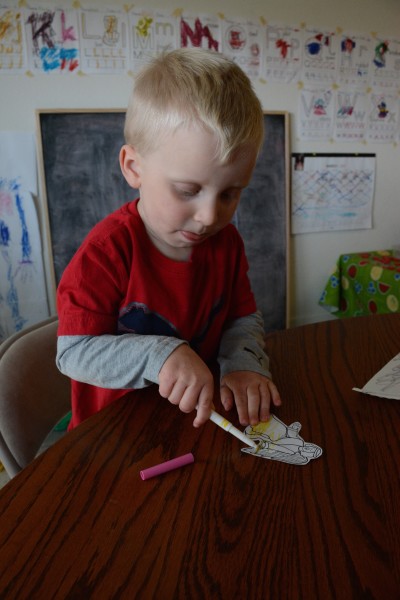 Color the angel.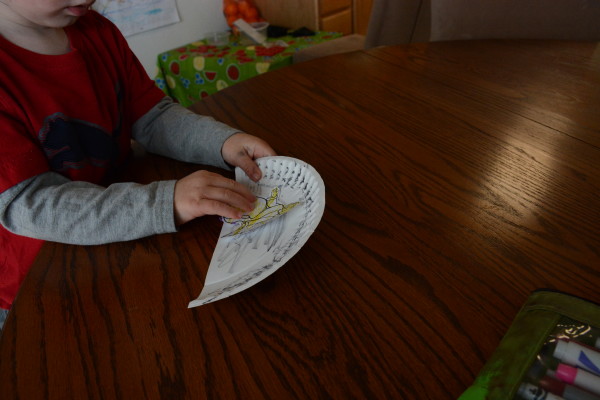 Glue the angel to the paper plate without the hole.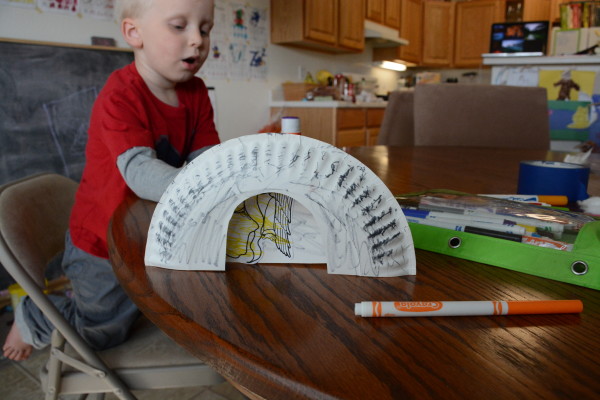 Glue the two paper plates together.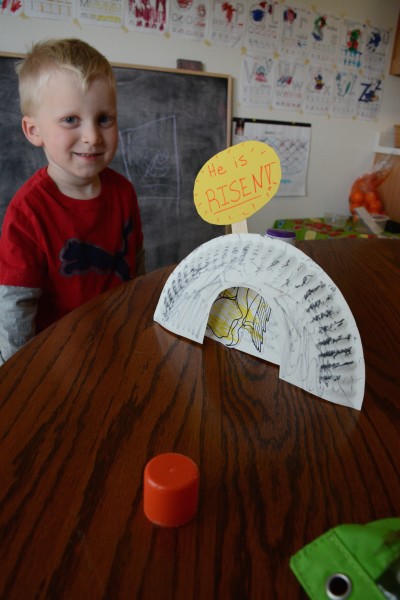 As an optional little touch, we added a "He is risen!" sign. Of course, the tomb didn't want to stand up after that, but ah well!
Day Five – Jesus Goes To Heaven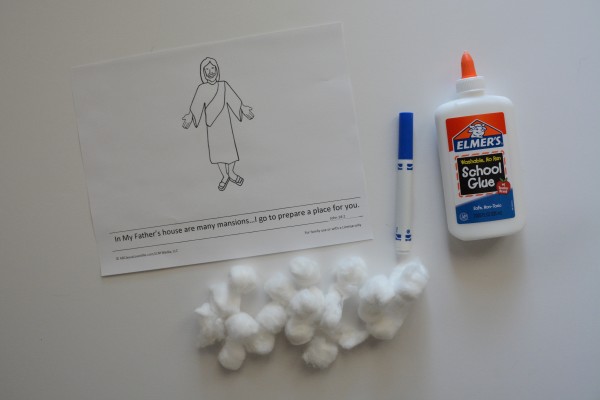 Materials needed:
Jesus printout (here)
Cotton balls
Glue
Blue marker
This craft came from ABC Jesus Loves Me.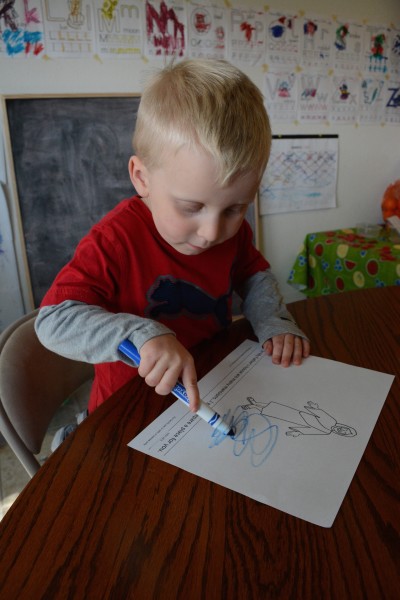 Color the sky on your printout blue.
Glue on the cotton balls for the clouds.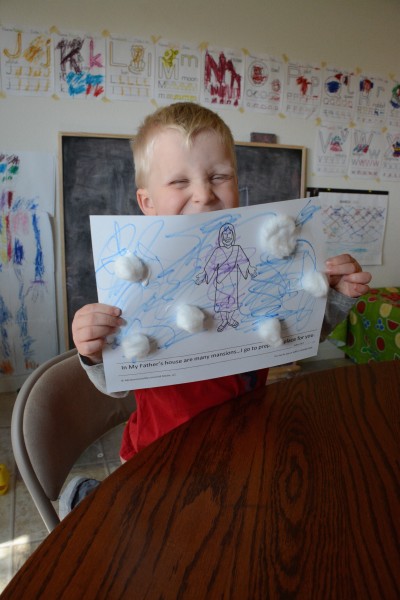 All done! (He colored Jesus too)
Extra Resources
We didn't use anything else this week!
---
I hope you enjoyed week twenty five of Play Through The Bible. I'd love to hear from you! Leave a comment below or use the hashtag #playthroughthebible on Twitter or Instagram! 
This Post is linked up with…
Affiliate links may be included. Thank you for using your purchases to help support Simple Life. Messy Life.