Jesus Calls His First Disciples – Play Through The Bible – Week 17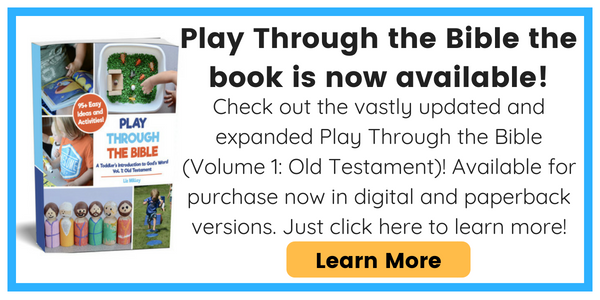 Week 17 of Play Through The Bible is the story of Jesus calling his first disciples.  K loved this week because he is all about going fishing lately!
If you haven't read the introduction to this series yet I recommend going here. For all the plans in one place, go here.
---
Week Seventeen – Jesus' Calls His Disciples

Focus Point
Jesus asks some fishermen to follow him.
Story Time Tips
We read "A Wish for Fish" starting on page 156 of The Rhyme Bible Storybook for Toddlers.
I talked about how these men were using a net to fish, since K has only ever seen fishing with fishing poles.
Pretend to be fishing and then make sad faces when you don't catch anything.
I briefly explained what is means to be "fishers of men." I said that it means telling people about Jesus and asking them to follow Jesus too. K was able to remember the phrase "fishers of men" pretty well, but I didn't push him to remember the meaning for now.
Since this was the first mention of Jesus' disciples, we spend some time talking about who they were. Day five's craft was a great time to expound on this topic more.
Activity
Hop into a laundry basket boat and act out the story! You can use a blanket for the net and for the fish either toys or fish cut out of construction paper.
Discussion
Parent: "Did the men catch any fish by themselves?"
Child: "No."
Parent: "Who helped them to catch a lot of fish?"
Child: "Jesus!"
Parent: "What did Jesus tell them to be fishers of?"
Child: "Fishers of men!"
Daily Craft
Day One – Fishers of Men Coloring Page
http://www.sermons4kids.com/fishers-of-men-colorpg.htm
Day Two – No Fish Yet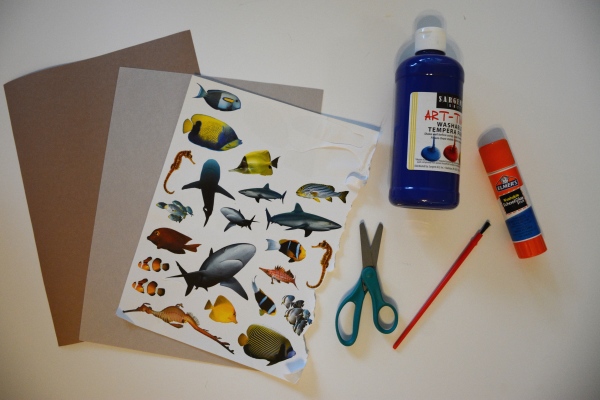 Materials needed: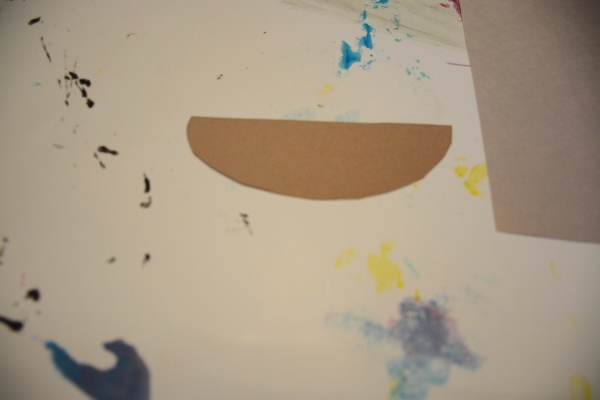 Cut a boat shape out of the brown paper.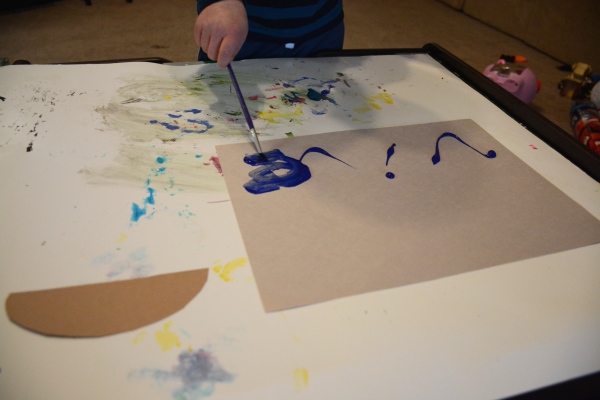 Paint the bottom half of the gray paper with the blue paint.
Glue your boat on top of the water.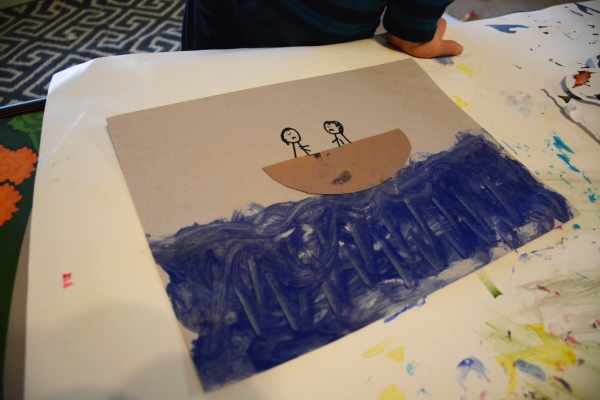 You or your child can draw a couple guys in the boat. Ours were frowning due to their lack of fish. Please don't be intimidated by my mad drawing skills. 🙂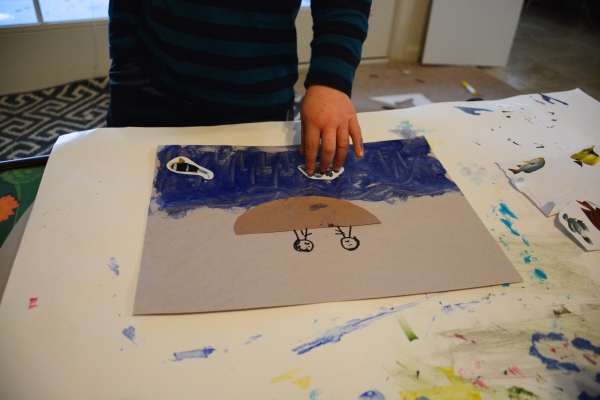 Add your fish stickers in the water (we didn't even wait for the paint to dry first!).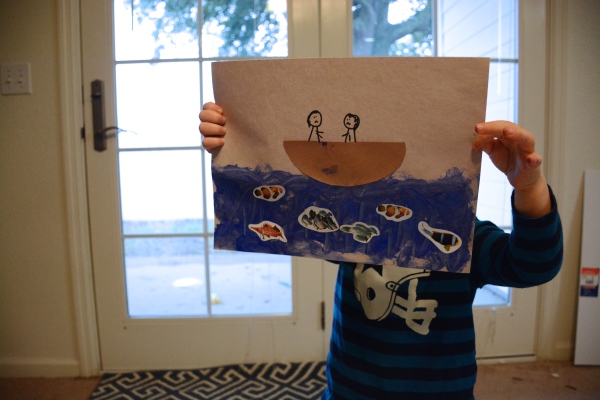 All finished!
Day Three – Fish
Materials needed:
Piece of construction paper (we used gray)
Sequins
Glue stick
Scissors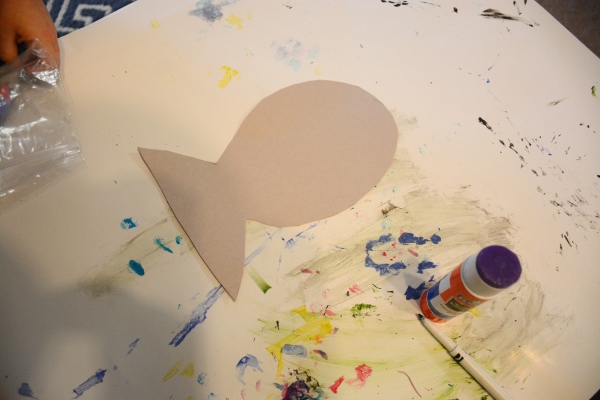 Trace and cut out a large fish shape from your paper.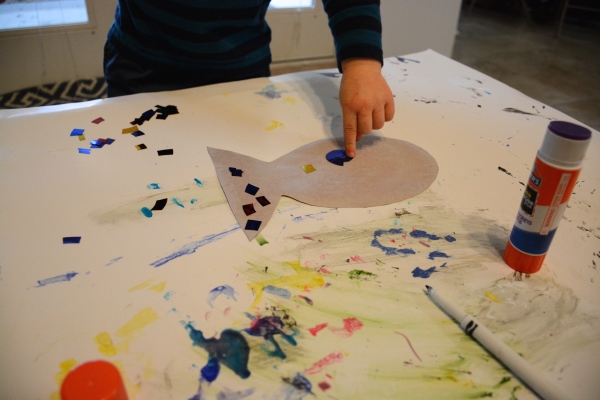 Glue sequins onto your fish.
Simple and easy!
Day Four – Finally Catch Some Fish!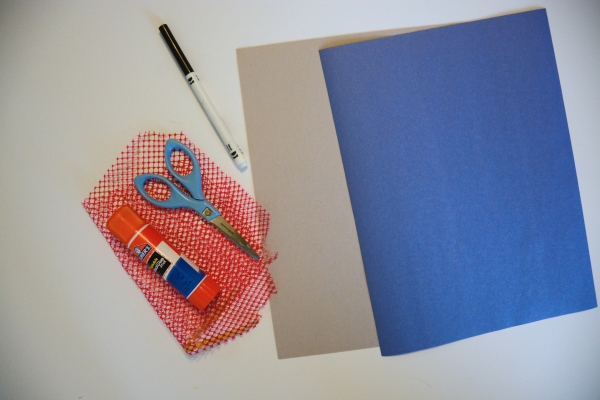 Materials needed:
Blue construction paper
Gray construction paper (optional, originally I was going to use this to cut out fish shapes)
Fish stickers (not pictured)
Glue stick
Scissors
Mesh (ours came off an orange package)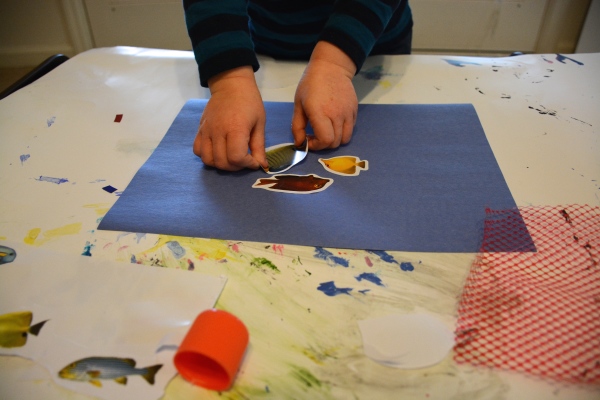 Stick your fish stickers (or glue your cut-outs) together in the middle of the page.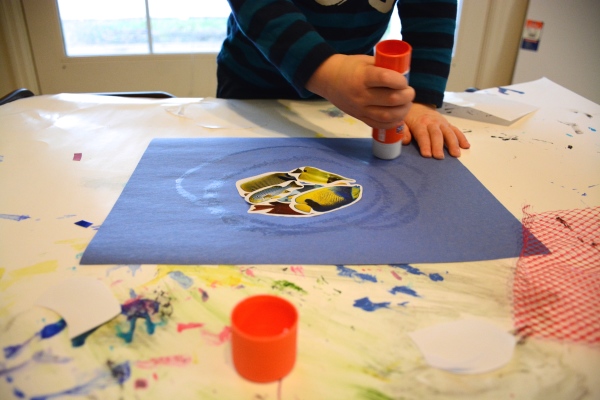 Put some glue around your fish.
Put your mesh overtop of the fish.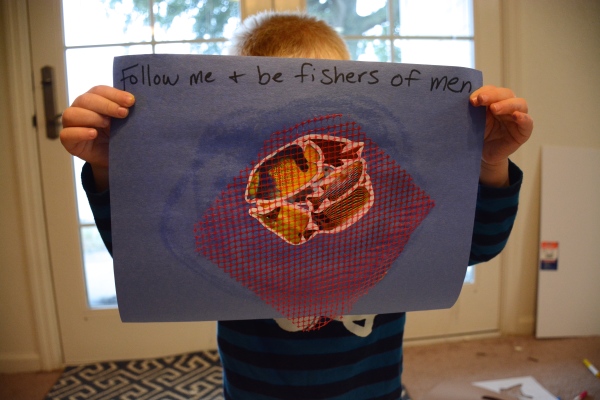 Write "Follow me and be fishers of men" on the top to finish it off!
Day Five – Jesus and His Disciples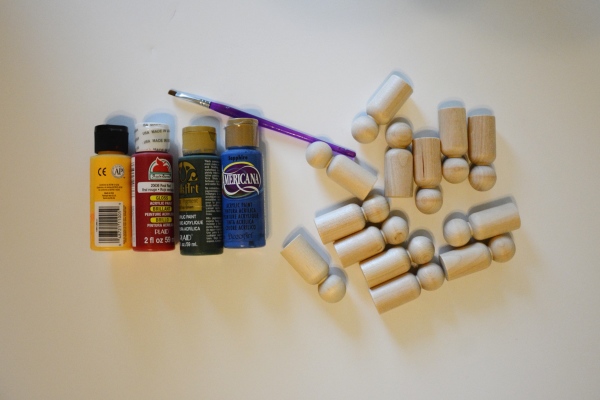 Materials needed:
For our last craft I decided to make something we could use for the rest of the series – Jesus and his disciples peg dolls. They will be perfect for K to use to play out the stories we read.
We kept it really simple…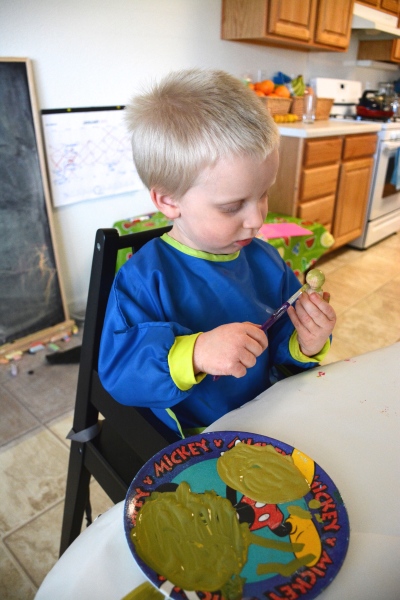 First, we painted the heads. Of course, after we started I realized I didn't have any brown or tan. I mixed together a color for the heads the best this non-artistic momma could, but it did end up a little too green! Good thing it didn't bother K a bit.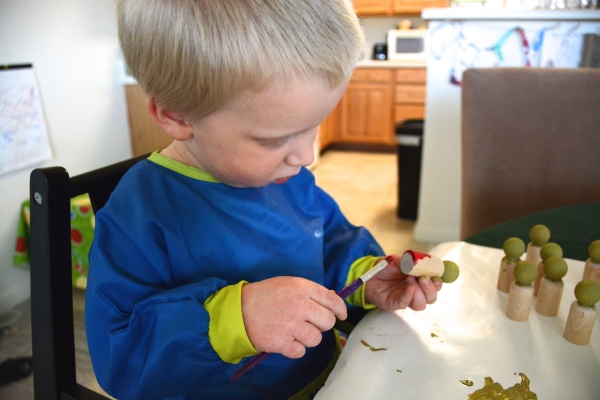 After we painted the heads, we painted each body a different color, making Jesus be white.
All done! Not the prettiest, but made with love by three year old hands (with a little help from mom).
Extra Resources
Here is a great song for this week:
---
I hope you enjoyed week seventeen of Play Through The Bible. I'd love to hear from you! Leave a comment below or use the hashtag #playthroughthebible on Twitter or Instagram! 
Affiliate links may be included. Thank you for using your purchases to help support Simple Life. Messy Life.