Moses – Play Through The Bible – Week 7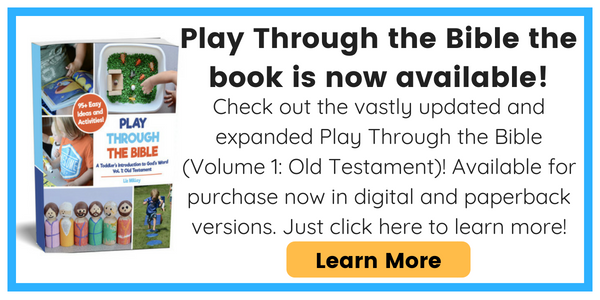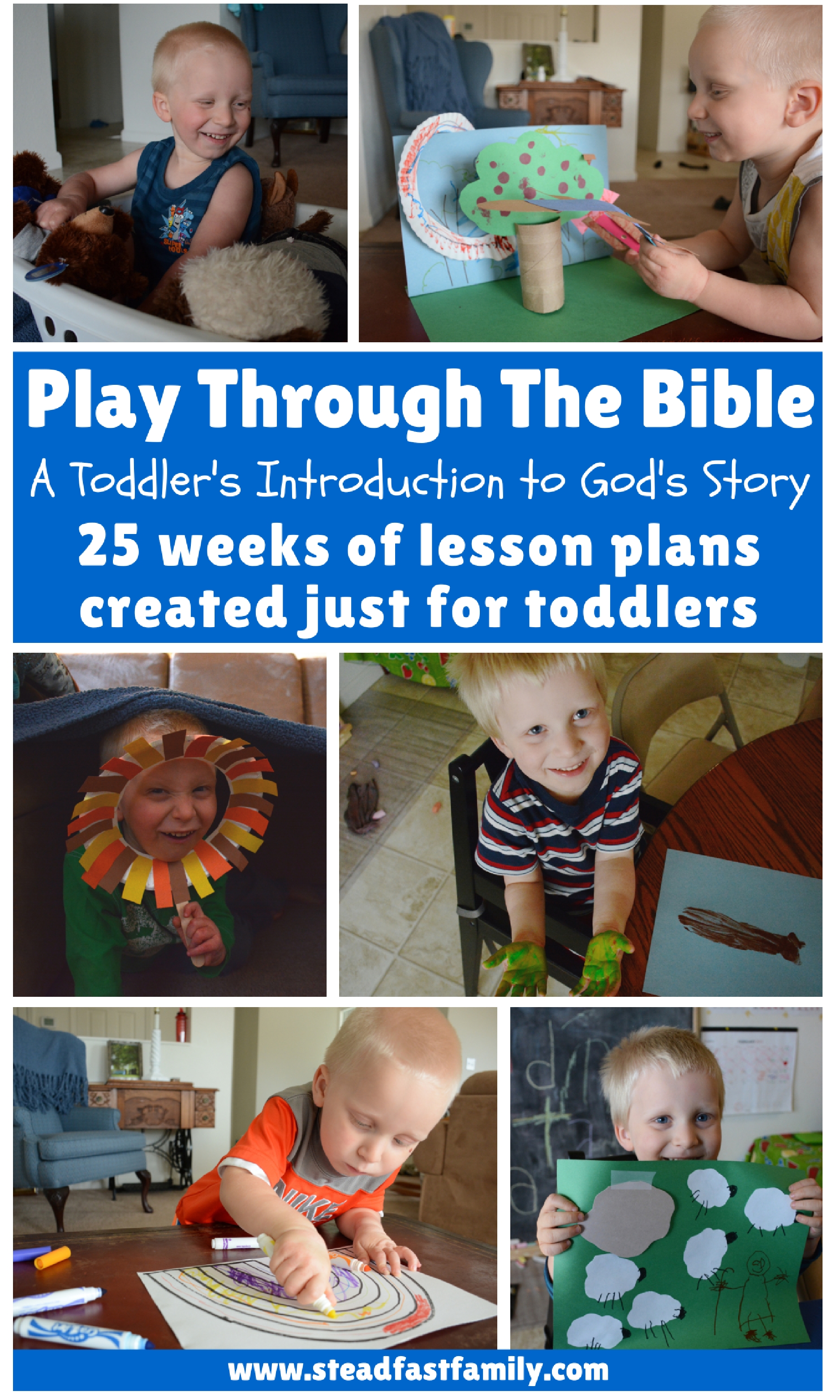 Week seven of Play Through The Bible is about Moses and the story of the Exodus. There's a lot happening in this story, so I tried to break it down to toddler level through the activity and craft. Thankfully, it ended up going over really well!
There is so much rich theology in the story of the Exodus, but first you've got to lay the groundwork – and that's exactly what we start doing here.
Something fun that I found happening this week was that whenever I would ask K a question about the lesson, he would run for his Bible to find the answer. I hope this is a habit we can keep going for his whole life!
If you haven't read the introduction to this series yet I recommend going here. For all the plans in one place, go here.
---
Week Seven – Moses and the Exodus

Focus Point
God sent Moses to set His people free.
Story Time Tips
We read "Out of Egypt" starting on page 92 of The Rhyme Bible Storybook and "God Helps Us" starting on page 60 of The Rhyme Bible Storybook for Toddlers.
This story has a lot going on! We spent a lot of time going back through the pages to talk about what was happening. We mainly used the original Rhyme Bible because the toddler version didn't give very much detail. If your child isn't quite ready to go through all the details, though, definitely focus on the simpler version.
On the first page I emphasized that Moses lived with the king, but then he got in big trouble and he ran away. Then I had K run away like Moses. He loved that and does it every time we read the story now.
The page with the burning bush was a little confusing for K. First, we had to talk a little bit about how God talks to people in different ways and here God used fire to talk to Moses (he wondered if we were going to set a tree on fire – haha). Even though it was confusing, he really liked the idea of a burning bush.
This is also the first time he was being introduced to the concept of God's people. I didn't delve into it too much, but we did talk about how God's people were slaves and had to work really hard for mean Pharaoh.
On the page with Pharaoh we talked more about God's people working for mean Pharaoh. We also pointed out who was Pharaoh and who was Moses. I asked "when Moses said let the people go what did Pharaoh say?" It didn't take him long to remember to shout "no!" and he had fun with that.
We didn't focus on the plagues too much, since there is already so much information. I just said that God sent frogs and bugs and stuff to get Pharaoah to let the people go. We talked about it a little more when he did the plague craft.
On the last page I tried to explain what it meant for them to go through the sea. Also a tricky concept! The activity definitely helped a little bit.
Activity
Using two blue blankets or sheets, drape them over chairs to create a walkway between. If you want you can cut out a few construction paper fish and tape them on the blankets. I found a robe and a wooden dowel rod to use as a Moses costume and we were set! This pretend play for crossing the sea is a great time to further explain that concept.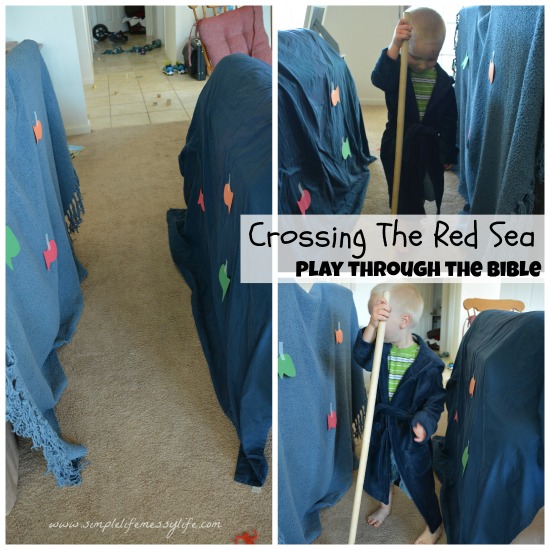 Discussion
Parent: "Who talked to Moses from the burning bush?"
Child: "God."
Parent: "Yeah, thats right. He told Moses to go set his people free from mean Pharaoh. Did Moses do it?"
Child: "Yes!"
Parent: "What did Pharaoh say when Moses said to let the people go?"
Child: "No!"
Parent: "Yep, but he changed his mind did he? What did Moses and the people go through when they left?"
Child: "The sea."
Daily Craft
Day One – Moses Coloring Page
http://4.bp.blogspot.com/-3tMT5wHHkCE/T4iK27NuRmI/AAAAAAAACLA/n9EbSyPHKTU/s1600/Moses%2Band%2Bthe%2Bburning%2Bbush.jpeg
Day Two – Burning Bush #1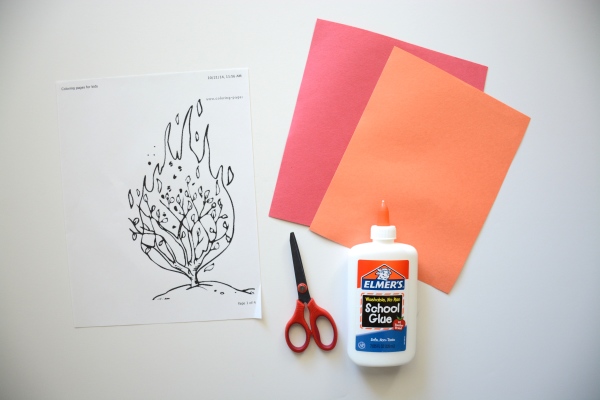 Materials needed:
Burning bush printout (ours was from here)
Orange and red construction paper
Scissors
Glue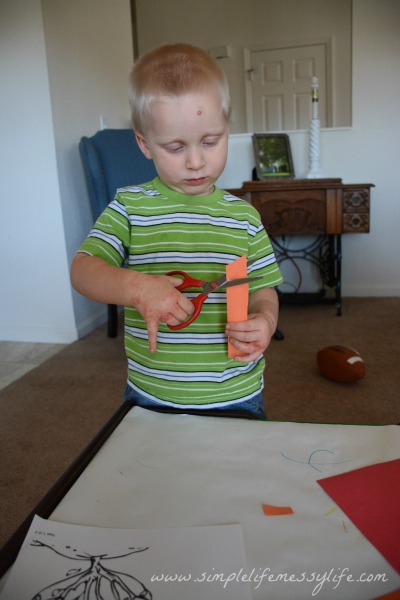 First, take your orange and red paper and cut into strips. From there, it needs to be cut into smaller squares. This is a great cut for a beginning scissor user because the wonky looking shapes just add to the fiery look!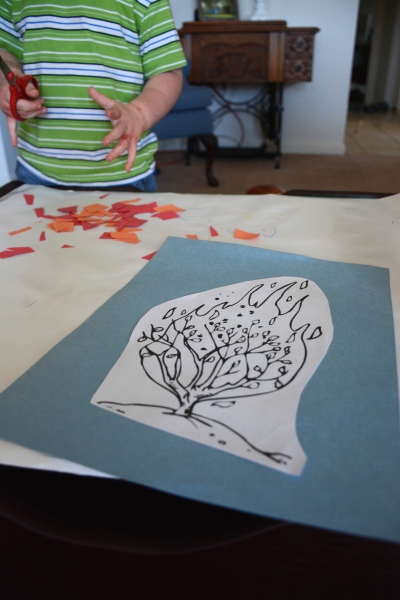 I chose to cut out the bush and paste it onto another piece of paper since it was printed a bit off center. This is optional!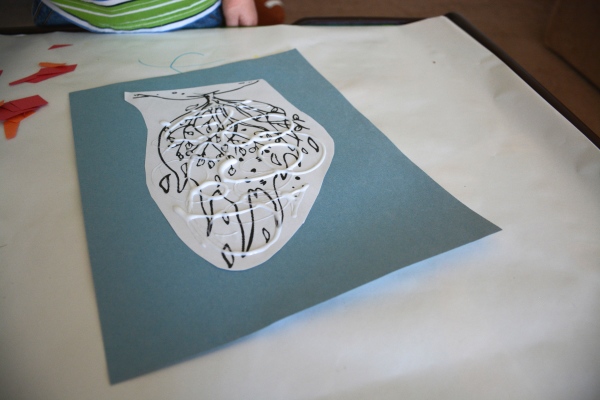 Cover the bush in glue. A glue stick would work here too.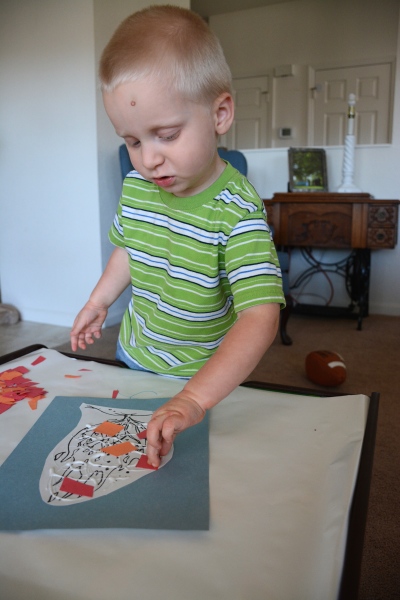 Place the cut up pieces of red and orange paper onto the glue.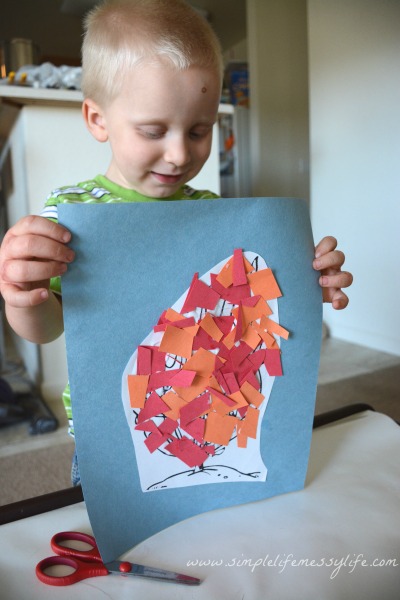 All done and very fiery looking!
Day Three – Burning Bush #2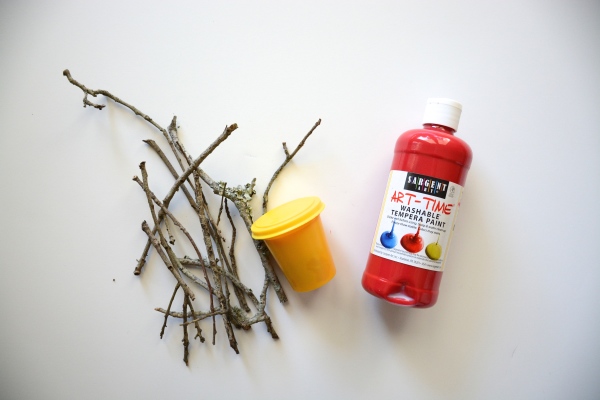 Materials needed:
Red paint
Play doh/clay/salt dough
Small sticks
Paint brush (not pictured)
Since K loved the concept of the burning bush so much, we decided to do two burning bush crafts!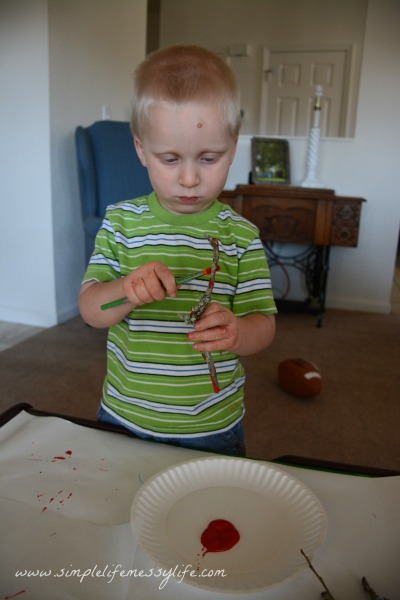 Using the red paint, paint some fire onto those sticks.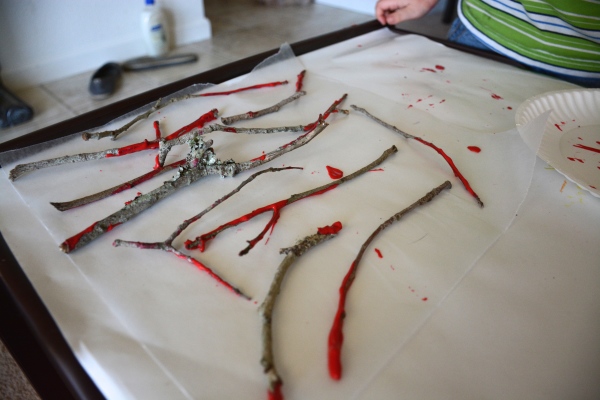 We placed the sticks on a piece of wax paper to dry. If you wanted to hurry this process you could put them in a warm oven for a bit (but then I might use parchment paper instead).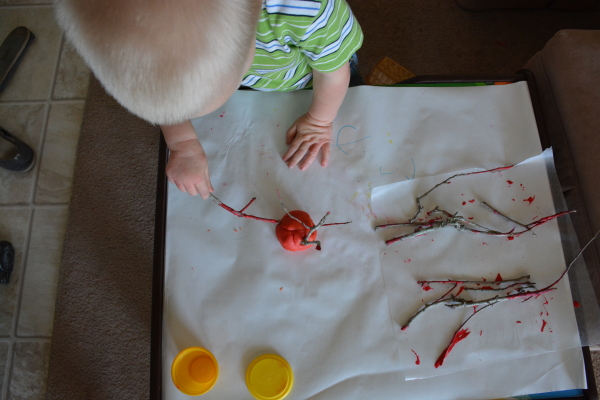 After your sticks are dry, poke them into the play doh to make a bush.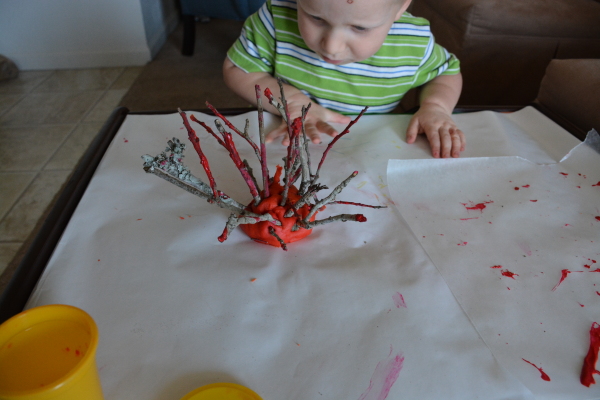 You've gotta stick quite a few in there to get it looking "bush-like."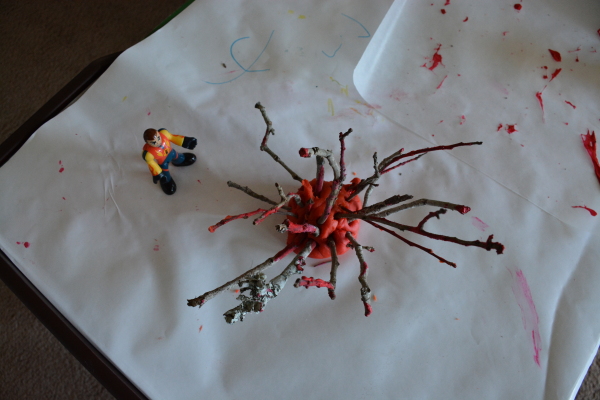 One of the best parts about little kids is their great imagination. K had no problem using this little race car driver as a Moses while playing with his burning bush.
Day Four – Frogs, Locusts, and Flies OH MY!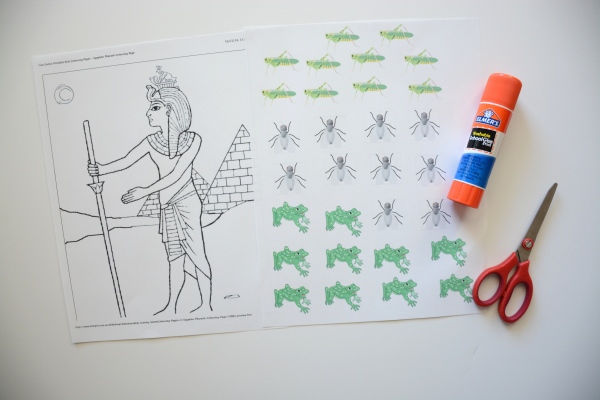 Materials needed:
Pharaoh printout (we got ours here)
Frog, locust, and flies clip art (download the printable here – Moses Crafts Printable)
Glue stick
Scissors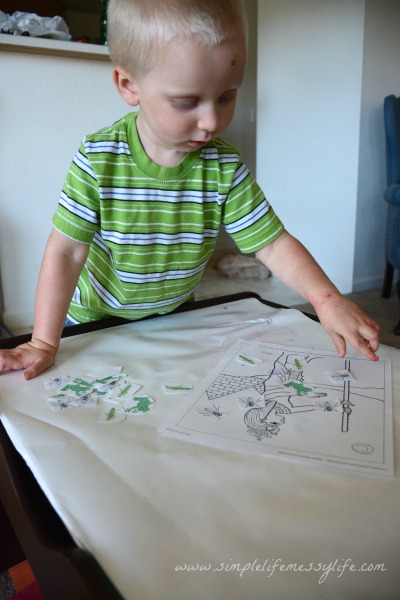 If your child wants, first color the Pharaoh page. K is hit or miss with coloring, so he didn't want to. Then, you need to cut out the bugs and frogs (can be done beforehand). All there is to it after that is just gluing the bugs and frogs onto Pharaoh. We focused just on the plagues mentioned in the story and used this craft to talk a little more about how God sent them to get Pharaoh to let the people go.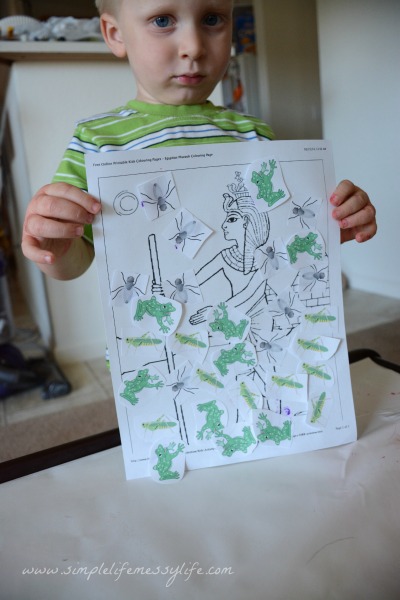 Day Five: Crossing the Red Sea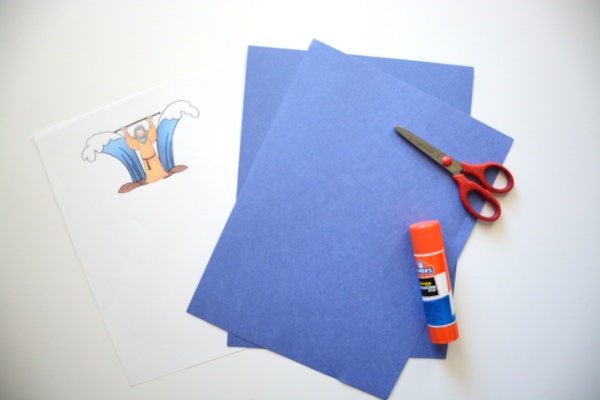 Materials needed:
Moses clip art (can be found on day 4's printable – Moses Crafts Printable)
2 sheets of blue construction paper
Glue stick
Scissors
When I saw this craft on Growing Kids Ministry, I knew that we were going to have to use it for our Moses week. Below is how we did it, but you can find the original craft here.
First, cut the blue piece of paper in half long-ways.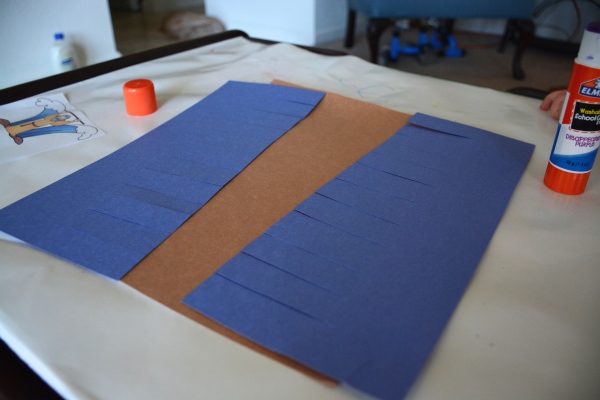 Next, cut strips in both halves of the blue paper up until about an inch away from the edge.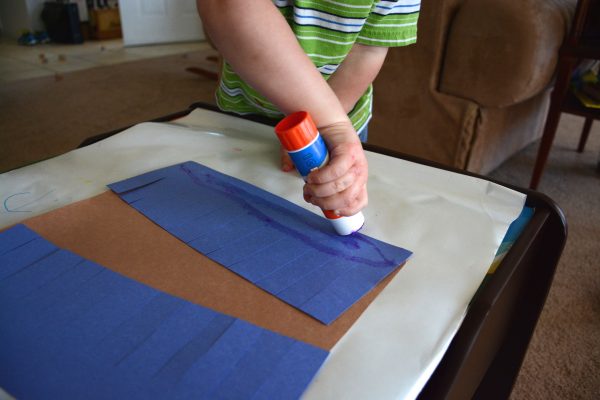 Put some glue on the back of the blue paper where you didn't cut.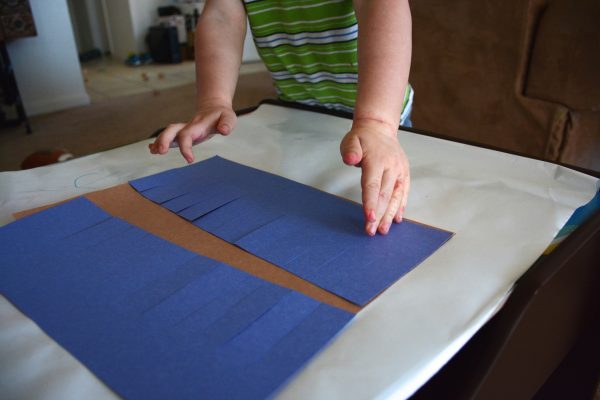 Stick it down on lined up with the edge of the brown paper, with the strips facing in.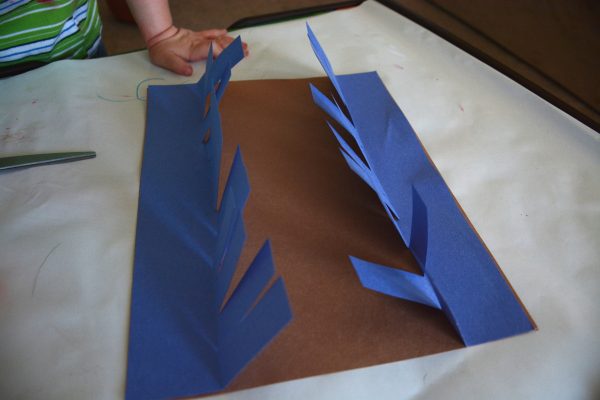 Then, bend the strips up.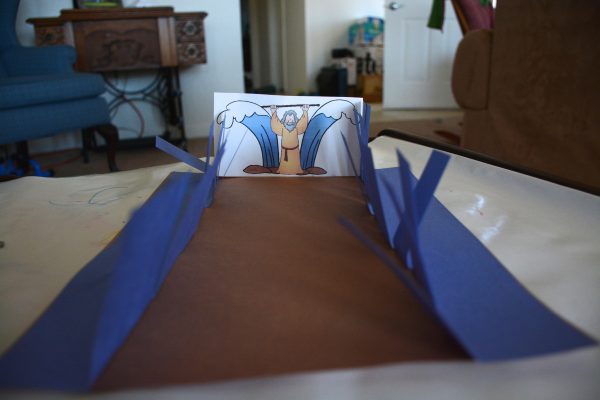 Cut out Moses and bend up the paper underneath him. Then, glue Moses onto the edge of your "red sea."
Mr. Racecar driver makes another appearance! This time as an Israelite crossing the sea.
Extra Resources
– I wanted to have K watch The Prince of Egypt, but couldn't get my hands on a copy. We will have to check the local library and watch it soon!
– K really enjoyed the song "Pharaoh Pharaoh"
---
I hope you enjoyed week seven of Play Through The Bible. I'd love to hear from you! Leave a comment below or use the hashtag #playthroughthebible on Twitter or Instagram! 
Affiliate links may be included. Thank you for using your purchases to help support Steadfast Family.