Nature Tray – A Solution For All The Outdoor Treasures Your Kids Bring Home This Summer
I don't know about your kids, but almost every time my son steps foot outdoors he comes back with some "treasures." Sticks, rocks, flowers, leaves, anything he can get his little hands on. He loves being outdoors and he always wants to keep his collections.
However, up until recently, the rule was that outside things stay outside. Too many times I had stepped on a rock in my living room or found crumbled up leaves all over the floor. K was pretty good about this rule, but I knew he would love it if he had a way to further explore his treasures inside.
I had seen a lot of fun "nature centers" set up in people's homeschool area, but I knew our preschool room didn't have enough space for something like that. Then, inspiration struck!
The "nature tray" was born.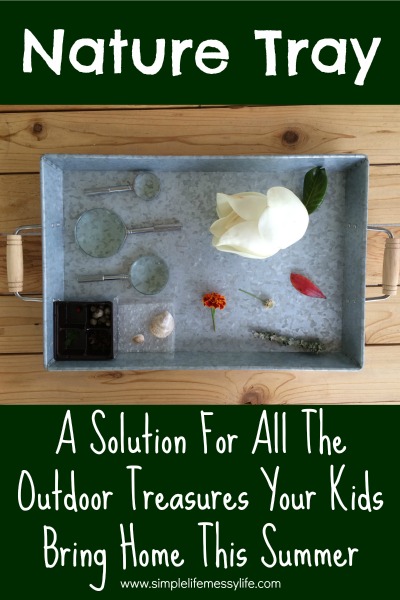 I picked up this pretty metal serving tray from Walmart for about 8 bucks (something similar here
) and ordered a set of magnifying glasses (I searched forever for something that seemed high quality and also wouldn't break the bank, this
is what I ended up getting). I added a couple little plastic trays out of the recycling bin (for holding small items) and we were ready to go on a nature walk!
K and I went outside and I let him gather his "treasures." He was so excited! We brought them back home and placed them in the tray.
Then, it was time to investigate!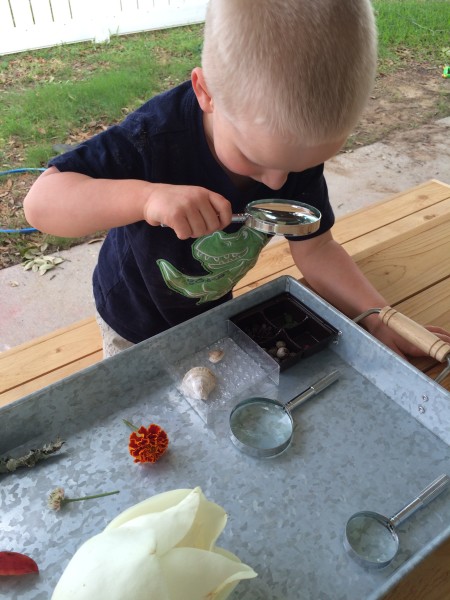 He had never used magnifying glasses before so he was pretty intrigued.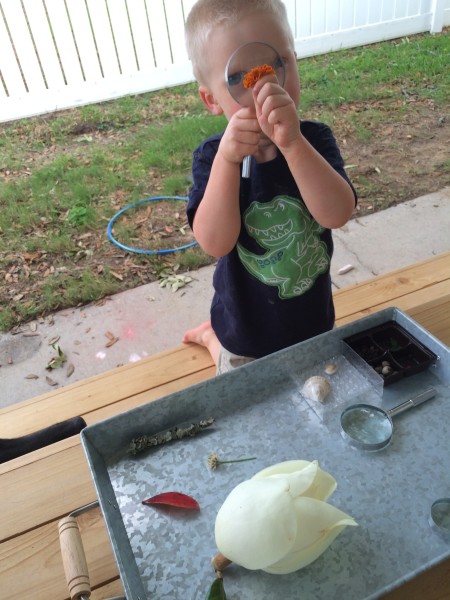 After his exploration is over, the tray can easily be slid back onto his school shelf – ready to be pulled back out when he is ready to look at his treasures again.
And now, when K comes home with pocketfuls of nature finds the rule is that he has to put them in his nature tray. No stepping on rocks for me and K is able to save his treasures – win win!
What do you do with all the treasures your kids bring home?