Six Baby "Essentials" We've Done Without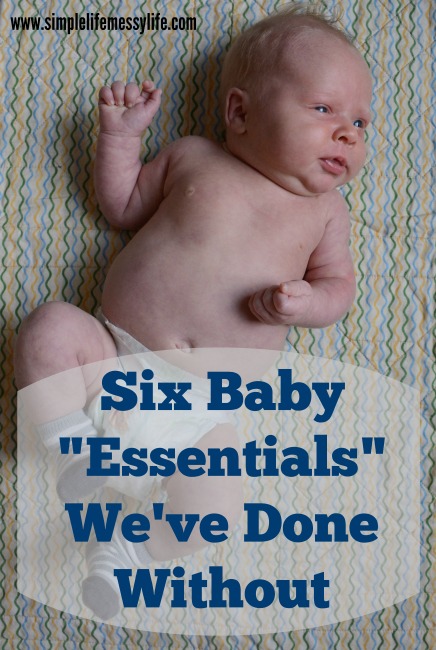 When you're preparing for the arrival of a new baby (especially your first!) it is easy to find lists and lists of all the things you "need" to buy before baby comes.
However, when push comes to shove, there's not really a lot that a newborn needs. Diapers + wipes, a few outfits + blankets, food, a place to sleep, and lots of snuggles. Everything on top of that generally comes down to added convenience and personal preference.
So, whether you are working with a budget or just trying to keep things simple, it is definitely possible to skip some of the baby "essentials."
Today, I want to share six that we've easily gone without.
Note: I feel like it should go without saying, but I'm going to say it anyway. If you personally love these things, that's great! However, sometimes we can feel pressure to buy "necessities" that  we really don't need if we don't want them.  

#1 Changing Table
When K was born we were sharing a house with two other roommates and only had one bedroom and bathroom for our personal use. Because of this, space was very limited. K didn't even have any dresser space – all his clothes and diapers were stored in baskets on top of our dresser.
Instead of the traditional changing table or even a dresser style changing table, I just opted for some washable changing pads (like these ones
) and the changing table became any flat surface.
Even though we have more space now, we still don't have a changing table for J. I'm still using the same changing pads on the bed, pack-n-play, couch, floor, back of the car, or wherever else I need to. It works wonderfully!
#2 Fancy Diaper Bag
I'm not gonna lie, I think there are some really cool fancy diaper bags out there. Problem is, I just could never get past the huge price tag! So, instead of buying a dedicated diaper bag, I've used a variety of other bags, most of which I already had laying around.
When K was first born, I used a small back pack. After a while I bought a large purse/briefcase type bag that had a lot of compartments and used that for quite a while. I tend to not like dragging a ton of stuff out and about with me though, so eventually I just ended up carrying a couple diapers and wipes in a regular sized purse.
With J, I used a canvas tote bag for the first few weeks and recently I just moved everything over to a messenger bag I already had.
So, if you're looking to save a little cash, skip the diaper bag and shop your closet first!
#3 Baby Washes, Lotions, and Laundry Detergent
One of the benefits of using natural products is that you can use the same products for the whole family.
With K I always skipped the baby washes and just used a bar of natural soap. It worked great and now baby J just shares big brother's soap. Right now he has an oatmeal soap that I purchased from Vitacost (referral link), but in the past we used this
olive oil soap and really liked it too.
As far as lotion, newborn skin doesn't generally need any to be baby soft. However, once the need for a moisturizer does come along I, again, use what the rest of the family uses – coconut oil, shea butter, and Desert Essence lotion
(I also use their shampoo and conditioner – love it!).
Same goes for laundry detergent. No need to buy expensive speciality detergents, I use the same detergent for all laundry (even cloth diapers!) and have used it for years – Ecos
. It's plant based, non-toxic, and works great! I buy the giant container from Sam's Club, but you can order it online too.
#4 Diaper Genie
What did we ever do before they invented the Diaper Genie? Oh, that's right, we just threw the diapers in the trash!
This one is pretty simple. Diapers in the trash don't smell any worse then anything else in the trash. Skip it.
#5 Boppy Pillow
I hesitated about whether I should add this to the list or not because part of me thinks one of these could actually be pretty handy. However, this is baby #2 that I've gotten by just fine with regular old pillows for nursing. If you're not sure you'll use one, feel free to give it a pass.
#6 Pinterest Worthy Nursery
As I mentioned before, when K was born we only had one room, so a nursery wasn't even an option then. This time around, we have a room that theoretically could have been used for a dedicated nursery, but I didn't really see the point.
J sleeps in his crib in our bedroom and all his stuff is in our bedroom, so it made a lot more sense to just leave the extra room as a guest room/craft room.
Babies don't really appreciate or care about a fancy room anyways. Plus, I have found it a lot more fun to decorate K's room with his help now that he is older.
Well, those are the six baby essentials that I've skipped. Do you have any to add to the list? Share them in the comments!
Affiliate links included. Thank you for using your purchases to help support Simple Life. Messy Life.