The Prodigal Son – Story and Activity to go with The Jesus Storybook Bible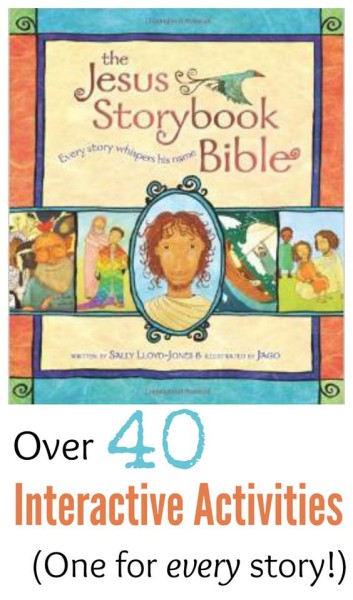 Today we are joining up with the Jesus Storybook Bible Blog Hop one last time to bring you an activity to go along with the story of the Prodigal Son, found in The Jesus Storybook Bible
as "Running Away" on page 272.
The story of the Prodigal Son is such a great one! Reading this story was very timely for us as we have been having a lot of "talks" lately about making right choices and doing good things. It is so important to also have reminders that there is nothing you can do that will make God (or mom and dad!) stop loving you. It's not the good things we do that make God love us, but just the fact that we are His children.
We had a ton of fun with our activity to go along with the story! It really helped K cement the story in his mind as he went through each part. I hope you give it a try!
The Prodigal Son Activity Stations
For today's activity I decided to make stations for K to experience each section of the story. He helped me get everything ready as well, so he was fully involved in the activity!
At every station we talked through that part of the story again and I asked K a lot of questions to see if he could remember what happened.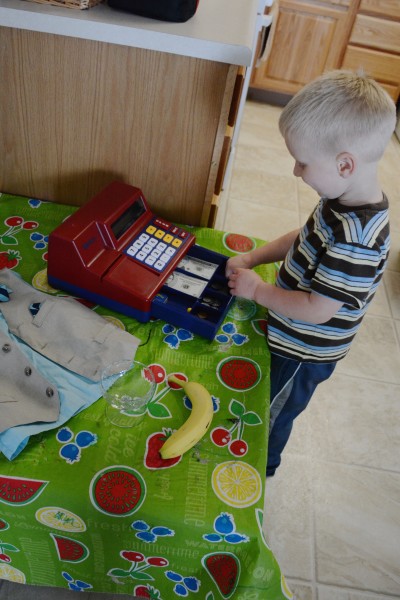 Our first station was for the part of the story where the son took the money from his dad and ran away to spend it. I set up a play cash register, some food (a banana), a fancy glass, and some fancy clothes. The first thing K did was get the money from me (pretending to be the dad).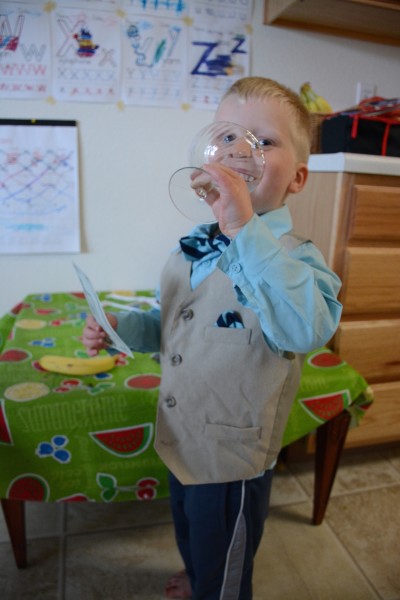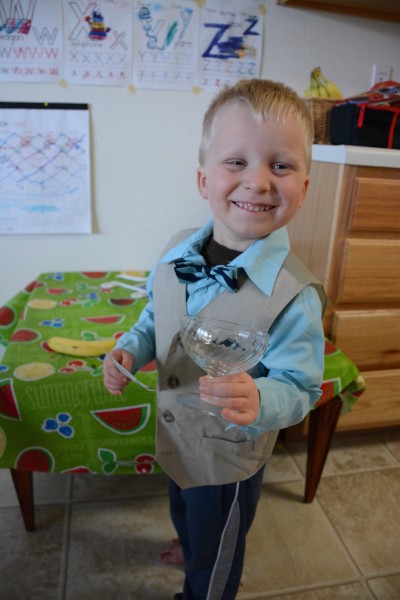 As he "spent" his money I had him put on the fancy clothes, and pretend to take a drink from the fancy glass. We talked about how the son didn't want to listen to his dad anymore, he wanted to spend him money on whatever he wanted. Then I asked K what happened to the son's money. We talked about how it all ran out because he didn't listen to his dad. So we put away the money and the glass and we took off the fancy clothes and headed to the next station.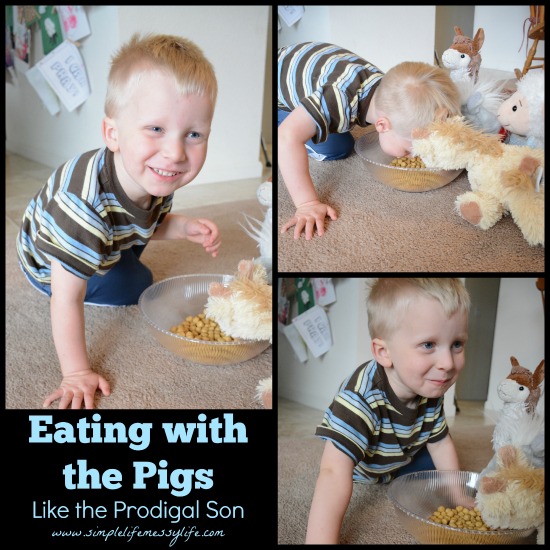 The next station was a big bowl with some cereal in it to be the "pig food." I thought about putting something truly yucky in the bowl like dog food, but decided to just keep it fun and use our imaginations. We didn't have any pig toys or stuffed animals so K grabbed some of his other stuffed animals and just pretended they were pigs!
He thought it was so silly to be eating with the pigs! I kept trying to tell him to make a yucky face like he was eating pig food, but he could barely stop giggling! This face was the best we got!
After eating "pig food" we talked about how the son realized he didn't need to eat pig food, he could just go back home. We talked about how the son was afraid that his dad would be mad and wouldn't love him anymore. What would happen?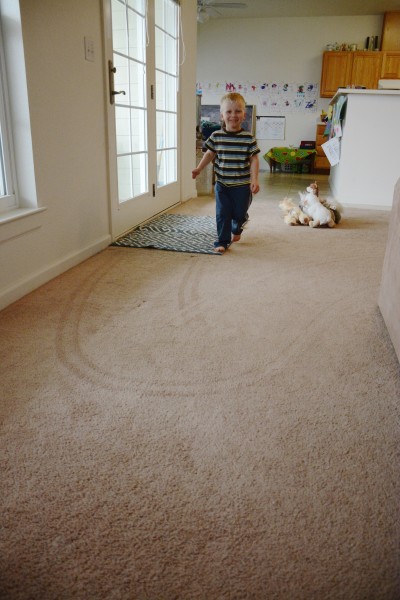 Then, K ran to the next station where I was waiting as the dad to give him big hugs and kisses. I told him how much I loved him and that I would love him always and forever!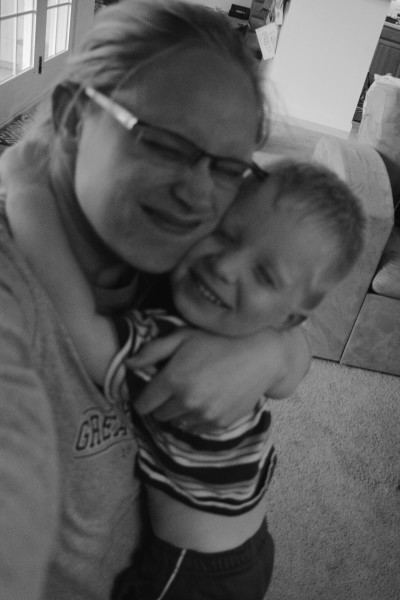 It's really hard to take a picture of yourself giving hugs! My little snuggle bug absolutely loved this part though!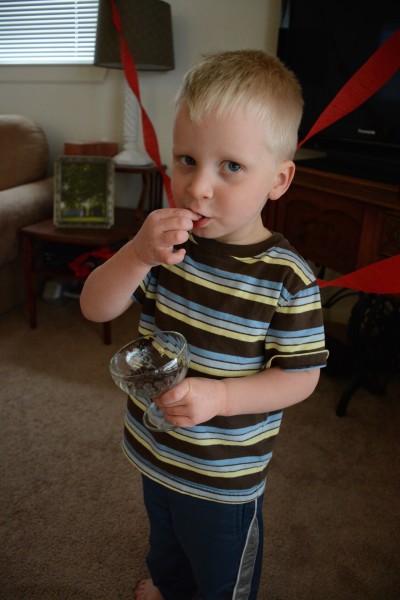 For the last station we had a party to celebrate the return of the son! We had a special treat (chocolate chips) because you always have treats at parties. I had hung some streamers and turned on some music, so we ended the activity with a….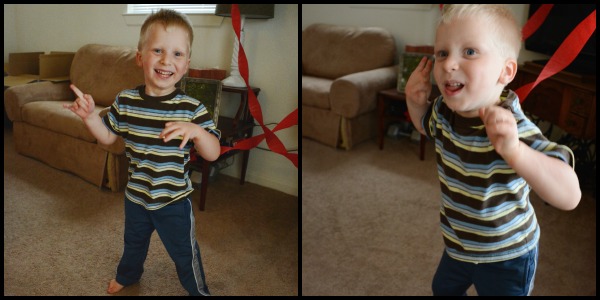 DANCE PARTY!!
---
I hope you enjoyed our activity for the story of the Prodigal Son – I know we did! If you are looking for more hands-on activities to go along with the Jesus Storybook Bible, be sure to check out the whole series here. If you are looking for activities and crafts specifically geared towards a younger age, be sure to check out our Play Through The Bible series. 
Did you hear about the Jesus Storybook Bible Collector's Edition Package giveaway?! There's still time to enter! See all the details here, or enter below!
Affiliate links may be included. Thank you for supporting Simple Life. Messy Life. with your purchases.