Tips For Surviving Time As A Long-Distance Family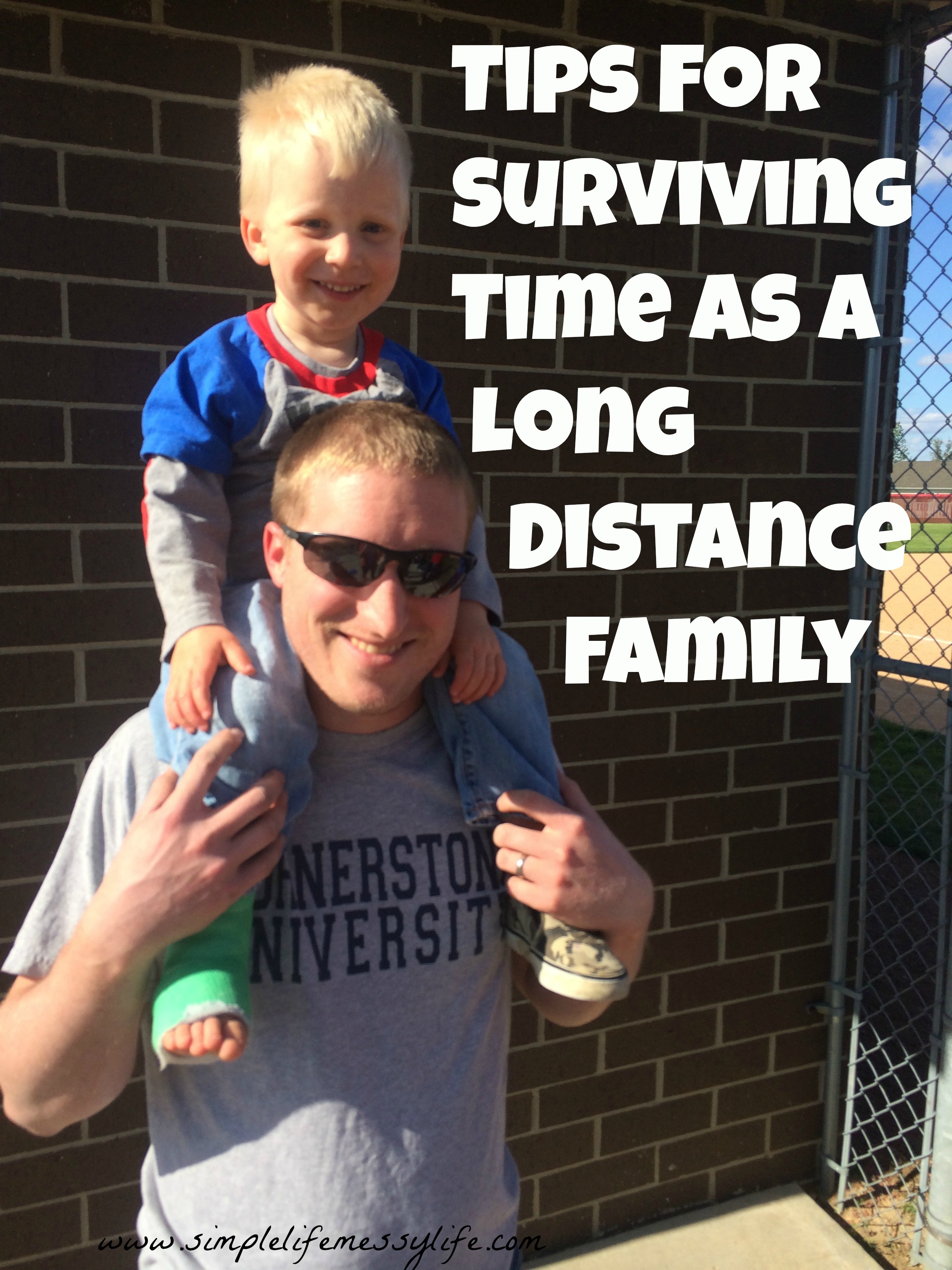 "No! My daddy stay at my house! Awight?"  I pushed back the tears welling up in my eyes and told my son that it wouldn't be too much longer before daddy would be with us again. However, inside, I felt the same way he did. This was only his third time getting to visit with his daddy in the last 5 months and we were both sick of saying good bye.
In K's short 2 1/2 years of life his daddy was away for almost 10 of those months. Unfortunately, for various reasons, we've had to spend time living life as a long-distance family.
If you're facing a similar situation, here's 8 tips that helped us get through this difficult time.
Stay in each other's routines. Even though we were 600 miles away, K could expect to call his daddy every night to pray and say goodnight. I could usually expect a call during nap time to catch up without interruptions. Facetime and Skype make this easier than ever.
Make the most of visits. We had four visits of varying lengths during our last 6 month separation. During these times we tried our best to make family time a priority and eliminate unnecessary distractions – even if that meant playing catch up with the laundry afterwards!
Send the love. I tried my best to document life and send it to my hubby in the form of pictures and videos. The good and the bad. The exciting and the boring. Its not really almost like you were there too.
Snail mail. For daddy's birthday K helped me bake him cookies and picked out a few little things to send in a package. It was great because daddy gets some love and K got to be involved in making a connection. I wish I would have been better about sending pictures and letters too.
Fight the discontentment. It is so easy to settle into the mindset of "everything will be better when…" Every time I found myself thinking that it was a red flag to step back and make sure my mind was in the right spot. We tried to immerse ourselves in what was going on at that time and be fully present in the moment.
Anticipate the re-entry. Whenever you've spent time away from your spouse there is going to be a period of readjustment. Being a very independent person, this was harder for me than hubby, but knowing it was coming helped. I knew it was hard for me to transition to functioning as a unit after spending time functioning independently. Knowing this, I could prepare myself mentally for what was coming.
Focus on gratitude. My husband was living in Minnesota for next to nothing with a friend, working a job earning money we really needed. During this time K and I lived with my in-law's. We had a great place to stay and I had support while I was effectively single parenting. We also knew that there were a lot of families that had to be apart for a lot longer than we did. There was a lot to be thankful for.
Look for the lessons. In any time of difficulty, there is the potential for growth. This situation was no different. We both learned a lot during our time apart and we were able to use our time apart to grow our family together.
The time spend apart was far from easy, but using these tips and a lot of prayer we were able to make it through.
Has your family ever had to live apart from each other? Even though I hope to not have to go through the experience again, I'd love to hear how you made it through!