Twelve Gifts of Advent: Waiting for the Promised One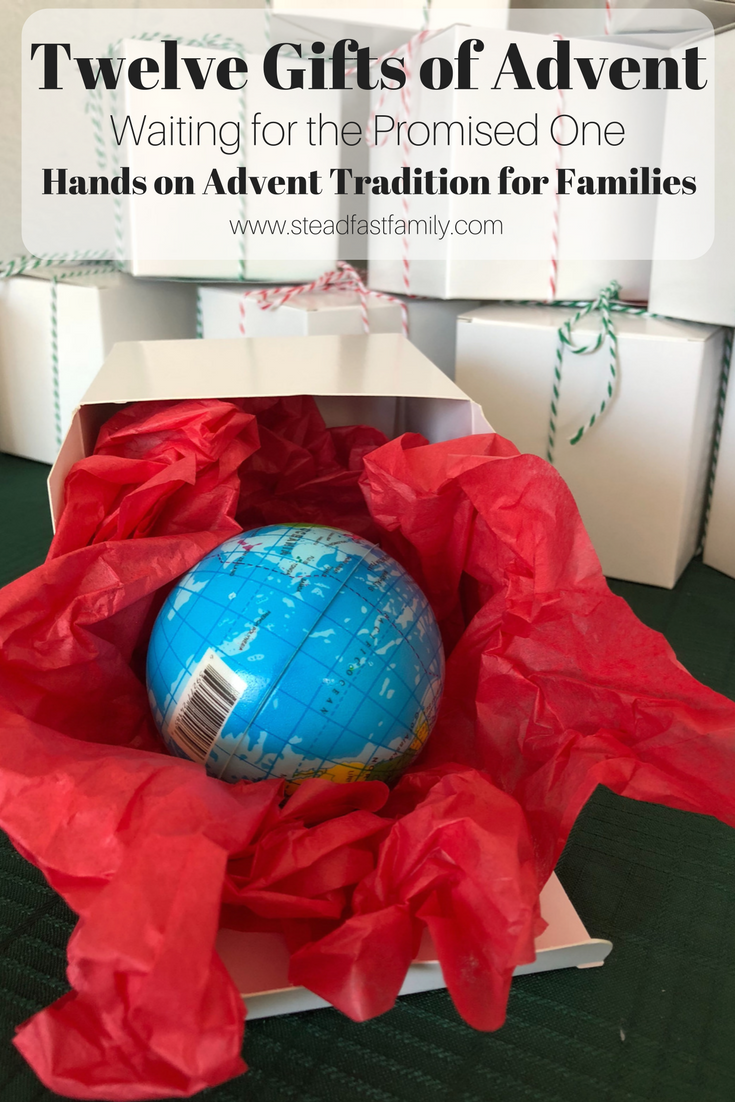 The word Advent comes from the Latin word that means "coming." Traditionally, Advent is the season of waiting and preparing for the One who is coming. And as amazing as the Christmas story of the babe in the manger is, its meaning becomes a whole lot deeper when we understand the story that came first.
The story of creation and fall, and of the long waiting for the coming of the promised one.
I originally had the idea for this advent devotional a few years ago when we were doing resurrection eggs at Easter time. If you've never heard of resurrection eggs, they are Easter eggs in a carton, each with a small object inside. Each object helps tell a part of the Easter story. This simple way of telling the story was fantastic. It was hands on learning for my young son and so simple for me. Once the eggs were assembled, all we had to do each day was open one up and read the corresponding scripture.
This devotional works much in the same way. Each day, you open a gift. Inside the gift is an object that helps to tell the story of Advent – waiting for the coming of the promised one. The objects really help in remembering the story! Do all twelve days in a row, or spread them throughout the season – it's up to you!
**CLICK HERE TO SKIP RIGHT TO THE eBOOK**
Here's a video I made that shows everything I put in our boxes…
How to Make the Advent Boxes
Most of the items for the boxes can be found around your house, but for ones you may need to purchase I've included affiliate links for your convenience. All you do is wrap up the object and add a tag with the corresponding Bible verse to be read.
DAY ONE – CREATION 
Genesis 1
DAY TWO – FALL
Genesis 3
Tree branch
DAY THREE – PROMISE
Genesis 3:15
DAY FOUR – PEOPLE
Genesis 12:1-3
DAY FIVE – MESSENGERS
Isaiah 6:8
Envelope
DAY SIX – LIGHT
Isaiah 9:2-7
Battery operated twinkle lights
DAY SEVEN – SAVIOR
Isaiah 53
DAY EIGHT – SILENCE
Malachi 4:5-6
DAY NINE – ANGEL
Luke 1:5-25
DAY TEN – GIRL
Luke 1:26-33
DAY ELEVEN – BABY
Luke 2:1-21
DAY TWELVE – CROSS
John 3:16; 19:17-18
Cross made from two sticks
Want to make this even easier?
I've put together an awesome resource for you! It's everything you need to make these gift boxes a fun Advent tradition for your family.
Introducing.. Twelve Gifts of Advent: Waiting for the Promised One – a hands on family Bible study!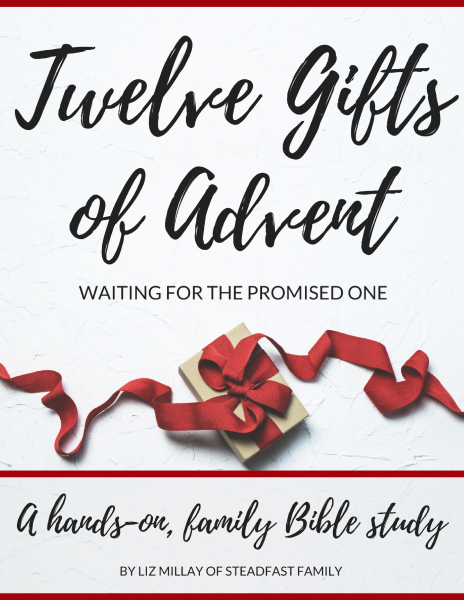 For only $5, you get more ideas and instructions, a devotional guide for each day, printable tags, and more!
Here's an example of day one…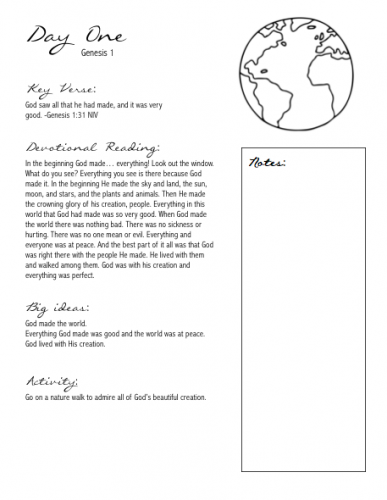 The devotional goes through each day, explaining the significance and making it really easy for you to lead your family to a fuller understanding of everything that came before the baby in the manger. There's even printable images for you to use if you don't have time to get physical objects together for the gift boxes!
And I wanted to make it super affordable for you, so for only 5 bucks, it's a no brainer!