5 Ways to Teach Your Toddler About God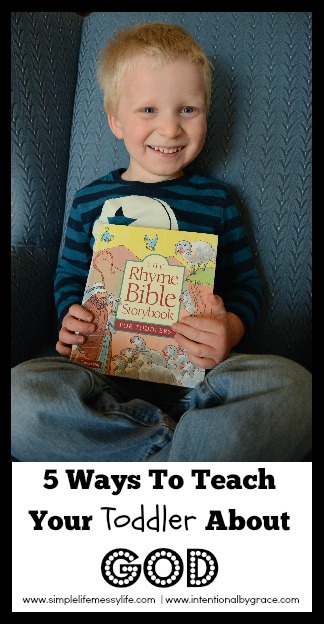 Today I'm over at Intentional By Grace sharing 5 tips I've learned over the last year about how to teach your toddler about God. Here's a sneak peak…
---
Toddlers. You've got to love them. Wild balls of energy with short attention spans and an even shorter ability to sit still. Logic means nothing to them, and don't even start with the analogies and metaphors. So how exactly are you supposed to even begin to explain to them the very long, very complex thing that is the Bible?
We can all agree that teaching Biblical truths to our children from a young age is important, but sometimes it is just so hard to know where to start. 
Shortly after my son turned two I knew that I wanted to start being more intentional with teaching him about the Bible, so I set out to find ways to make connections with his toddler brain and heart.
I want to share with you five things I've learned in the last year… read more at Intentional By Grace.