Baby Jesus – Play Through the Bible – Week 13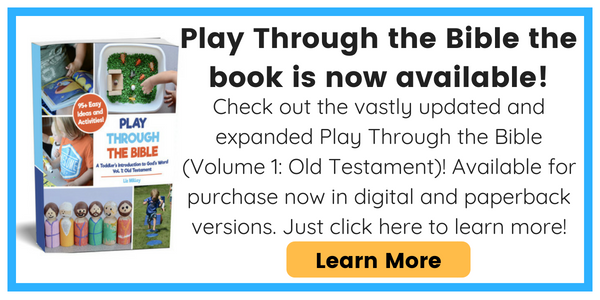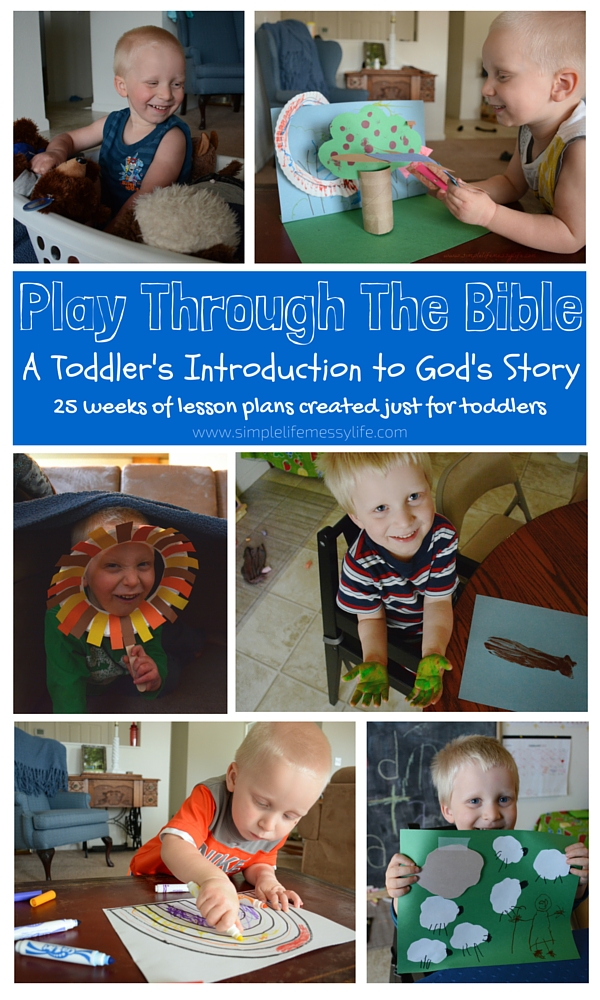 Just in time for Christmas next week we have made it to the story of baby Jesus! If you are looking for some fun and easy activities to do with your little one next week, look no further.
If you haven't read the introduction to this series yet I recommend going here. For all the plans in one place, go here.
---
Week Thirteen – Baby Jesus

Focus Point
Christmas is when we celebrate the birth of Jesus the baby king.
Story Time Tips
We read "The Special Baby" starting on page 172 and "The Shepherds" on page 182 of The Rhyme Bible Storybook and "Who Saw Jesus?" starting on page 130 of The Rhyme Bible Storybook for Toddlers.
When we talked about how Jesus is the King (page 184 of TRBS), K remembered how last week we had learned that Daniel didn't pray to the king. That led to a discussion of how Jesus is the King of the whole world, the King of Kings. We talked about how he is God, so it is okay to pray to him.
On page 180 (TRBS) we see baby Jesus in the manger. K found it was super silly to learn that the manger was where the animals ate their food – kind of like the dog's dish!
After learning about the angels, K really enjoyed listening to Hark the Herald Angels Sing.
Activity
If you have a kids nativity set (I recommend this one, but if you don't have one try searching for "printable nativity"), use the pieces to reenact the Christmas story with your child. We've done this multiple times since K loves to play with his nativity and, though it is simple, it has really helped him remember the story and each person's role.
Discussion
Parent: "Who's birthday is it on Christmas?"
Child: "Jesus."
Parent: "Who was Jesus' mom?"
Child: "Mary."
Parent: "Who was his dad?"
Child: "Joseph."
Parent: "Where was he born?"
Child: "Stable/manger."
Parent: "Who did the angels tell about Jesus being born?"
Child: "The shepherds."
Daily Craft
Day One – Nativity Coloring Page
http://www.activityvillage.co.uk/nativity-colouring-pages 
Day Two – Simple Shape Nativity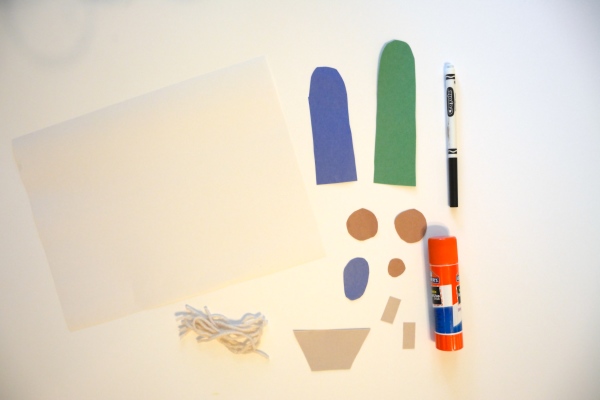 Materials needed:
White paper
Black marker
Yarn cut into small pieces (ours was off-white, but you could use brown or yellow)
Glue
Green construction paper cut into the shape above
Blue construction paper cut into the shape above and into a small oval
Brown construction paper cut into two small circles and one smaller circle
Gray construction paper cut into a trapezoid and two small rectangles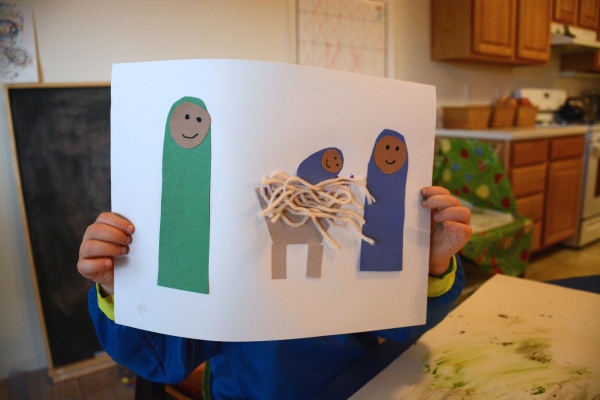 This craft is fairly simple and self-explanatory, so I didn't take pictures of step-by-step instructions. All you need to do is glue the pieces onto the white paper like the above picture. When we were done we wrote "Jesus the baby king" on the bottom.
Day Three – Craft Stick Nativity Ornament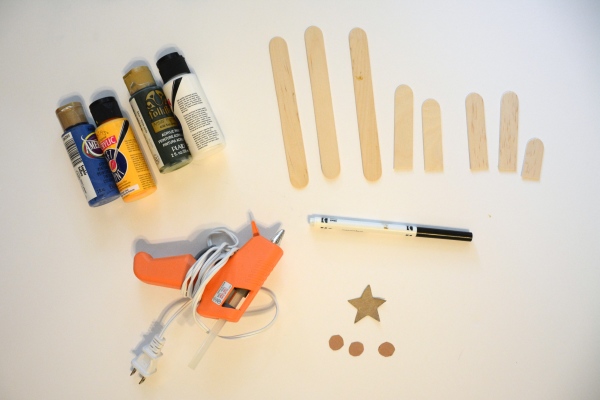 Materials needed:
Paints (we used blue, yellow, green, and white)
6 wide craft sticks – three whole, three cut like the above picture
Glue gun (or your choice of glue)
Star cut out of paper or a cereal box
Black marker
Three small circles cut out of brown paper
I've seen these cute craft stick nativities floating around the internet and thought it would be fun to make. I found some instructions here, but ended up simplifying it way down for toddler hands.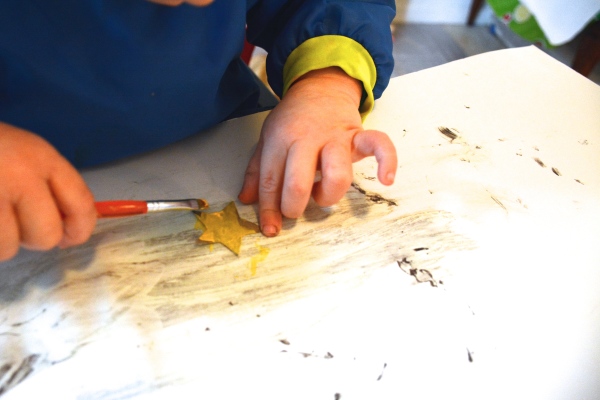 Paint your star yellow (or silver, gold, etc).
Paint the smallest craft stick white (this is baby Jesus).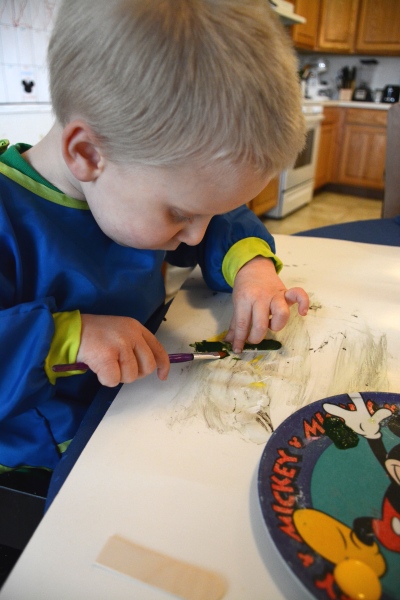 Paint the tallest craft stick green (this will be Joseph).
Lastly, paint the second smallest craft stick blue (this will be Mary).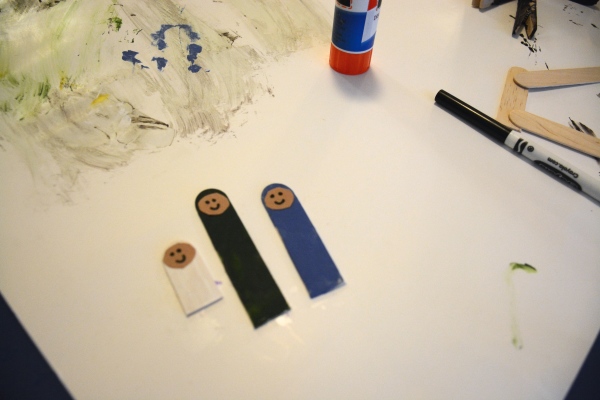 Once the paint is dry, glue the brown circles on and draw some little faces.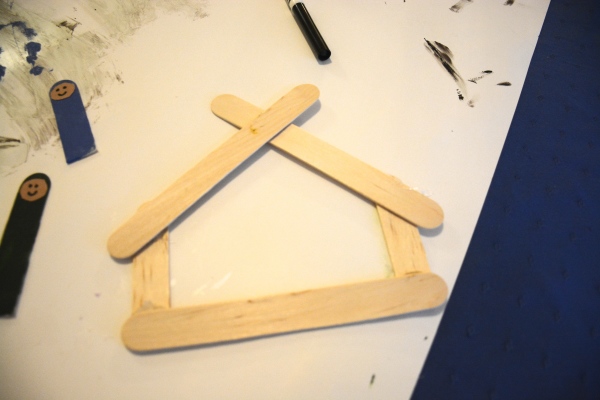 Use the glue gun to glue the remaining craft sticks into a stable shape.
Then, glue on your Mark, Joseph, baby Jesus, and star.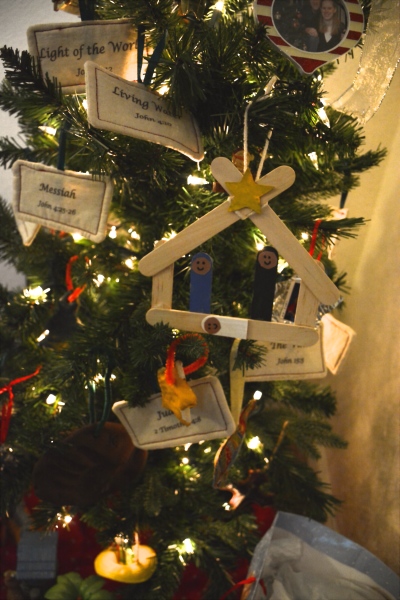 Day Four – The Shepherd's Sheep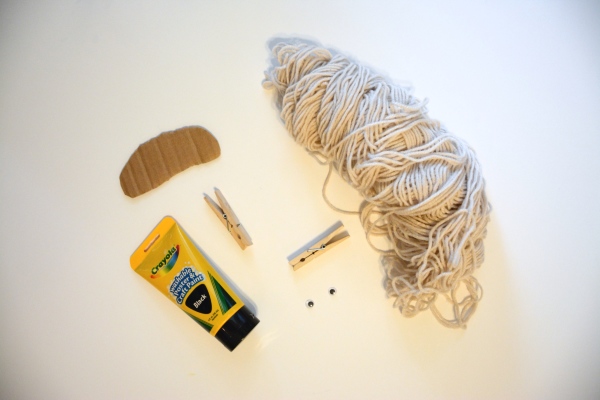 Materials needed:
Cardboard cut into the shape of a kidney bean
Two clothespins
Black paint
Yarn (we used off white)
Googley eyes (optional)
We had a lot of fun with the sheep craft we did when we learned about David, so I decided to search around for another one for us to do for learning about the shepherds and the angels in the Christmas story. I ended up finding the cutest little sheep and we had to give them a try!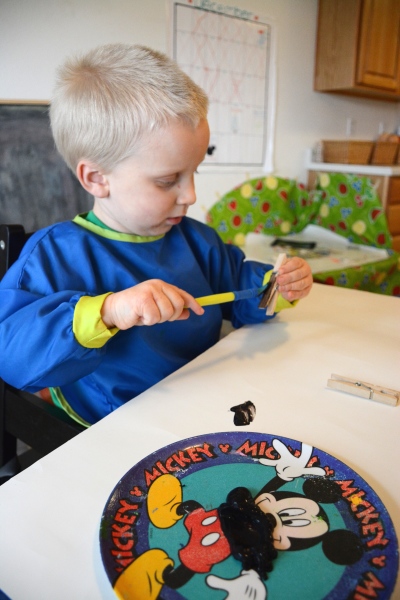 First, paint your two clothespins black…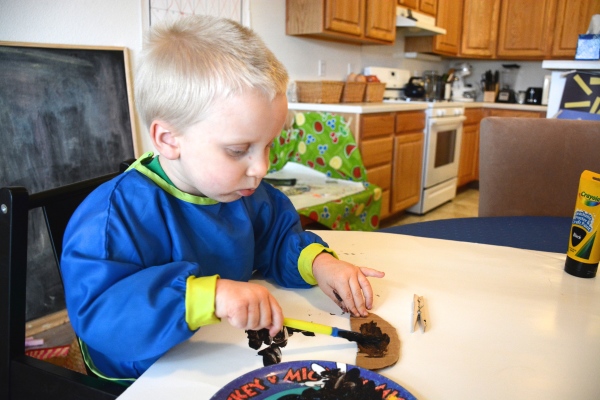 …and paint your cardboard piece black too.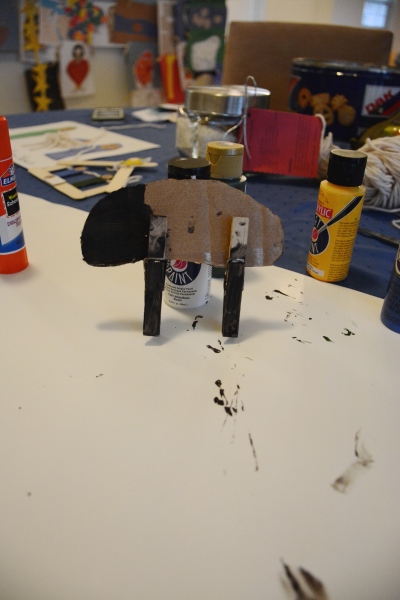 Once it's dry, pin the legs on like so. Also, learn from our mistake and make sure to check the clothespins before you use them – one of our sheep's legs ended up being shorter than all the rest, so he couldn't stand on his own.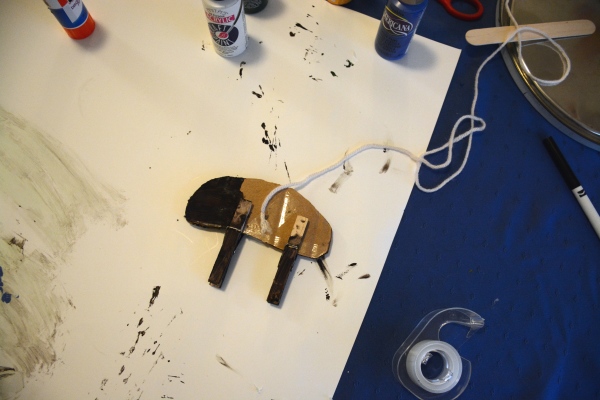 Use some tape to stick your yarn onto the body of the sheep.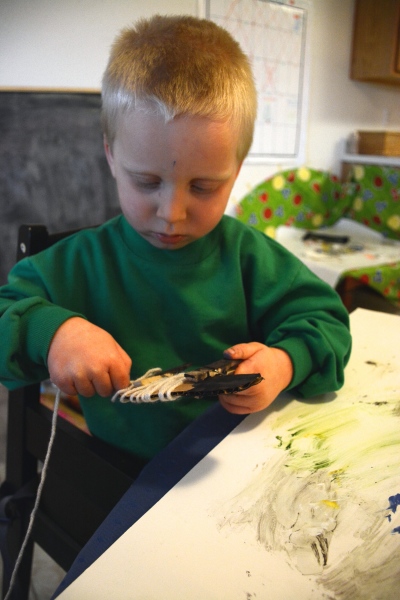 Then, wind the yarn around and around until the whole sheep body is covered.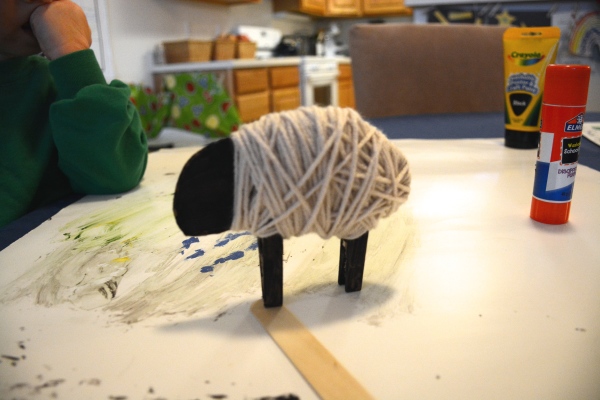 Cute, ain't he!?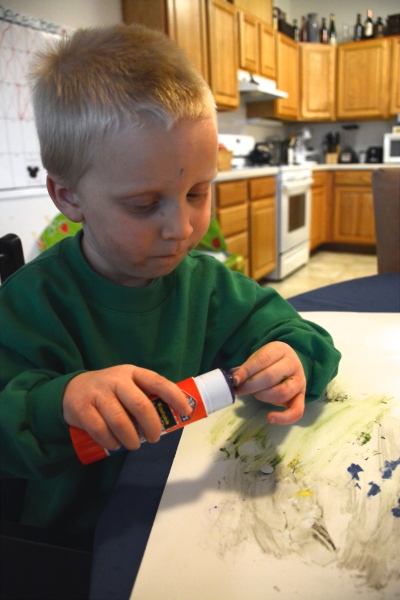 If you'd like, you can finish by glueing on some eyes.
Then, it's time to play!
Day Five
Since it's Christmas week, we decided to keep it to just four days of crafts.
Extra Resources
We've been listening to Christmas music everyday using Pandora and K is getting good at picking up on some of the lyrics.
There are so many amazing Christmas resources out there, the real key is to try to not and do too much!
---
We will be off next week due to Christmas! Look for Play Through the Bible to return on January 1st!
I hope you enjoyed week thirteen of Play Through The Bible. I'd love to hear from you! Leave a comment below or use the hashtag #playthroughthebible on Twitter or Instagram! 
Affiliate links may be included. Thank you for using your purchases to help support Simple Life. Messy Life.