The BIG Mistake You Might Be Making With Bible Memory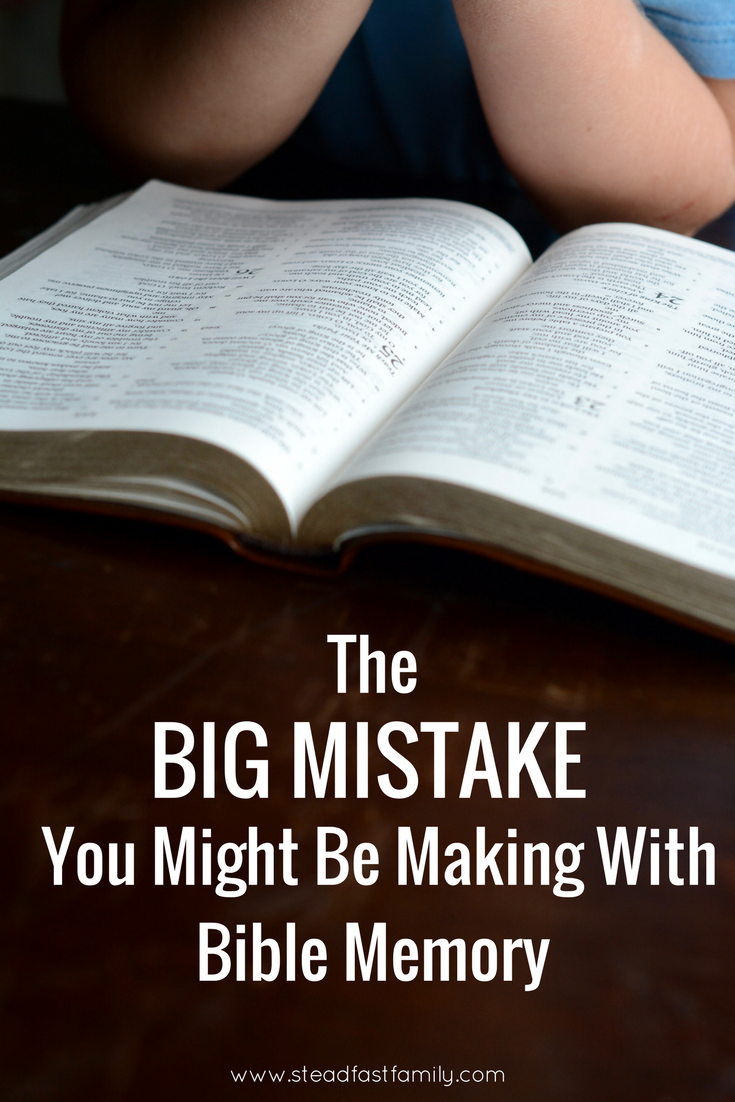 I still remember one of the first verses I had my son memorize.
Children obey your parents in the Lord, for this is right.
He probably wasn't even three years old yet, but he enjoyed memorizing the short verse and then showing off his skills to daddy, grandma, or whoever would listen.
Fast forward a few years. Our scripture memory regularly gets derailed, but I continue to try and pick it back up. He memorizes the classic John 3:16 and works on all the verses from Hero Training. Bad attitudes come up so we learn to "do everything without complaining." Him and his brother struggle with getting along, so we memorize 1 Corinthians 16:13-14 and work on doing "everything in love." 
*Everyone* knows it is important to have your children memorize God's Word and he was memorizing scripture, so though we needed to work on our consistency, I figured we were on the right track.
Well, that was until a few weeks ago.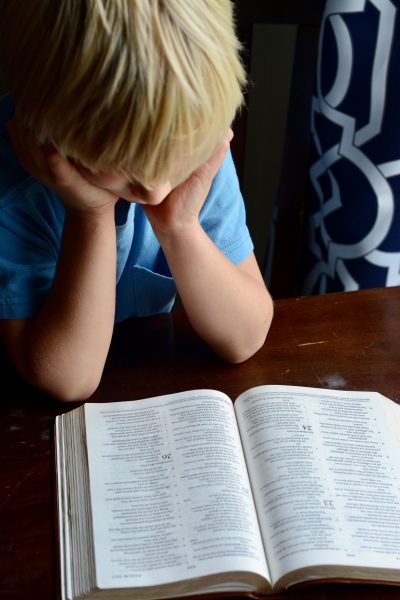 I was just scrolling Facebook – like ya do – and stopped to read a comment thread on a post asking for advice on what verses to have their children memorize. I took note of the different suggestions as I scanned through the replies, but then I read something that made me stop in my tracks.
The simple, but profound wisdom I'd never considered
Instead of suggesting a verse, one mama shared a brilliant piece of advice.
When thinking through what verses to have her kids memorize, she looked to the future. She envisioned her children as missionaries, or possibly without a Bible and in a scenario where they needed to lean on God. What kind of scripture did she want them to have hidden in their hearts? What truth did she want them to be able to draw on in those moments?
Boom. I immediately felt the conviction. Right then and there I realized that the majority of my children's scripture memorization was not done for them, it was done for *me* out of a desire to change my children's behavior.
On the outside I may have looked like a "godly parent" trying to disciple my children with God's Word. However, the truth was I was in danger of raising little pharisees who have been trained to parrot God's commands without knowing God in their hearts.
"These people honor me with their lips, but their hearts are far from me."
(Matthew 15:8)
What good would it be if I had wonderfully well behaved children, who know God's law inside and out, if they did not know and love God himself?
So, moving forward, here are some guidelines I will be using as I choose scripture for my children to memorize…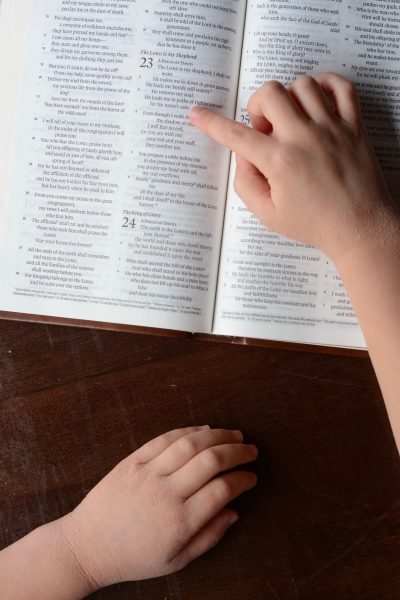 1. Pray for guidance on what scripture would be best for that child to be currently memorizing
How often have I been in a situation where the Holy Spirit brought to mind a verse I had tucked away in my memory in just the right moment? Only God knows what these moments will be like for your child. Only he will know the situations your children will find themselves in and the perfect Words they will need in that moment.
Pray for wisdom and guidance in choosing what scripture to have your children memorize. Let God use you to hide His Word in their little hearts. Whether it is just what they need now, or will be many years down the road, He will bring fruit from it in His time.
2. Choose scripture that will help the child know God more
Instead of focusing on memorizing verses that tell your child something to do, focus on verses that tell your child who God is. Let them build up in their hearts all the marvelous vastness that is God's character and goodness.
It is hard to follow someone you do not know and it is hard to love someone you do not care about. Sure, the child may learn to act lovingly toward his neighbor by memorizing certain passages, but if that love does not flow from a relationship with God, what is it worth?
Choose scripture that will give your child a foundation rooted firm in God's…
…sovereignty and they will be steady through all of life's trials.
…love and they will always know their worth
…kindness and compassion and they will never be alone
…justice and they will not need to be angered
…strength and they will live in courage
3. Think of future situations the child will benefit from God's Word stored away
In the original post that I read, she wrote that she would picture her children as missionaries and think of what scripture they may need. Though we do not know the futures ahead of our children, we can ponder this and consider it as we choose passages for them to memorize.
Will they face trials and need to remember God's goodness? Will they feel alone and scared and need to know that God will never leave them? What scripture will they need to draw upon in moments where a Bible is not nearby?
4. Choose longer passages of scripture when possible
Snippets and fragments of scripture rarely display the same beauty and truth of longer portions. Memorizing random verses taken out of context not only puts us in greater danger of misinterpretation, but it also robs us of the fullness of longer passages.
Instead of doing one separate verse at a time, try selecting a longer passage and slowly make your way through it verse by verse. Passages such as Ps 23, The Lord's Prayer, and John 1 are great places to start.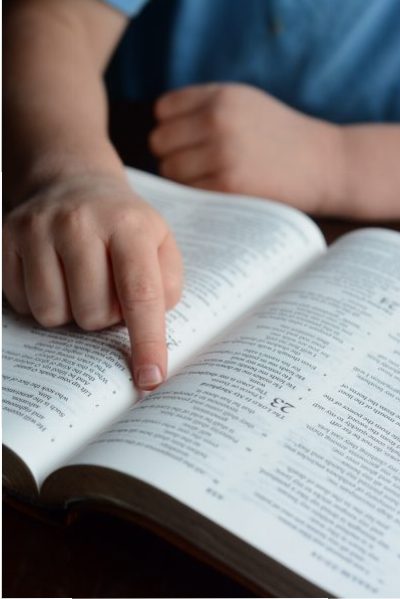 All Scripture is God-Breathed
In conclusion, let's not forget that "all scripture is God breathed and useful for teaching, rebuking, correcting and training in righteousness" (2 Tim 3:16). Even if you have fallen into the same trap that I did, if you are memorizing scripture with your children, that is still marvelous and can be used by God.
Let this just be an encouragement to both of us to continue teaching our children God's Word – not for us, that we may somehow selfishly benefit, but for them, so they may grow closer to the heart of God.