4 Reasons Why You Should Memorize Bible Verses Along With Your Kids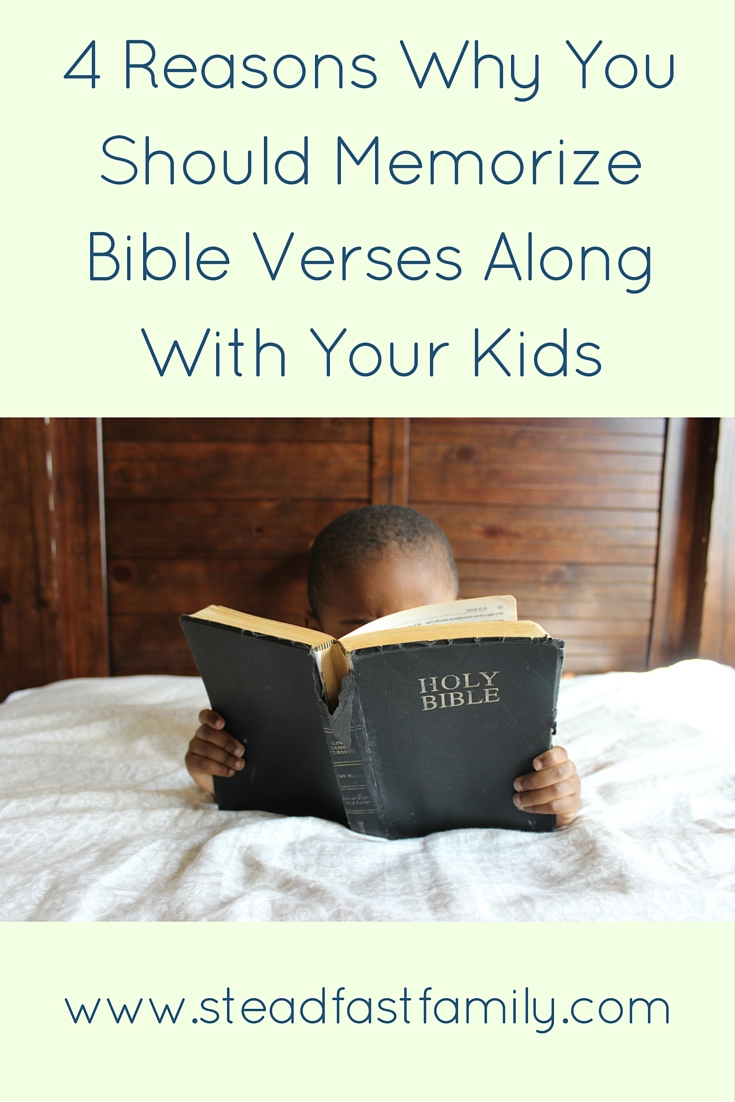 *Affiliate links included*
Memorizing Scripture is a common Bible activity for children. Whether it's through programs like Awana, by using Bible verses set to music, or even one of the lesson plans here on Steadfast Family – there are lots of recommendations and resources for Scripture memorization.
Once you're a grown up, however, you don't hear it talked about quite as much.
So, today I want to share four reasons I think we should jump in there and memorize right along with our kiddos!
1. To Be a Good Example
Kids are natural imitators. Monkey see, monkey do. Unfortunately you often realize this after they've imitated something you'd really rather them not. AmIright?  🙂
What better way to harness that imitator nature than by leading them to the power of God's Word? 
I hope my boys have strong memories of their mama saying, singing, chanting, shouting, and whispering their memory verses right alongside them. And not only that, but also being able to recall scripture during the moments we need it. Which brings me to my next point…
2. To Be Able to Recall During Daily Moments
One of my favorite benefits of knowing and memorizing Scripture is the way the Holy Spirit will bring to mind these verses that you have hidden in your heart.
This is not only helpful when fielding spiritual questions from my very inquisitive four year old, but is a constant source of encouragement for me personally as well.
Just today I was pondering how badly I need more contentment in my life and I was thinking to myself "I sure do wish I could ask Paul how in the world he found contentment when he was stuck in prison!" Immediately the answer popped into my head:
For I can do all things through Christ who strengthens me. -Philippians 4:13
3. To Exercise Our Brains
I'm not gonna lie, more days than not you will find me in the fog known as "mom brain." With everything I have to do and keep track of, plus the constant demands of caring for small children by the end of the day my brain is mush.
Doing brain work such as memorization is like exercise for the brain. It keeps things sharp and working smoothly. I don't know about you, but I can definitely benefit from my brain being in tip top shape.
Want to read more about the brain benefits of memorization? Check out this article on Ten Proven Brain Benefits.
4. To Meditate on God's Word
I love studying the Bible. I love learning about historical context, original languages, and the layers of meaning. I enjoy taking notes, reading commentaries, and listening to teaching.
However, I'm also learning that sometimes I need to put away the study Bible, and just meditate on God's Word.
Read it just to know it. Just to let the truth sink in. To get lost in the wonder and grace of it all.
Memorizing scripture provides plenty of opportunity for just that.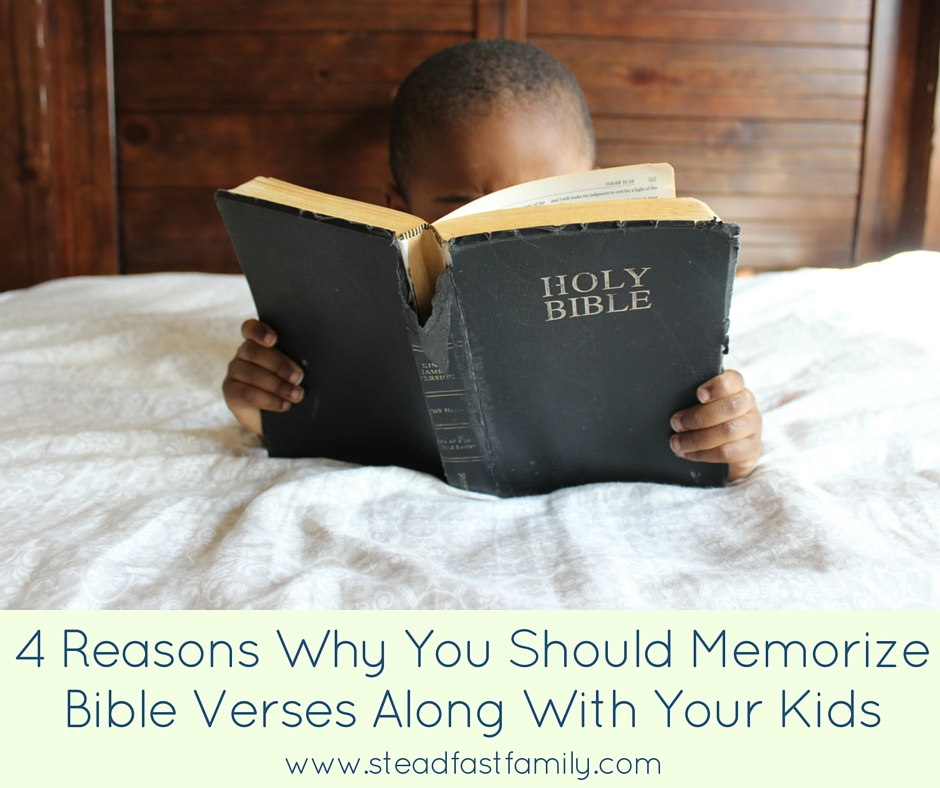 These are just a few reasons why memorizing scripture alongside your children is a beneficial practice. I'm sure there are many more!
What benefits can you add to this list?
Affiliate links included