Case of the Mixed Up Timeline (New ADVENTURE DEVOTIONAL for kids eBook!)
It's here! It's here! 
I have been working on this project on and off for the last year and a half. Writing, testing, editing, designing, and editing some more! I wanted to make sure it was the best it could be for you and your kids.
What Is It?
The International Bible Investigators
Case of the Mixed Up Timeline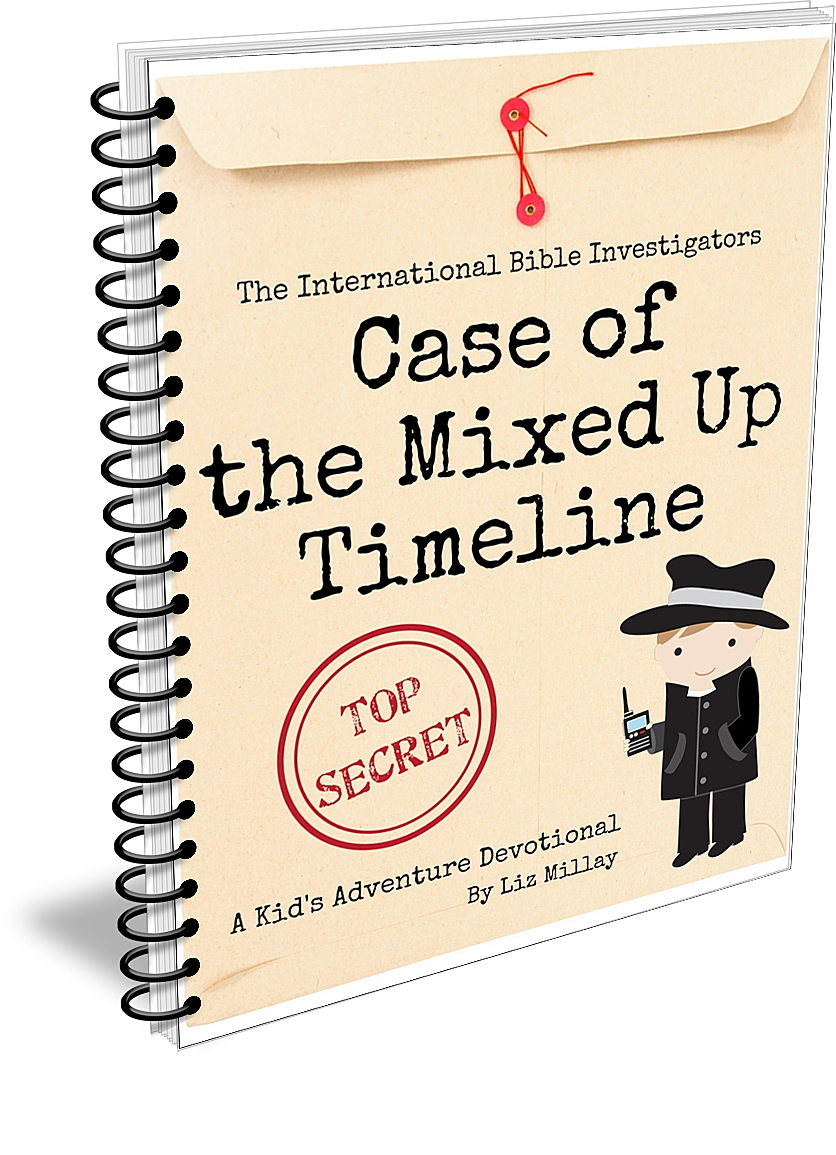 If you joined us for the Summer Search for God last summer, then you have already been introduced to an adventure devotional.
I created the concept of an "Adventure Devotional" because most people, especially young ones, learn best through experiences. It is the things that we do, touch, taste, and feel that really stick in our memories. My goal with adventure devotionals is to bring God's Word off the page and into life experiences that will stick with your children for years to come. The Case of the Mixed Up Timeline is no exception.
So what is it all about?
In this devotional, a villain named "Dr. H" has traveled back in time and destroyed the Timeline of Biblical Heroes. As a special agent, your child must travel back in time to complete the case files and set the timeline straight once again.
Each Biblical Hero has an incomplete case file and your child must solve the clues to discover the information on each Hero's story. They then use that information to put the timeline back in order. Each case file also contains a "mission" – a hands on activity to further experience the story.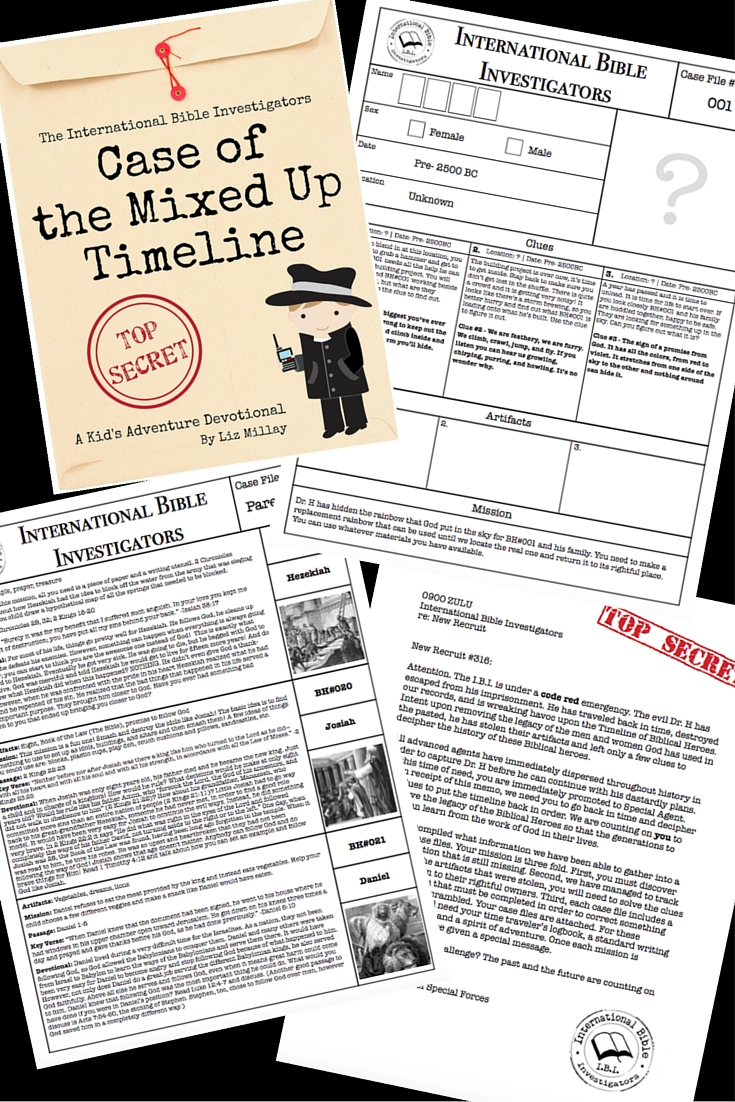 Included in the eBook is the following:
Parent introduction
Log book cover page and special agent badge printable
Letter to "new recruits"
10+ pages of printable images needed to complete the cases
Printable timeline
23 "case files"
Parent files with answers, activity ideas, devotionals, and Scripture references.

What Will My Child Gain From This Study?
The Case of the Mixed Up Timeline will provide your child with an overview of 23 of the main stories of the Old Testament. He or she will get to learn about and experience these stories in a unique, hands on way.
Not only that, but the parent files contain everything you need to further the discussion of these stories, bringing about a deeper understanding and personal connection. 
How Do I Purchase This Awesome Devotional?
Easy! Just pop over to the shop and in just a few moments you can start printing it out! And if you act quick, as a launch week special, you can get the entire adventure devotional for 50% off! That's only $5!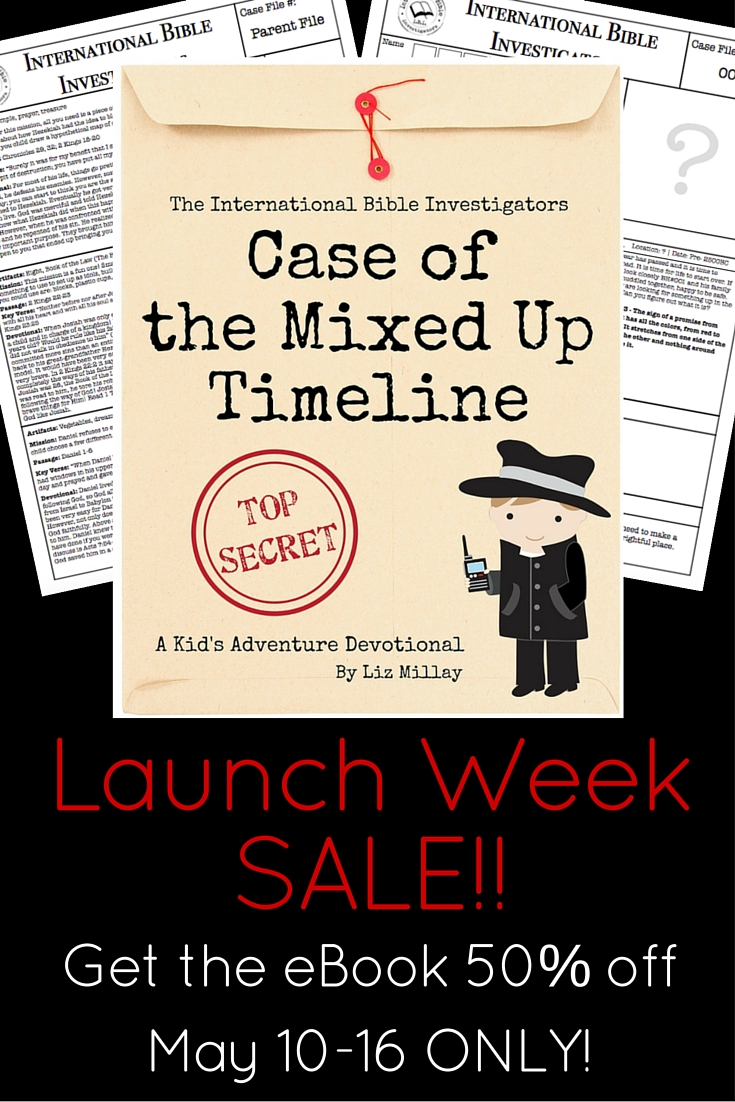 That means for only $5 you can get all the printables, 23 devotional "case files", and the parent files. But grab it now, because this sale is for launch week only!