Summer Search For God – A New Series for Summer and Free eBook!
*UPDATE*
As of 5/9/16 this eBook is now available in an updated version in the shop here.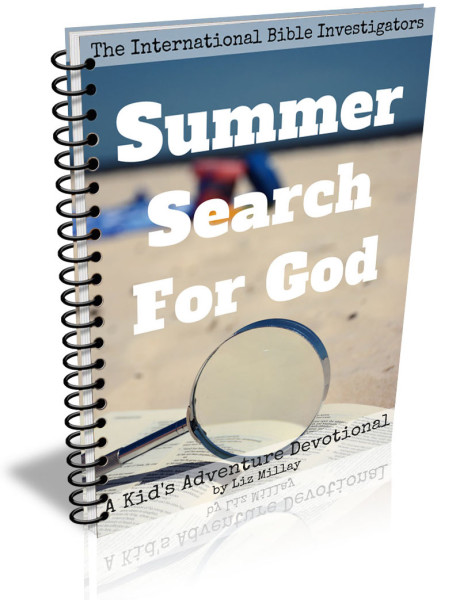 Are you looking for a way to intentionally bring God into your child's Summer, while still having loads of Summer fun? Look no further!
I've created a brand new devotional eBook that will help you do just that! I will be releasing portions of the eight devotionals each week beginning in June, but for a limited time you can get the whole eBook completely free just for being a Simple Life. Messy Life. subscriber!
In The International Bible Investigators and the Summer Search for God, you'll find everything you need to guide your child through eight weeks of Summer fun that will also point him or her to God.
This eBook is not your average children's devotional. It is what I have coined an "adventure devotional." Most people, especially young ones, learn best through experiences. It is the things that we do, touch, taste, and feel that really stick in our memories. My goal with an adventure devotional is to bring God's Word off the page and into life experiences that will stick with your children for years to come.
The setting of this adventure is that your child is a brand new recruit for the International Bible Investigators. Before your child can take a position as a special agent for the I.B.I., he must first complete eight training missions. The goal of this training is to learn to find God in everyday life. Each mission is based on a fun Summer activity that can be connected with learning something about God.
Here's all the week's activities!
Week 5 – Go on a Treasure Hunt
Week 7 – Conduct a Science Experiment
Week 8 – Do a Random Act of Kindness
Does this sound like something your family would enjoy this Summer? Enter your e-mail below to grab your free copy now!