Jesus Heals A Blind Man – Play Through The Bible – Week 23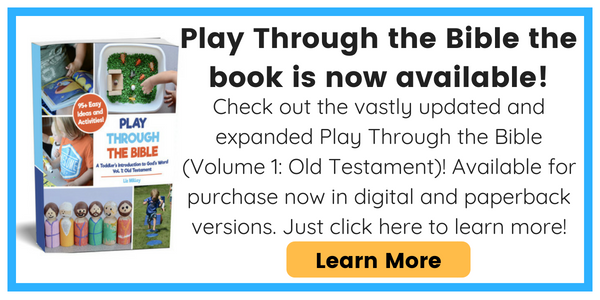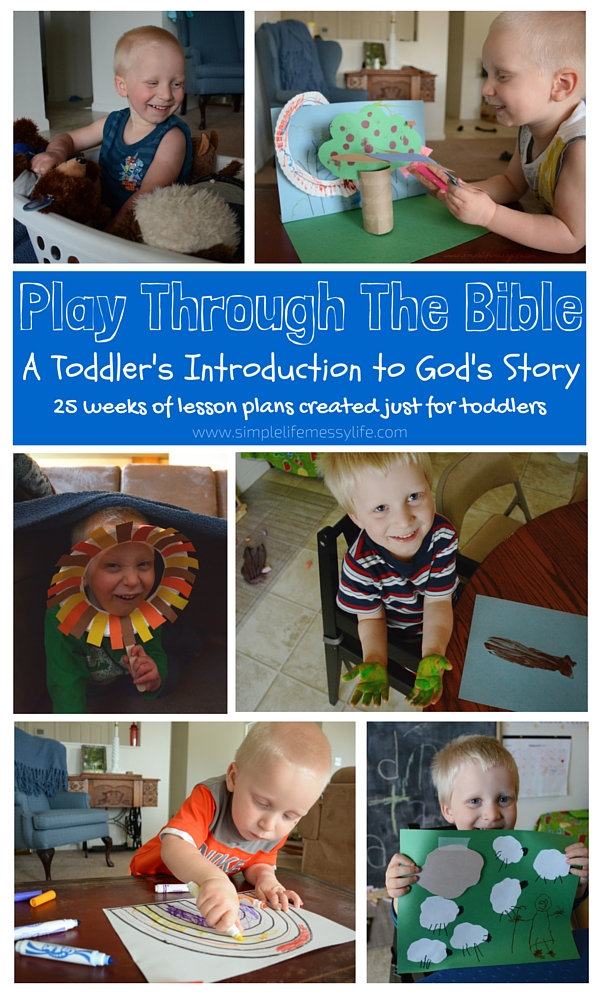 So sorry about  how late this post is going up! It was one of "those weeks" where Bible craft time just didn't happen! Plus, it was rainy all week and that always makes the dismal light situation in our house go from bad to horrible – not good for pictures! Thankfully, we had some time to today to sit down a do a few simple crafts to go along with our story.
Week 23 of Play Through The Bible is the story of Jesus healing a blind man. Even though our story Bible only gave one blind man story (the man calling out from the side of the road), we also included the story of Jesus healing the blind man by putting mud on his eyes. We kept it simple and still had a lot of fun!
If you haven't read the introduction to this series yet I recommend going here. For all the plans in one place, go here.
---
Week Twenty Three – Jesus Heals a Blind Man

Focus Point
Jesus heals a blind man.
Story Time Tips
Activity
Play a blind man listening game. This would be a great game to play outside where there is a lot of sounds to hear. Have your child close their eyes and pretend to be blind. Have them listen really closely just like the blind man did in the story. Have them be quiet as long as they can (this is a hard one for toddlers!) and then have them tell you about the sounds they heard.
Discussion
Parent: "Could the blind man see?"
Child: "No."
Parent: "But who did he hear?"
Child: "Jesus."
Parent: "What did Jesus do for the blind man?"
Child: "Made it so he could see!"
Parent: "Yes, because Jesus is very powerful. He can do miracles!"
Daily Craft
Day One – Small World
Due to time restraints, we didn't do a small world this week!
Day Two – Coloring Page
http://www.sermons4kids.com/healing_blind_colorpg.htm
Day Three – Blind Man Mask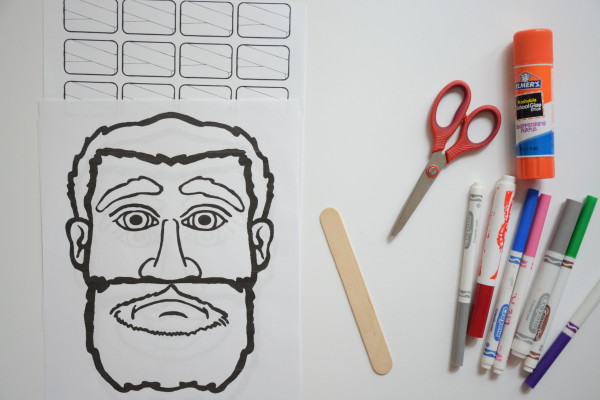 Materials needed:
We found this fun idea from Crafting the Word of God!
First, color the two faces. K did one and I helped with the other.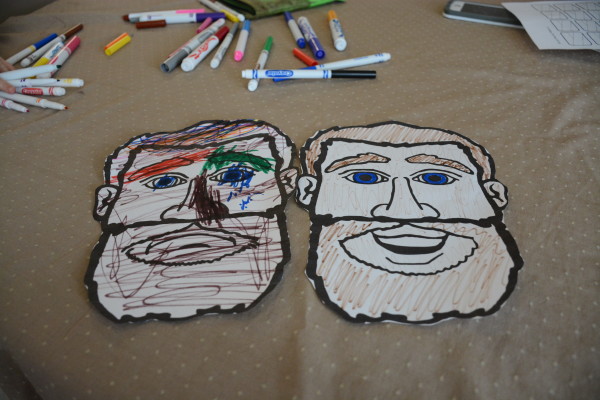 Cut out the faces.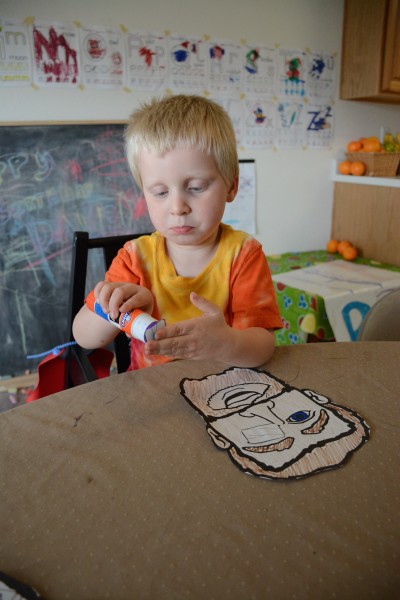 Cut out the eye patches and glue those onto one of the faces.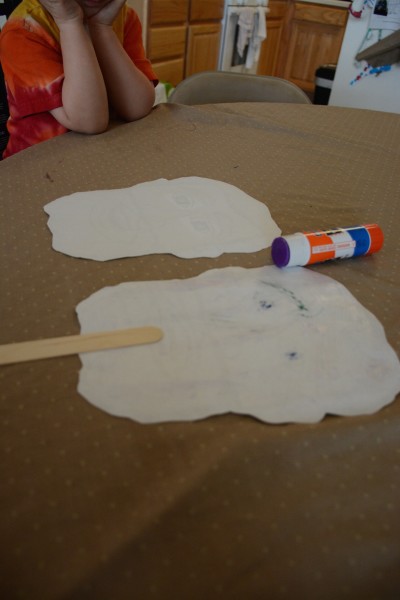 Glue the two faces together with the craft stick stuck in between.

All finished!
Day Four – Blind Man Healed with Mud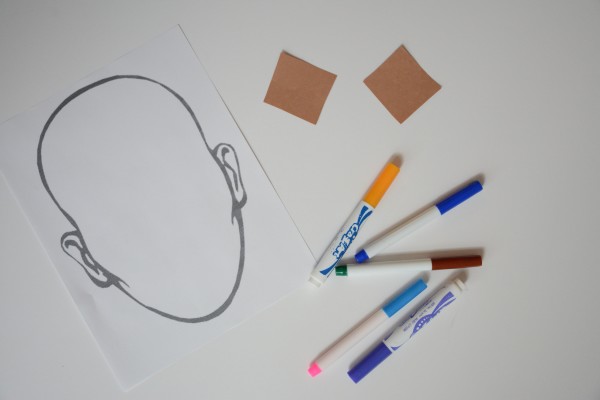 Materials needed: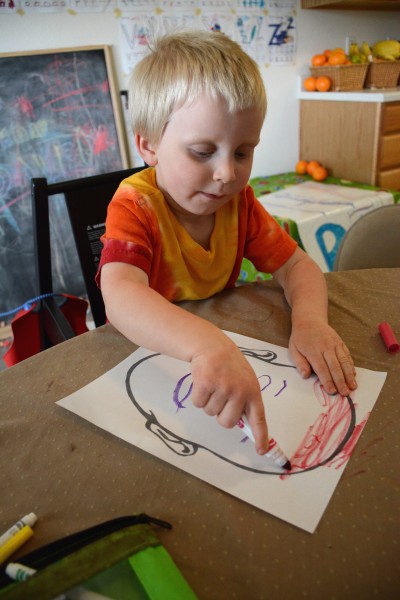 First, color a face onto your head. In true toddler style, K gave the man a purple face, pink hair, and a blue beard! 🙂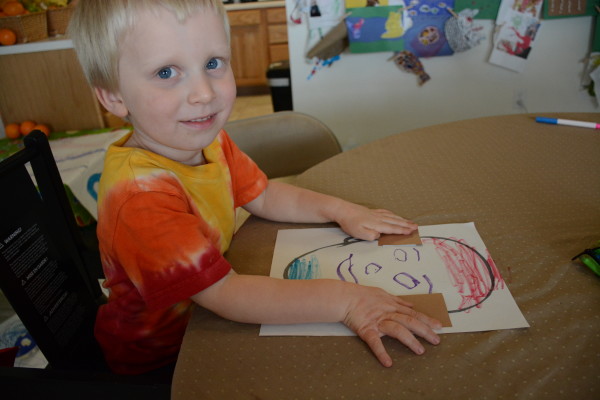 Tape the brown squares over the eyes (only on one side so they can flip open).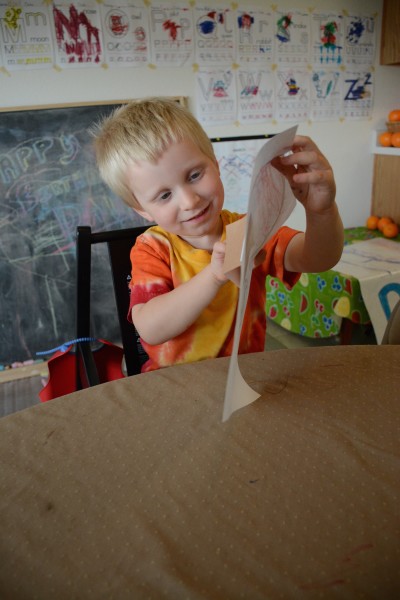 Open and close the flaps to put on the "mud" and wash it off.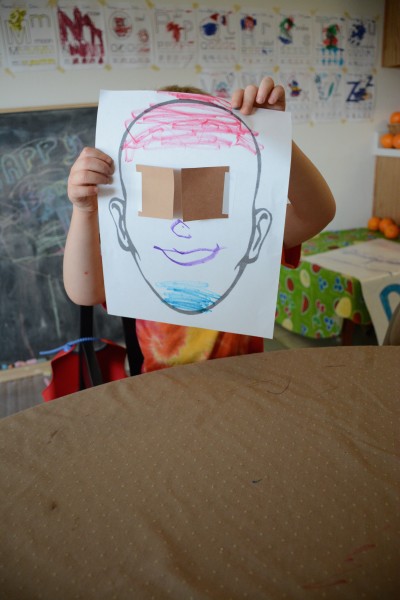 Yay!
Day Five – Eyes in the Mud
Materials needed:
I found the idea for this activity on I Can Teach My Child. She has a whole lesson plan to go along with the activity, so check it out.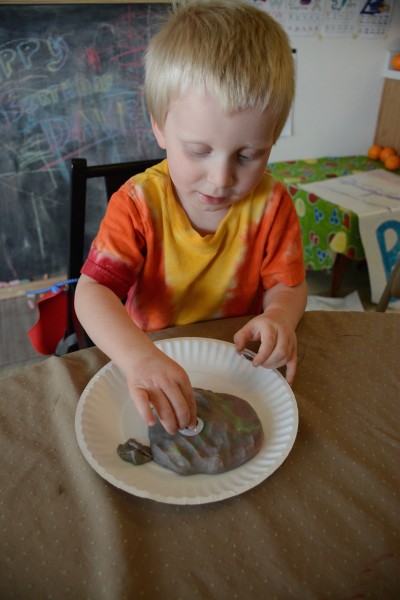 I just gave the Play-Doh and eyes to K and let him play freely, putting the "mud" on and off the eyes. It kept him entertained for quite a while!
Extra Resources
We didn't use any extra resources this week, do you have any to share?
---
I hope you enjoyed week twenty three of Play Through The Bible. I'd love to hear from you! Leave a comment below or use the hashtag #playthroughthebible on Twitter or Instagram! 
This post is linked up with…
Affiliate links may be included. Thank you for using your purchases to help support Simple Life. Messy Life.