Jonah – Play Through The Bible – Week 11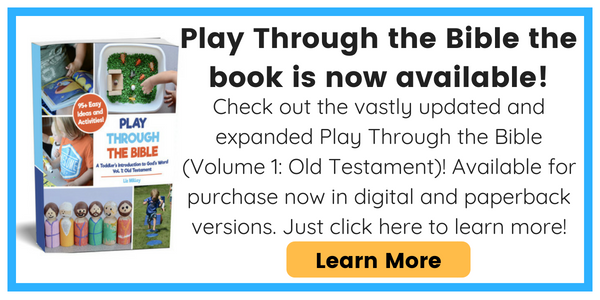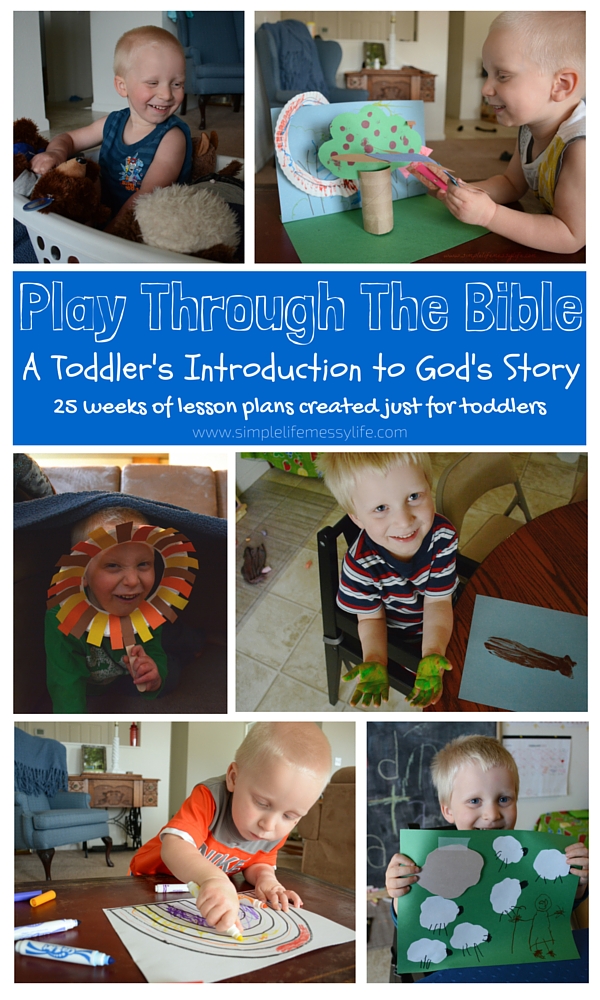 Week eleven of Play Through The Bible is the story of the Jonah. Jonah is a fun story for kids because being swallowed by a fish is quite a silly thought!
If you haven't read the introduction to this series yet I recommend going here. For all the plans in one place, go here.
---
Week Eleven – Jonah

Focus Point
Jonah didn't obey God. (God is merciful.)
Story Time Tips
We read "Jonah Goes to Nineveh" starting on page 136 of The Rhyme Bible Storybook and "Where Did Jonah Go?" starting on page 104 of The Rhyme Bible Storybook for Toddlers.
We did a lot of stopping and practicing saying "Jonah" and "Nineveh."
I related God putting Jonah in the whale because he wasn't obeying to how K has to go to a timeout when we doesn't obey. We said it was a "fish timeout."
You may have noticed that in the focus point I put two things. The reason for this is because although Jonah not obeying God is a part of the story, and it is often the point relayed to young children, it isn't really the main point of the story. The overarching theme of the story of Jonah is God's mercy and compassion on the people of Nineveh and Jonah's inability to comprehend it. Unlike the storybook versions, the actual story ends quite abruptly with no real conclusion as to Jonah's fate. The problem is, these can be difficult and abstract concept to explain to a concrete thinking toddler or preschooler. So, for the purpose of K's understanding level, we did focus mainly on Jonah's disobedience. I did try and sneak in a few references to God's love and mercy, but for the most part we will save those discussions for a little later.
Activity
"Jonah Tag": You, the parent, are the fish and your child is Jonah. Ask: "When God told Jonah to go to Nineveh, what did he do?" When your child says "run!", tell them to go ahead and run away! You, the fish, then chase "Jonah" around until you catch him. Once you catch him, make him promise to go to Nineveh and then let him go! If your child is anything like K, this game will be very exciting and you will be required to play it multiple times!
Discussion
Parent: "Where did God tell Jonah to go?"
Child: "Nineveh."
Parent: "What did he do?"
Child: "Ran away!"
Parent: "And what happened to him?"
Child: "He got swallowed by a fish!"
Parent: "Then did he decide to obey God?"
Child: "Yes."
Daily Craft
Day One – Jonah Coloring Page
http://www.sundayschoolprintables.com/coloring/jonah1.php
Day Two – Jonah Puppet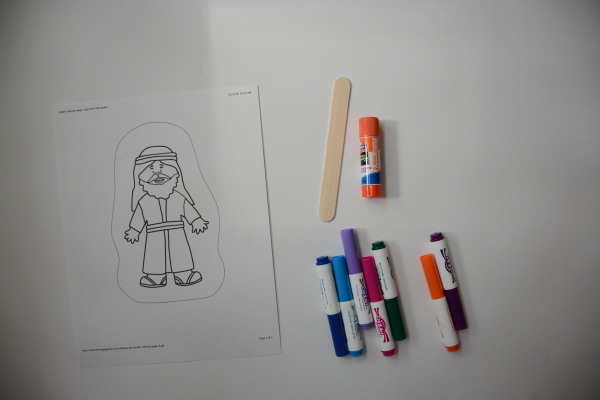 Materials needed:
Jonah printout (we used this one)
Markers
Craft stick
Glue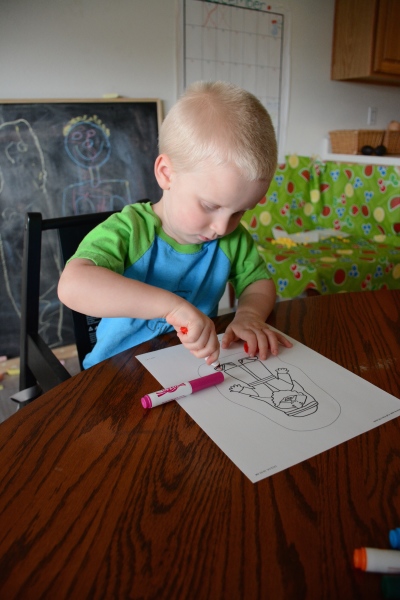 First, color your Jonah.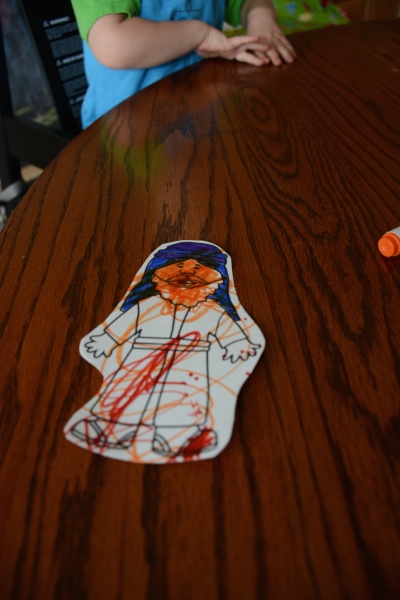 Then, cut him out.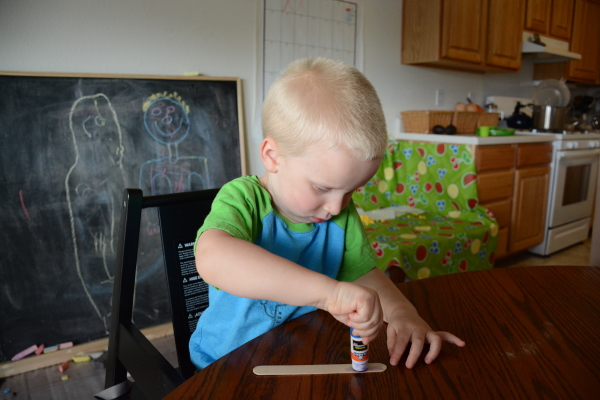 Put some glue on the end of your craft stick…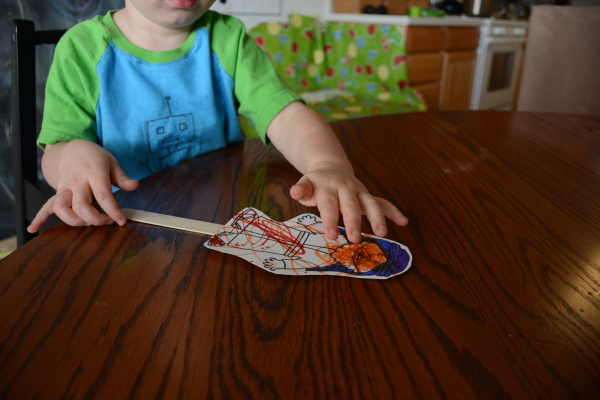 …and place Jonah on there.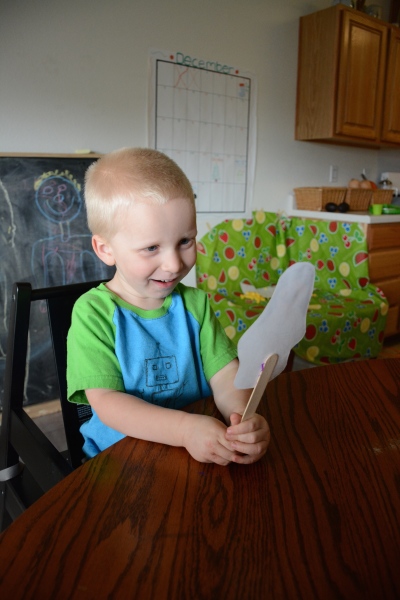 Enjoy!
Day Three – Jonah Runs Away on a Ship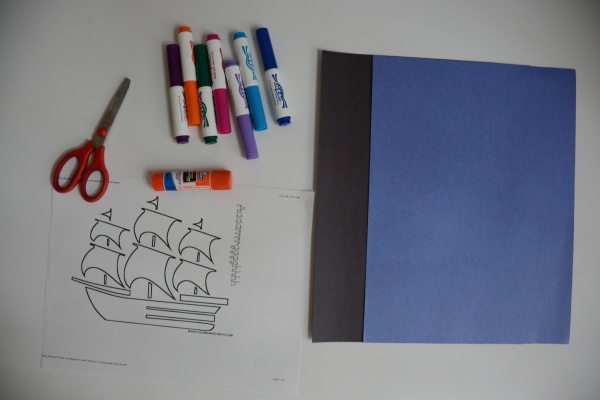 Materials needed: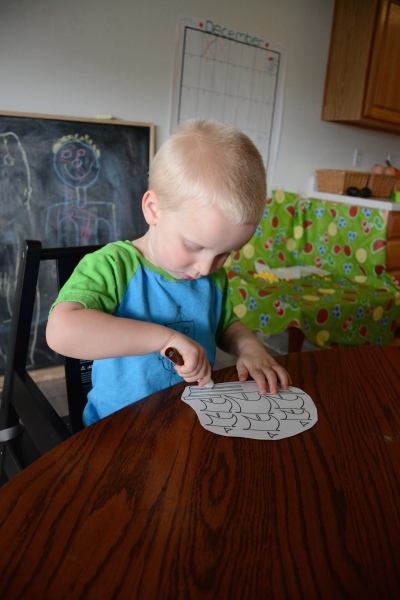 First, cut out and color your ship.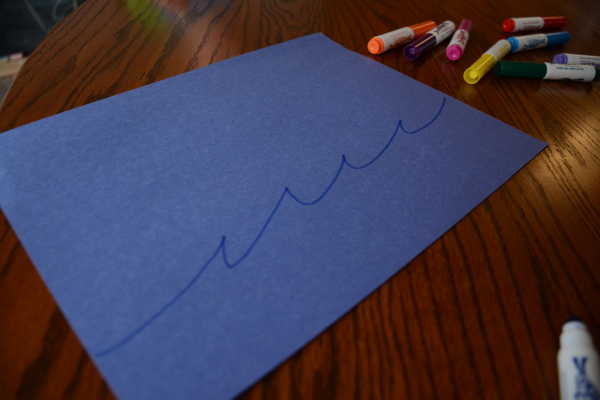 While the ship is being colored, trace out a wave shape on the blue paper…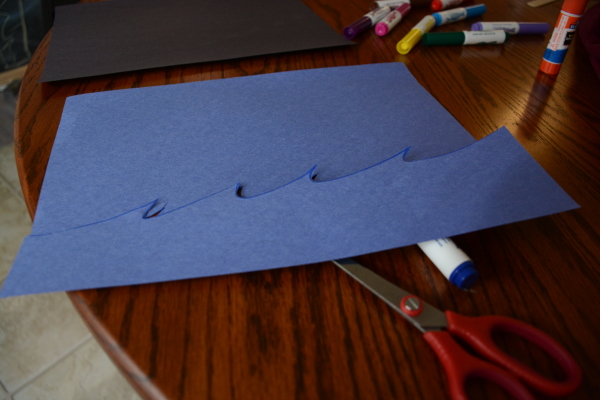 …and cut it out.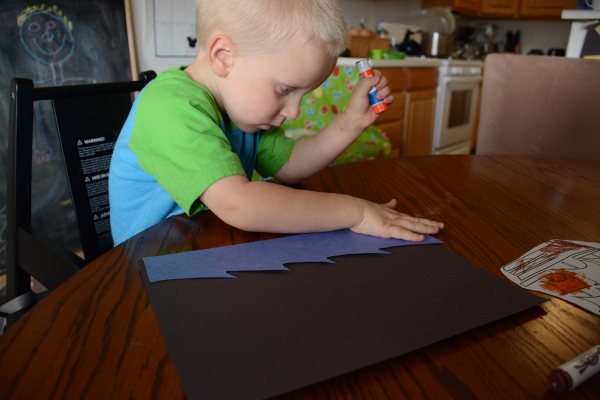 Glue the waves to the bottom of the black piece of paper.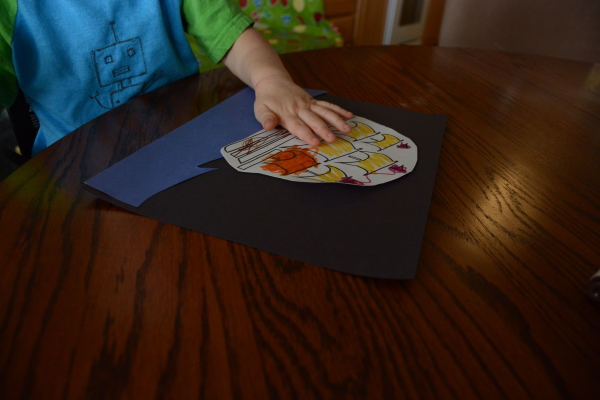 Then, glue the ship and place right atop the waves.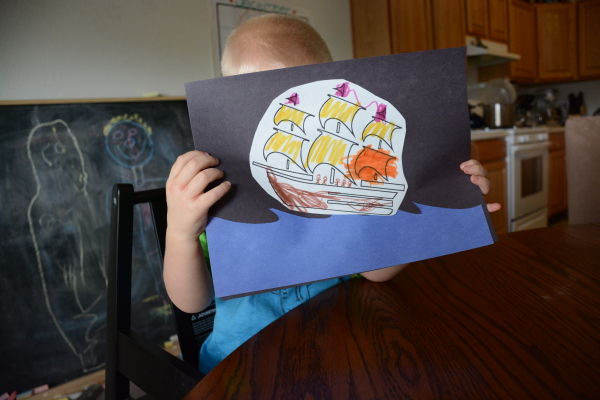 K wanted me to draw some people on the ship, so I whipped out my best stick people!
Day Four – Jonah in the Fish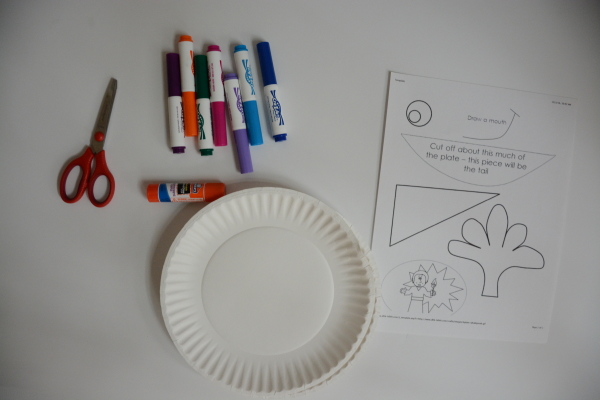 Materials needed:
Markers
Two paper plates
Scissors
Blue paint (optional, not pictured)
Googly eye (optional, not pictured)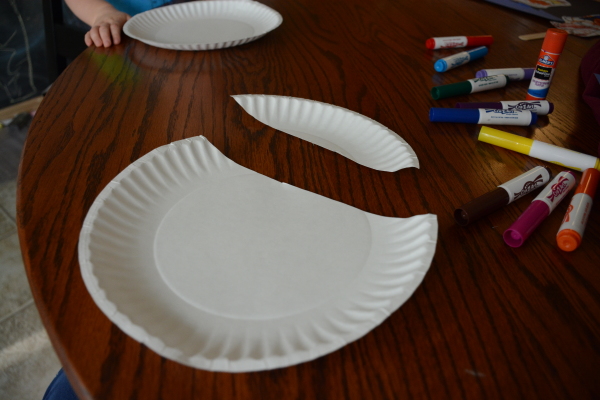 First, cut off a portion of one of the plates to make the whale's tail and the rest of the pieces on the template.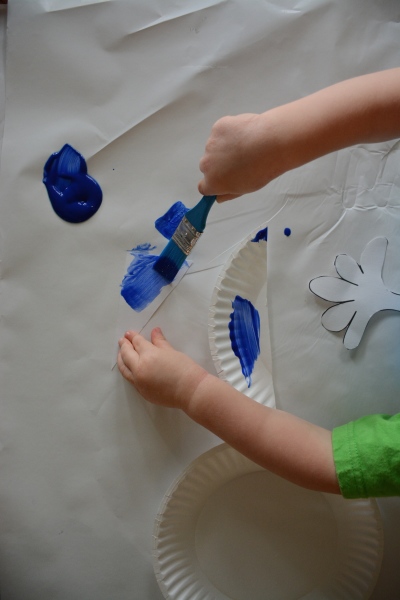 Next, you need to either paint (which we opted to do) or color your whale pieces.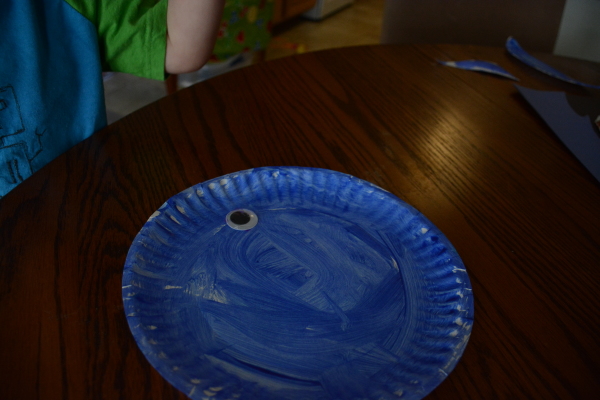 Either draw or glue on an eye.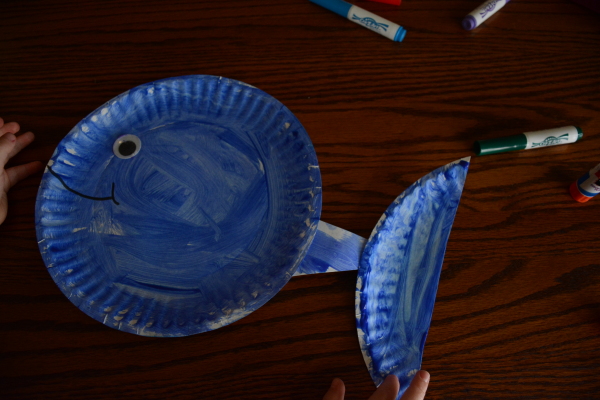 Add a little smiley face.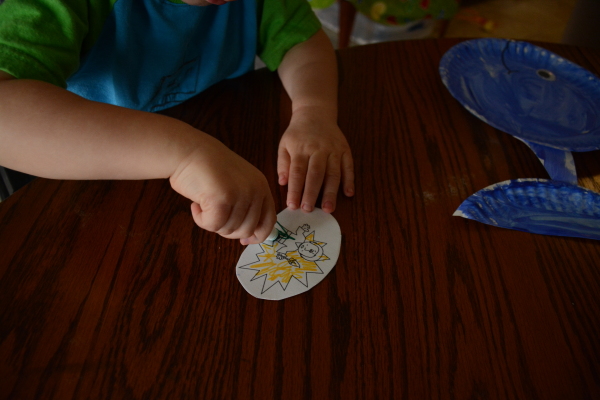 Color in the little Jonah piece.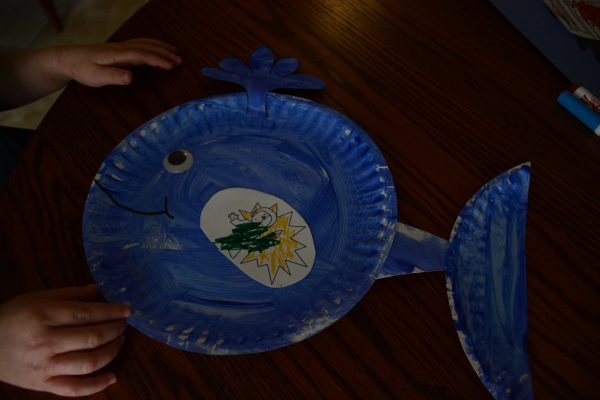 Then, glue him onto the whale's belly.
Day Five – Nineveh
Materials needed:
Cereal box
Paint (we used blue and red)
Paintbrush
Scissors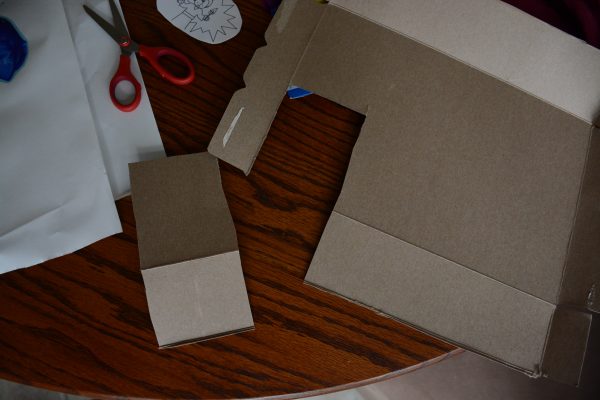 First, cut out rectangles along the crease of the box. The taller top part will become the house and the bottom will prop the house up.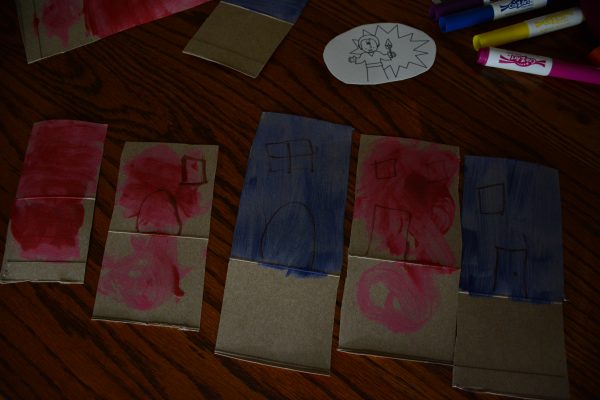 Paint your houses with the colors you've chosen. Once they've dried, draw on some doors and windows.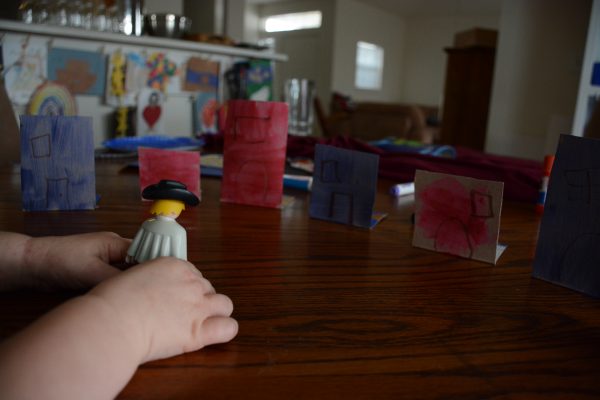 Bend the pieces at the crease and prop them up. Find a small figurine and have Jonah bring a message from God to the town of Nineveh!
Extra Resources
The Veggie Tales movie Jonah does a great job telling the story of Jonah. Sure, it adds the usual Veggie Tales flair and embellishments, but they do a good job getting to the heart of the story. It's on Netflix, so if you have access, it is a fun watch!
---
I hope you enjoyed week 11 of Play Through The Bible. I'd love to hear from you! Leave a comment below or use the hashtag #playthroughthebible on Twitter or Instagram! 
Affiliate links may be included. Thank you for using your purchases to help support Steadfast Family.