Operation Christmas Child Shoeboxes (5-9 Boy, 5-9 Girl, and 10-14 Boy)
Affiliate links included
In honor of the last day of this years National Collection Week for Operation Christmas Child, I wanted to share what we packed in our boxes this year!
You will notice that our boxes are really full. When we got home from shopping I was like "Holy cow! Am I going to be able to fit everything in our boxes?!"
I almost searched the house for a another box to use. However, I decided to try and get everything to fit – and I did! I just barely got the lid closed! I figured if the packers at the collection center can't get everything back inside, then some of our extra can go to a box that's a little empty for whatever reason.
Or maybe whoever gets our boxes will need the extra items for someone at home! You never know how God is going to work things out!
Anyways, if you are trying to maximize the space in your box, I took step by step pictures for two of our boxes that show how I fit everything in there.
Without further ado, the boxes…
5-9 Girl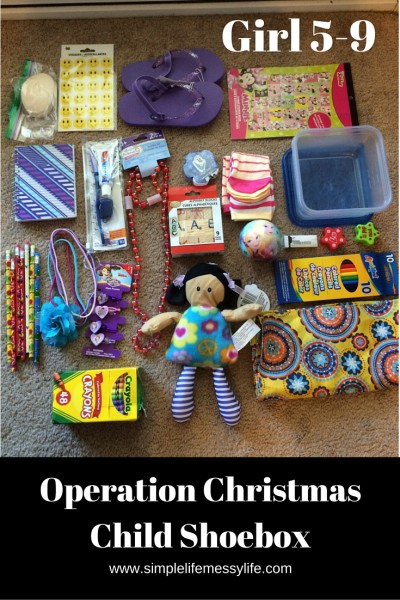 What's Inside
Two packs of stickers
Flip flops
Small storage container
Two pairs of socks
Two pencil sharpeners
Colored pencils
Pencils
Bandana
Doll
Small ball
Alphabet blocks
Washcloth
Necklace and bracelet set
Hair ties
Toothbrush/toothpaste set
Headbands
Crayons
Notebook
Soap
Eraser
How It All Fit!
First, we placed in the bandana.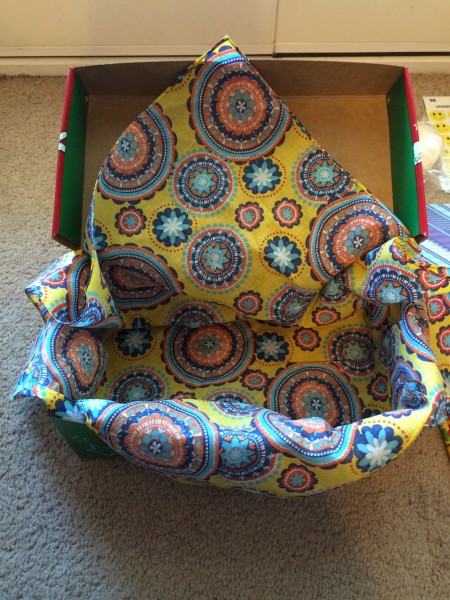 The stickers went on the bottom.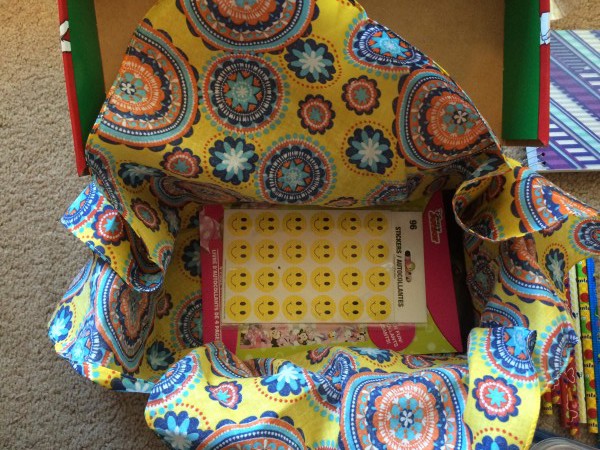 Followed by the storage container with the lid underneath and the notebook to the side. Then, I started filling up the container with soft items.
I squeezed as much as I could into that small container.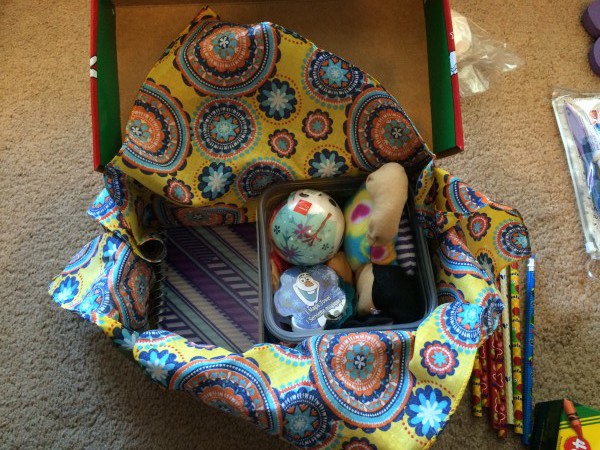 I slid the pencils in the back behind the container and the toothbrush set in the front of the container. Then, I started placing the remaining items on the left side of the box and a few more small things in the container.
Once it was all in there I set the flip flops on top.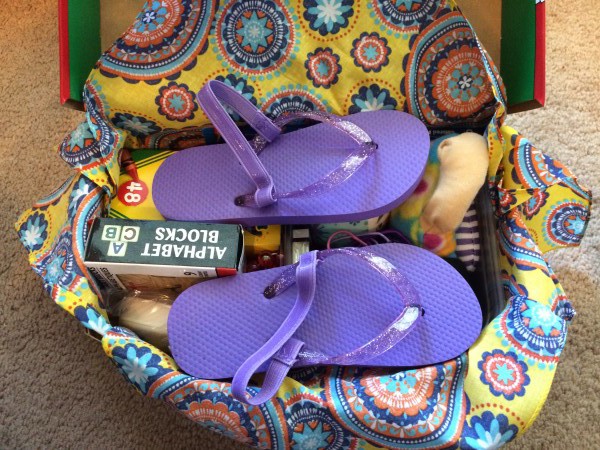 And folded the bandana overtop.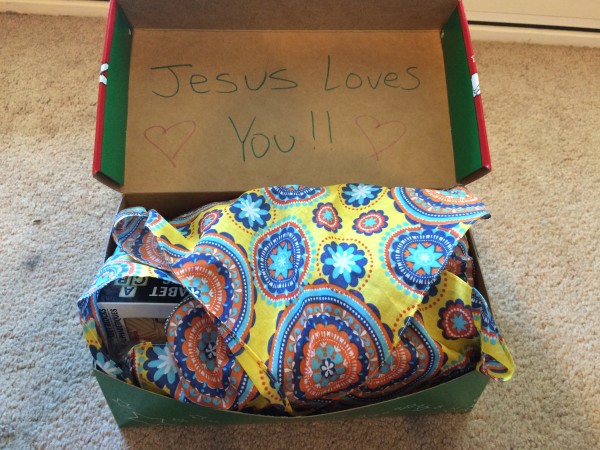 We wrote a message on the inside of our box too! 🙂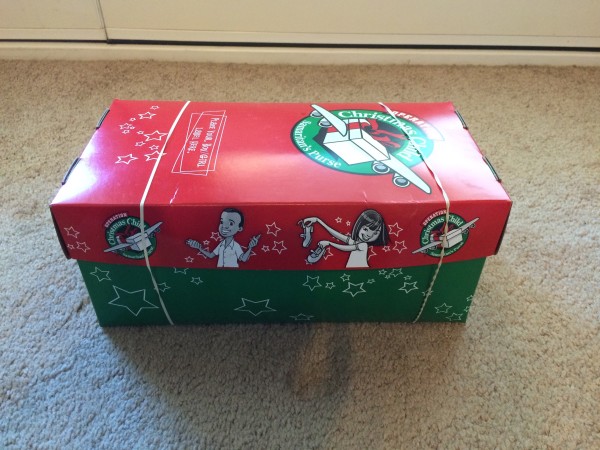 Make sure to add those rubber bands to make sure it stays closed!
5-9 Boy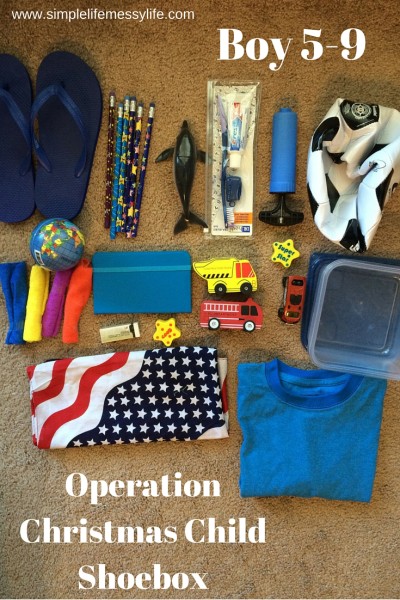 What's Inside
Flip flops
Plain t-shirt
Soccer ball
Pump
Pencils
Dolphin toy
Toothbrush/toothpaste set
Small plastic container
Three cars
Two pencil sharpeners
Notebook
Four small washcloths
Small ball
Eraser
Bandana
Rubber bands (not pictured)
Soap (not pictured)
Twine (not pictured)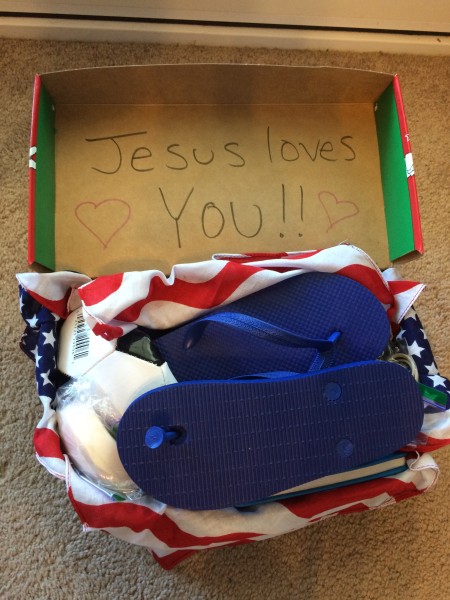 There it is all snug in there! This one took some fiddling to be able to fit both the big soccer ball and the flip flops – but it worked!
10-14 Boy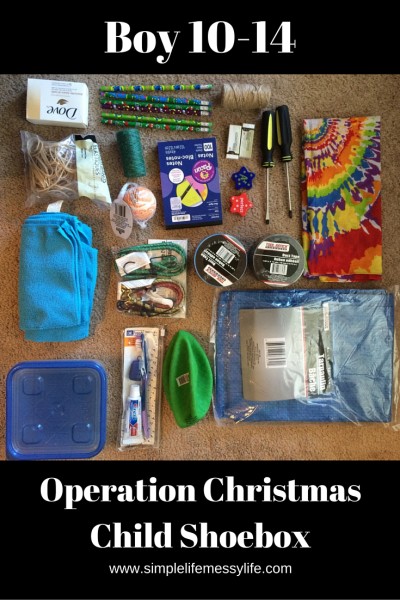 After I found out that this age group is the one with the least boxes packed, I knew I had to pack one! I still can't believe how much I was able to get in this box! My only regret is that I wish I would have snuck in a few more toys – big kids like to play too!
What's Inside
Bandana
Two screwdrivers
Two rolls of duct tape
Small tarp
Notepad
Two rolls of twine
Two pencil sharpeners
Two erasers
Pencils
Rubber ball
Small playground ball
Bungee cords
Toothbrush/toothpaste pack
Small storage container
Rubber bands
Two microfiber towels
Soap
Ball pump
How It All Fit In
Let's break down this one too…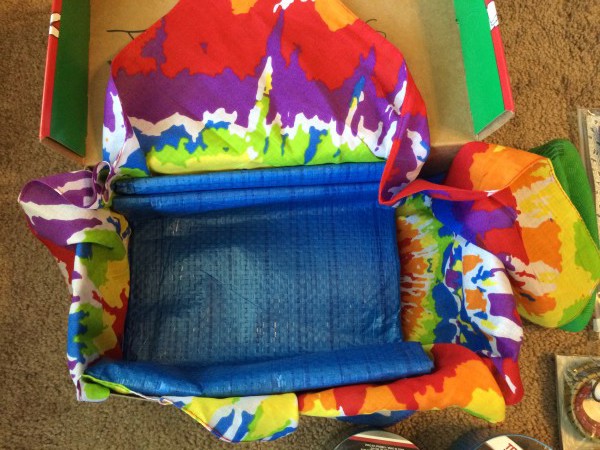 I again started with the bandana on the bottom. Then, I folded the tarp and put that on the bottom too.
I put some of the small things, like the sharpeners and erasers at the end of the tarp and then put the container on top.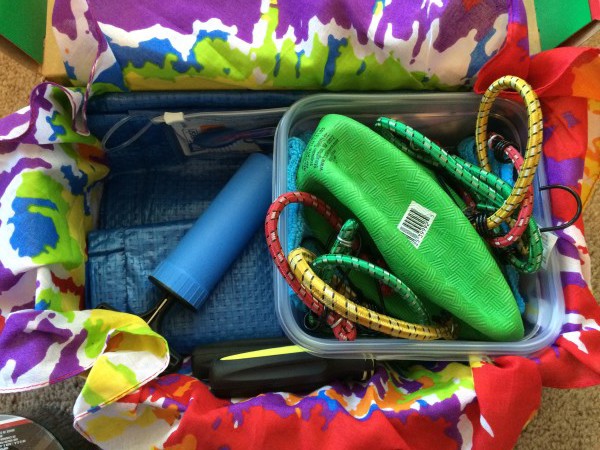 Once again, anything squishy went in the container – the ball, bungee cords, towels. Taking things out the packages to save space is key! I slid the toothbrush pack in the back and the screwdrivers in the front and the pump fit next to the plastic container.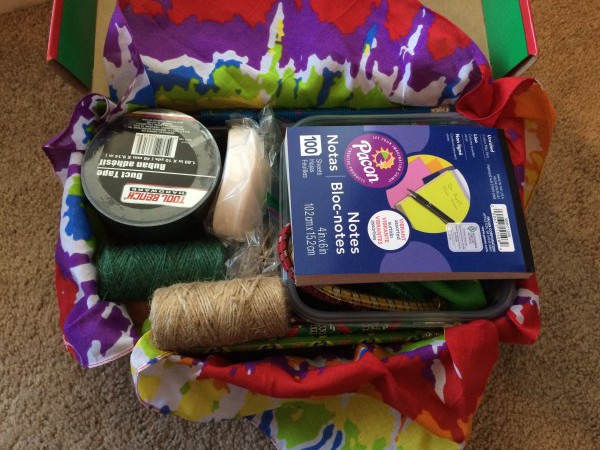 Using a little rearranging, everything else found a place where there was room.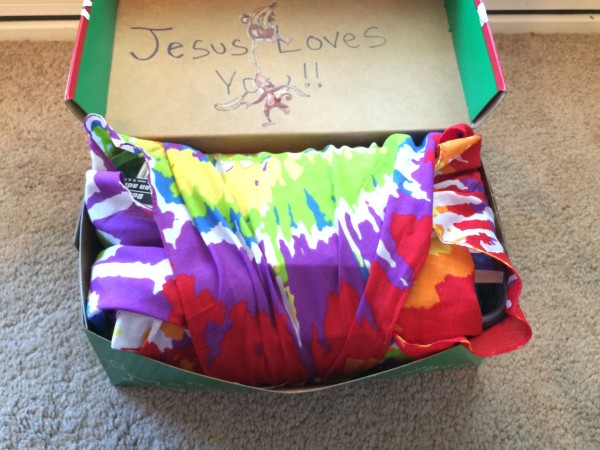 Wrap it up with the bandana and squeeze that lid shut!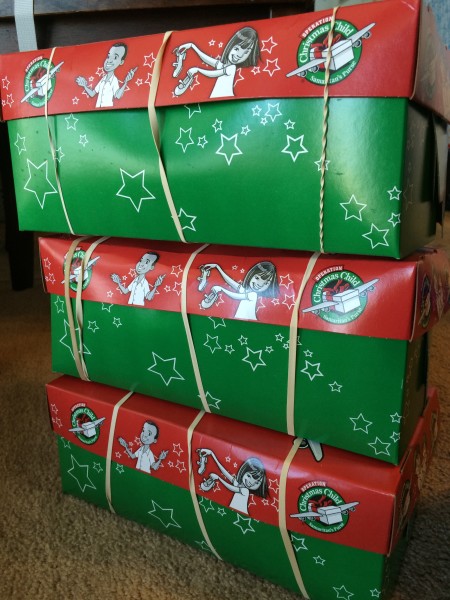 Yay! All our boxes all packed up! Another great year for Operation Christmas Child. I think this next year we are going to pick up shoebox gifts as we see them on sale and keep them in a tub until it's shoebox time again!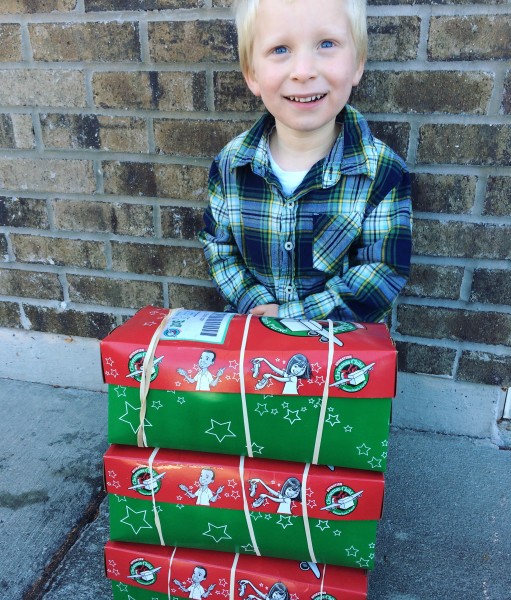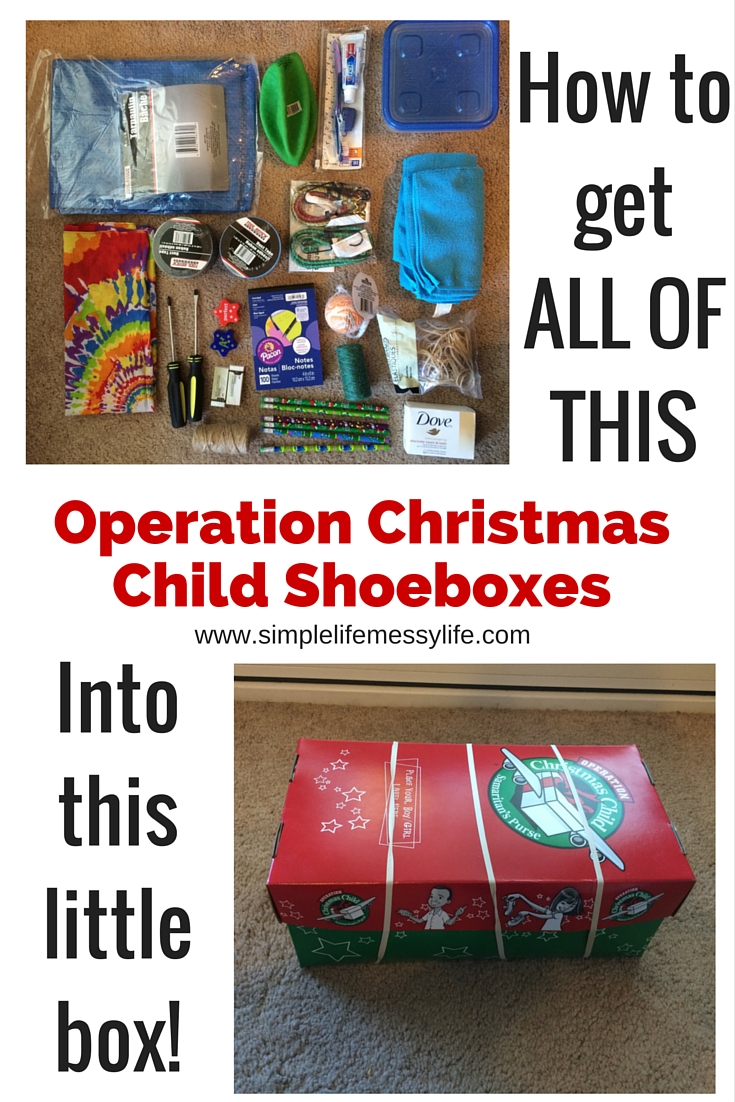 Looking for more shoebox inspiration? Check out my giant round-up of everything Operation Christmas Child!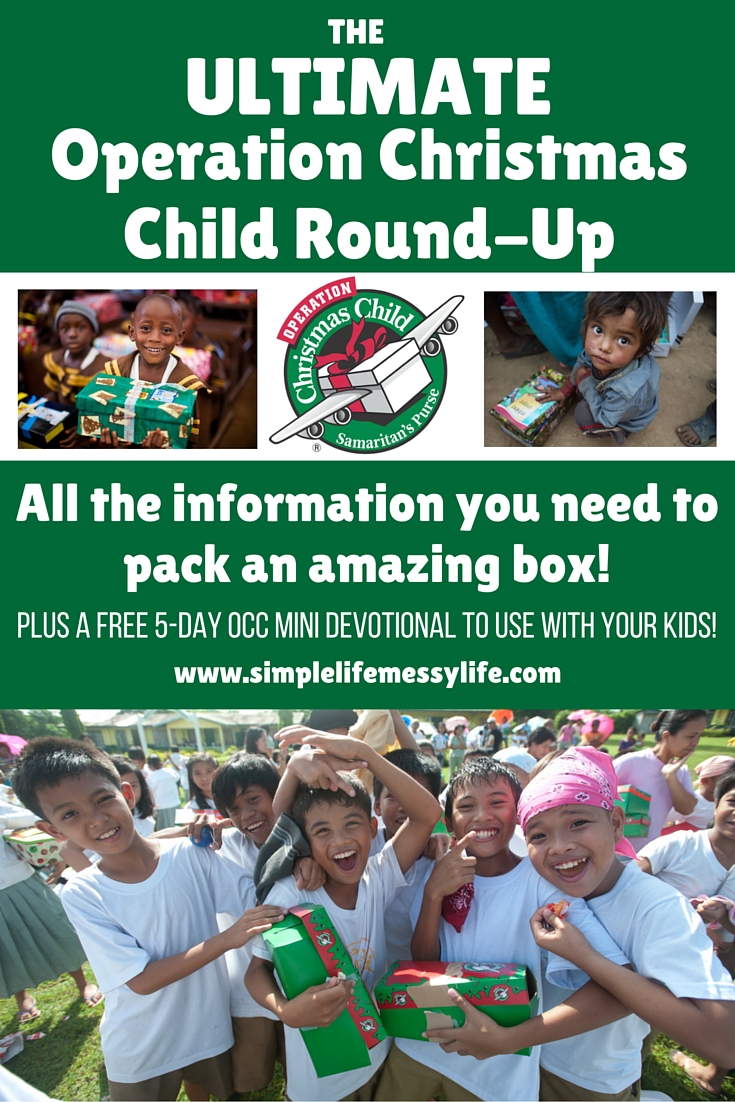 Want some help making your shoebox packing a meaningful and memorable time with your kids? Download my FREE mini-devotional! Go here for more information.