How to Pray For Your Children's Sibling Relationships
from guest poster, Julie.
Sibling relationships are… unique.
Some consider their siblings to be their best friends. Some have to work hard to tolerate theirs'.
As parents, we want our kids to fall into the first category. We dream of how blissfully our kids will get along and the glorious laughter that will sprinkle their every conversation.
Then one of them inevitably turns two.
Dreams dashed. Toys trashed.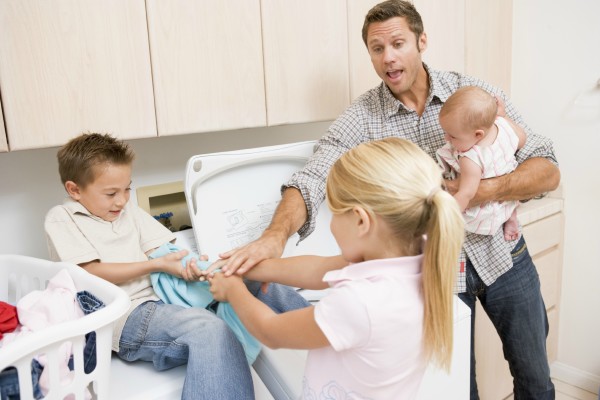 Most siblings have squabbles, and then some. As a parent it can be extremely disheartening, ESPECIALLY because it seems to be so far out of our control.
This is where calling out to a sovereign God makes all the difference.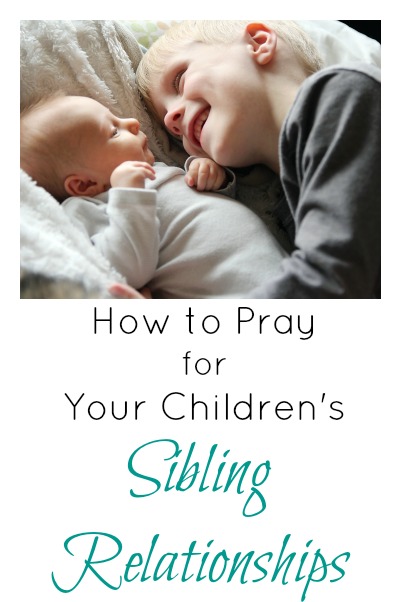 But WHAT should you be praying beside the obvious, "Please don't let them kill each other"???
Here's some specifics to pray for…
They would appreciate each others' differences
You know your kids are different than each other. Often, those differences cause the friction in their relationship. Pray that as they grow, they'll learn to value those unique qualities in each other. When they know how to love their polar-opposite sibling, they'll be better able to love people in the diverse world around them.
They would support each other through struggles
The sibling relationship typically lasts a lifetime. And every lifetime is going to have hardships. Pray that your children will support their sibling in those rocky times by pointing each other to the Lord and his mercy. Having a friend that has been with you though all the crud of the past and is committed to being there to the end is invaluable.
They would bolster each others' growing faith
Aside from praying for your children's individual salvation, ask God to let the siblings be influential in each others' spiritual lives. I cannot tell you the impact my brother has made on my walk with the Lord. He's not afraid to ask the tough questions. He sets a HIGH example. He cares and he's not about to let me throw in the towel on God. I desperately want that same sort of relationship for my kids.
They would get along with each others' future spouse
It may seem a LONG way off, but your kids are going to grow up and likely get married. Want the sibling bond to remain strong? Better pray that the siblings get along with their new brother and sister-in-laws. My own mother (who's a ridiculously great lady) would tell me all the time growing up that she was praying my brother would be great friends with my future husband. I'd laugh it off, but now that they are BFFs, I see the incredible blessing of it.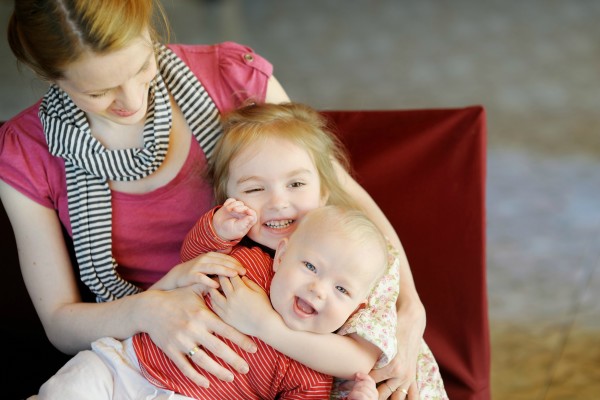 It's so hard to focus on the bigger picture when dealing with sibling relationships. But praying with these things in mind will help your kids ultimately have a God glorifying relationship.
---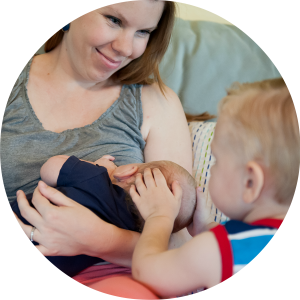 Julie Nixon is a frazzled mom of two tornadoes. As a dorky second-generation homeschooler, she writes over at "My Mundane and Miraculous Life" about learning and play, natural living and matters of the heart. She serves an astounding God that radically saved her.