Stocking Ideas for a 4 Year Old Boy and a 6 Month Old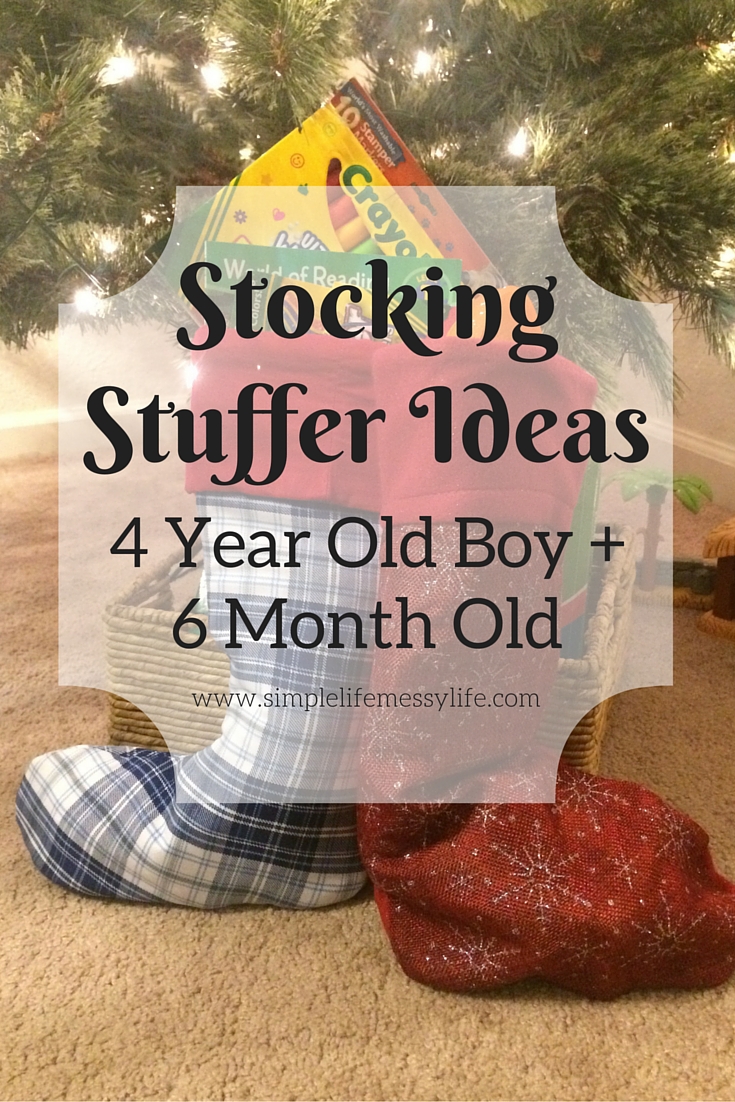 *Affiliate links included*
We do our stocking gifts on St. Nicholas Day and, because of that, our stockings have already been bought, packed, opened, and enjoyed! So, I thought I'd share what were in my son's stockings in case there are any of you still working on some last minute Christmas stocking stuffers!
Four Year Old Boy Stocking Stuffers
1. Crayola 10-Count Ultra Clean Expression Stamper Markers
K absolutely loves all kinds of arts and crafts projects. He spends a lot of his day at his craft table creating. Since the only markers he really has are our favorite Pip Squeak Skinnies, I decided it would be fun to include some "fancy" markers in his stocking. I remember having stamp markers when I was a kid and I knew he would love them too!
K has just recently become enamored with glitter. And while I have a high tolerance for messy projects and do own an assortment of glitter – that is just not something I want to tackle regularly. When I saw these glitter markers, I knew they would be just perfect!
3. World of Reading Star Wars Ewoks Join the Fight: Level 1
I bought my little Star Wars lover both Ewoks Join the Fight and AT-AT Attack  easy readers. They are still a little above K's reading ability, but with a theme he loves so much, I'm sure he will have extra motivation to learn the words!
4. Fisher-Price Nickelodeon Blaze and the Monster Machines Blaze
Like many little boys, K absolutely loves cars. I saw this cute little truck and I knew he'd love it, even though he has no idea who Blaze is! It was only five dollars and looked to be a pretty sturdy little car. K decided it looks like a monster truck Lighting McQueen!
5. Minifigures Super Heroes Figure
At not even four year old, the Lego obsession has already begun for K. He has a bin of assorted blocks passed down from my brothers, but I thought he would enjoy some more people to play with.
Lego purists – look away! Being four, I knew K would not care about perfect figurines, so I bought both this Super Hero set and a Star Wars set of cheap knock off Lego mini-figs. He loves them.
Unfortunately they ship from China, so it does take a couple weeks for them to arrive. You might not be able to get them in time for Christmas, but I still recommend taking a look!
Each year, I usually include chocolate coins in K's stocking as a nod back to the St. Nicholas Story. However, this year I couldn't find them at the stores I was at and didn't have time to track them down. Since I thought the ones on Amazon were a little pricey, we just went with a bag of Christmas themed chocolates.
Six Month Old Stocking Stuffers
1. Disney/Pixar Cars Easy Grasp Flatware
The nice thing about gifts for a baby, is that they really have no clue what is going on. So, you will notice that most of Baby J's stocking stuffers are practical baby items that I needed to get anyway. First up, this cheap but sturdy set of silverware. The fact that it is also Cars themed probably means that big brother will use them whenever he can. 🙂
2. Simba Suction Plate with Spoon & Fork Set
Isn't this little plate set so cute? It is more like a cross between a plate and bowl – perfect for my little guy that is all about eating "real food" these days!
3. Squooshi Reusable Food Pouch | Baby Starter Kit
Speaking of cute, aren't these adorable?! Baby J tried one of those applesauce pouches recently and actually did a pretty good job with it. So, I decided to get him some refillable ones. He has already used them and they are great! Really easy to clean too!
4. Baby Buddy Baby's 1st Toothbrush
I guess after all that eating you need to brush your teeth, right? Even if you do only have two! 🙂
This was the first toothbrush I used with K and loved it enough to buy it again for Baby J.
5. Fisher-Price Little People Wheelies
Little brother has a strong desire to play with everything that big brother plays with – only problem is, everything Baby J plays with, also is going to go in the mouth! I scored two of these cute Little People cars at Once Upon a Child for a couple dollars and they were perfect for his stocking!
6. Little People Sofie & School Bus
This cute little bus and person is another deal I found at Once Upon a Child for a few dollars. J loves it (K does too!) and it is safe for all the baby slobber he can throw at it!
What goodies are in your kid's stocking this year?