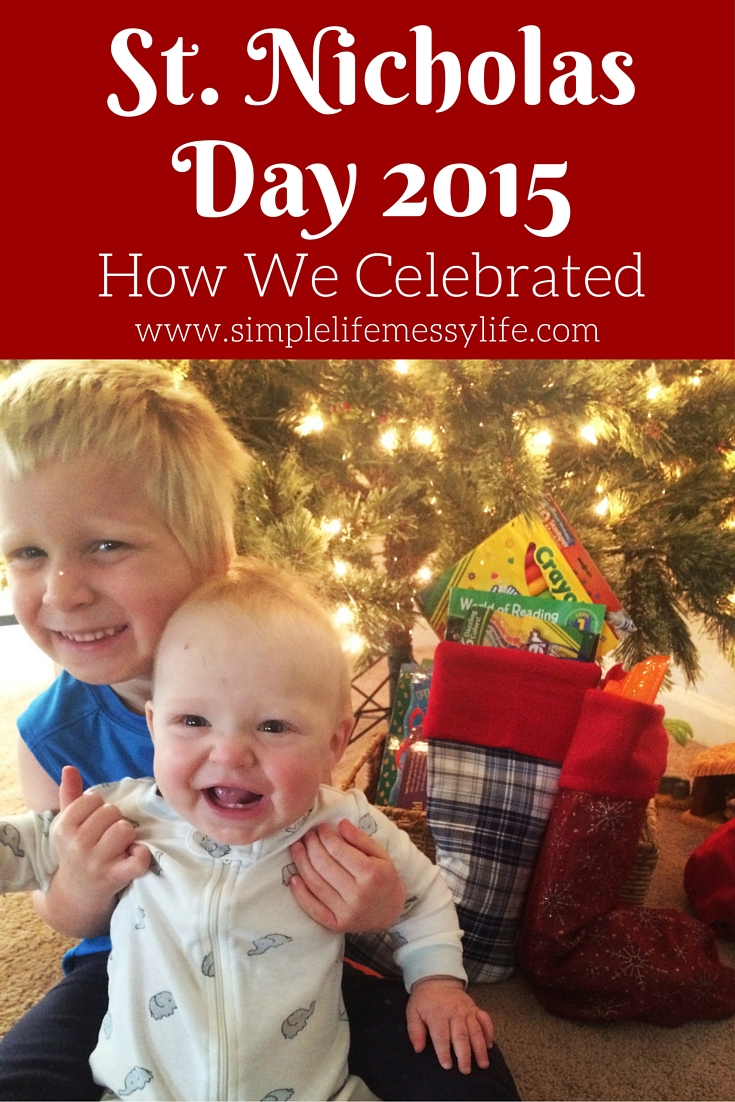 When K was just a baby, we decided to add the celebration of St. Nicholas Day to our Advent traditions. We have loved observing St. Nick's day as an alternative to "doing Santa." We get to do some fun traditions, learn about history, and focus on giving like the real St. Nicholas did. I wrote more about celebrating St. Nick's Day here.
This year was our third St. Nick's day and, even though it is too late for you to try out this celebration this year, I still thought it would be fun to share what we did!
Stockings and A Special Breakfast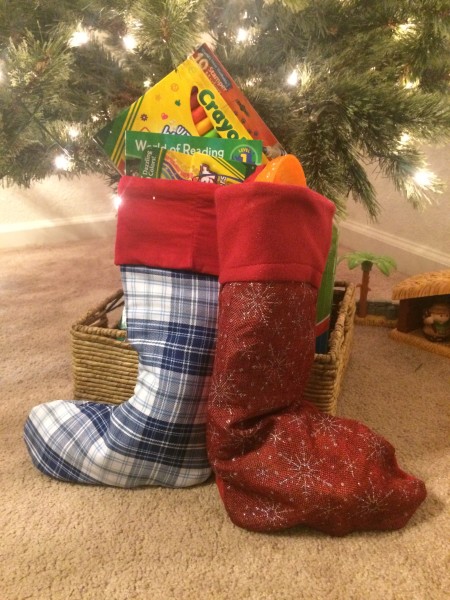 For St. Nicholas day, the main two things we have done (and plan to continue doing) are stocking gifts and a special breakfast. We do stockings on this day instead of Christmas morning and it has been a great way to spread out the gift giving a little bit. I usually fill the stockings with small gifts and some chocolate coins. You can read more about what was in our stockings this year here.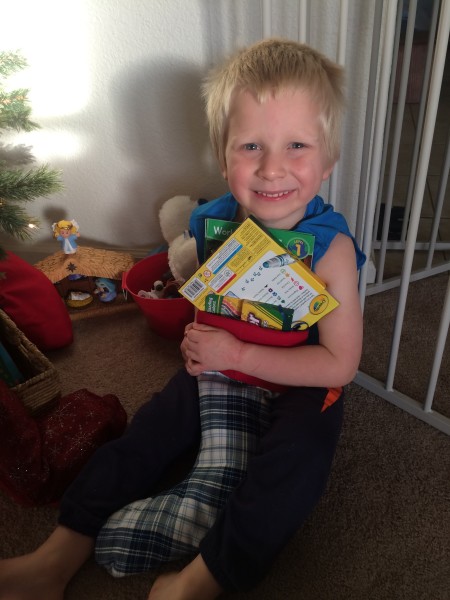 We also have a special breakfast that is a treat my mom used to make for Christmas – Scandinavian Kringler (or as we always called it, "kringle"). So yummy.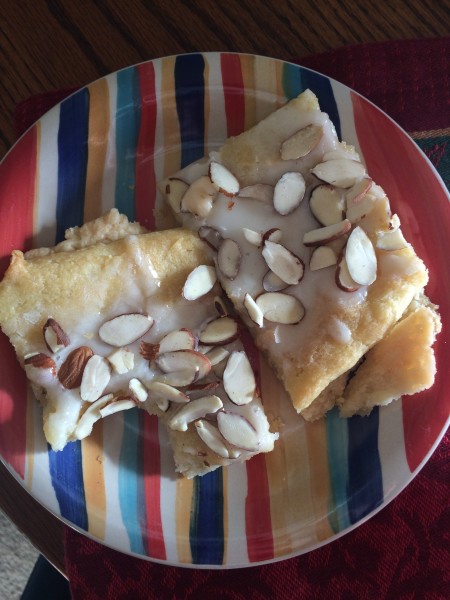 St. Nicholas Neighbor Treat Baskets
During the time St. Nicholas lived, there was a great famine and much of the surrounding area lived in poverty. One of the things that he was known for doing was placing baskets with grain, fruit, and other food on people's doorsteps during the night, so that they would have food to eat.
A while back I had read about remembering this act of service by putting together baskets with treats in them to give to your neighbors. This year I decided we'd give it a try!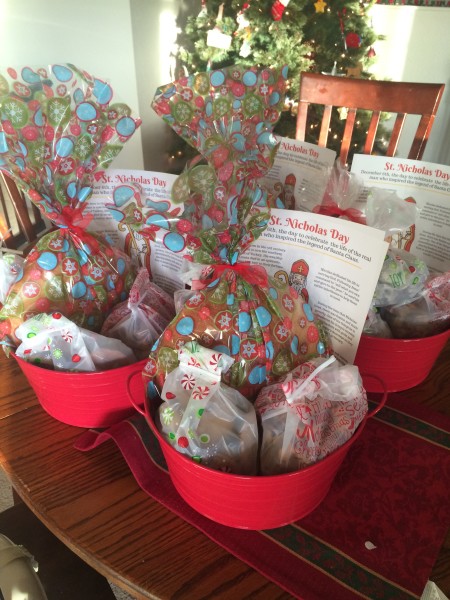 For our baskets, I found these awesome metal buckets for only a few dollars on clearance at Hobby Lobby. There were four left, so I decided we'd do four baskets this year.
Over the week, K and I had fun making some Christmas treats to put in our baskets. We made chocolate covered pretzels, chocolate chip cookies, Chex mix, and a loaf of bread for each basket. We packaged everything in fun treat bags I found at the dollar store.
I finished the baskets off with a paper on St. Nicholas and a coloring page for the kids in the family. Subscribe at the bottom of this post to gain access to the free printables.
We delivered our baskets to some of our neighbor friends on the morning of St. Nicholas Day.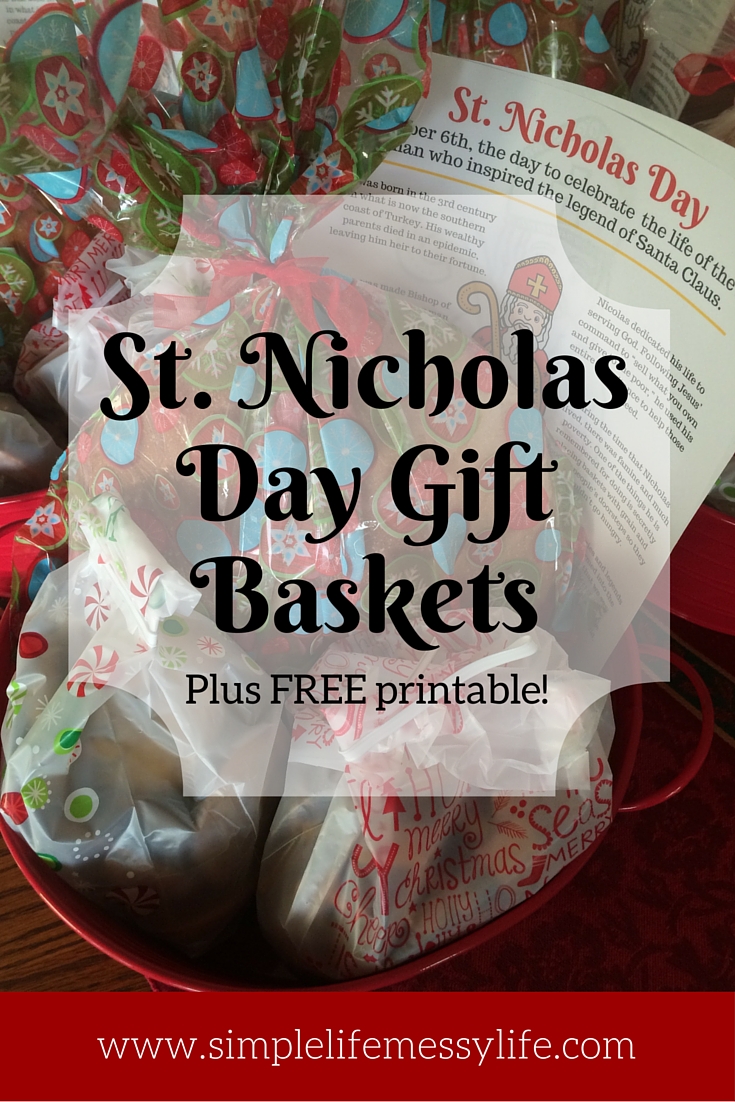 Shopping for the Food Bank
One of the sweetest things happened while we were preparing our gift baskets. I asked K who he would like to give the baskets to and was surprised when he didn't immediately start rattling off the names of his friends.
He was obviously thinking hard on the question, so I asked "Maybe to some of your friends?" In kind of a confused voice he said mentioned two of his friends and said that he wanted to give the basket to them but, "they already have food to eat."
Then it dawned on me. "Did you think we were giving these baskets to people who didn't have any food?" I asked. He nodded his head yes. He was listening closer than I thought!
I explained to him that while I didn't think we could give our baskets to someone who didn't have any food, there was something we could do. I told him about food banks and asked him if he wanted to buy some food for one. He said yes and even wanted to use his own money!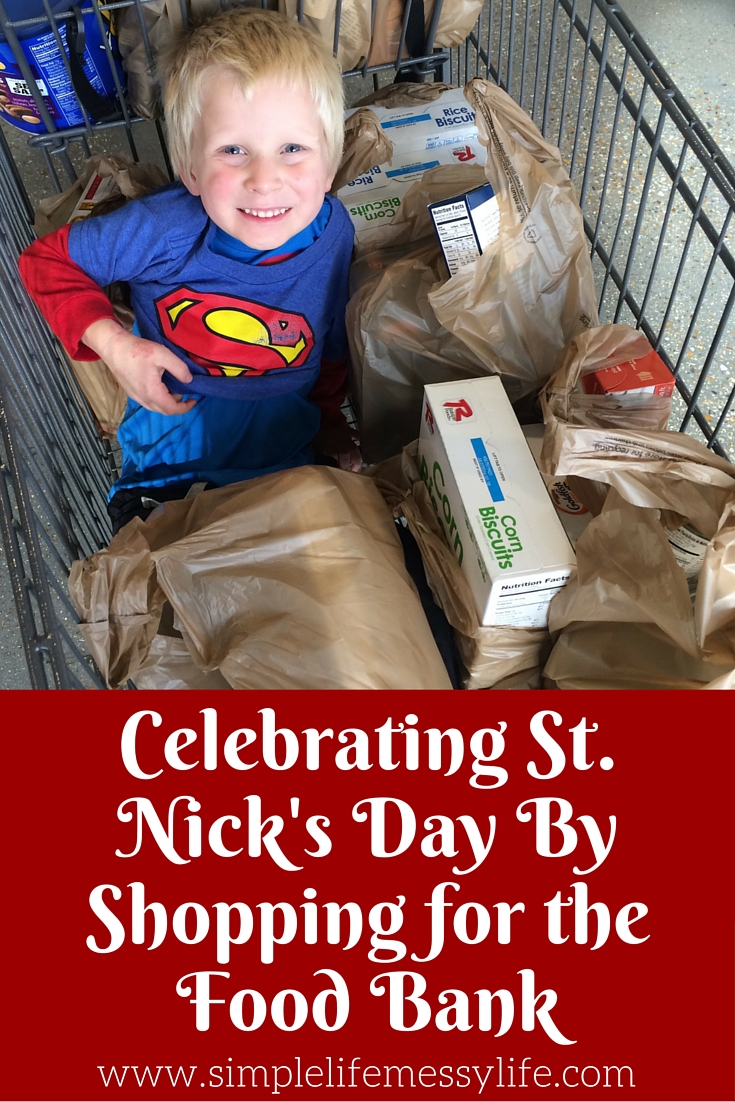 The day before St. Nicholas Day, we pulled the money out that he had saved in his wallet and counted it. While he is getting good at counting, the concept of a five dollar bill being equal to five one dollar bills is still a little foreign to him. At first he said he wanted to use all his money, but he quickly took that back! Then, he counted out six of his bills to use, keeping two for himself. I was impressed with the decision he made, giving generously, yet keeping a little for himself. He even said, "I'm going to have to get some more money!"
We left the saved money at home, and took his wallet to the grocery store. After roaming the aisles making his choices (aided a little bit in choosing healthier options), it was time to pay. I could feel the tension in him as he handed the money over, but in the end I had one joyful little giver.
The items he bought are loaded in a box, ready for us to drop off at the food bank next time we are out. The whole experience was such a fun time and great learning experience. I think this will become a new St. Nick's day tradition!
PS Since he is still young enough to not know any better, I did take the little fella's hard earned money and slipped it back in his wallet. 🙂
Do you celebrate St. Nicholas Day? What are your traditions?
Affiliate links included