The Good Shepherd — Jesus Storybook Bible Blog Hop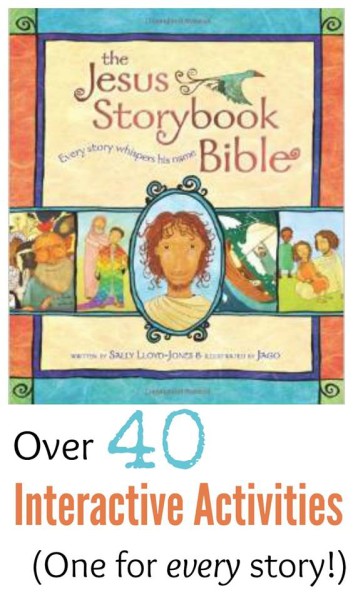 For today's post we are joining My Mundane and Miraculous Life for the Jesus Storybook Bible Blog Hop. This is an amazing series brought to you by a bunch of great bloggers, creating a wonderful resource of activities and crafts for every story in the The Jesus Storybook Bible
. You can hop on over and check out all the posts here.
For our story today we read "The Good Shepherd", beginning on page 130 of the The Jesus Storybook Bible
. K is still a little young for this version of the Bible, so I had to summarize the story a little. Our focus was "Jesus is my Shepherd and I am His sheep!" To help reinforce this main point we did two activities.
Sticky Sheep Craft
Materials Needed:
Contact paper
Black construction paper
Tape
Cotton balls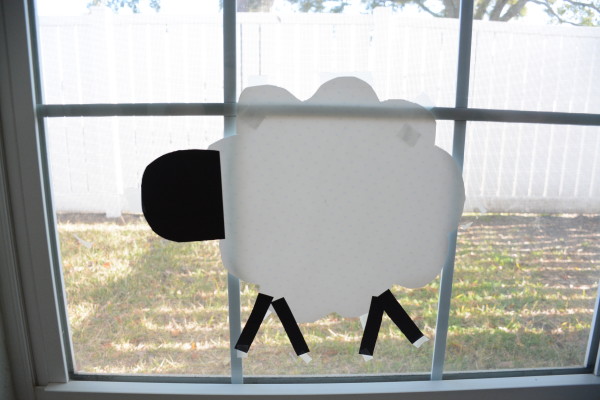 First, trace and cut out a fluffy sheep shape from your contact paper. We happened to have some that was white, but the regular clear kind will work just as well. Once you get that cut out, tape it to a window, wall, or table. Then, cut out head and leg shapes and tape those on as well.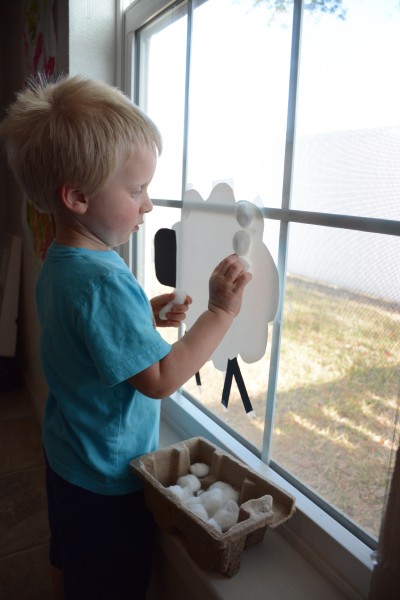 Stick the cotton balls onto your sheep to make him nice and fuzzy!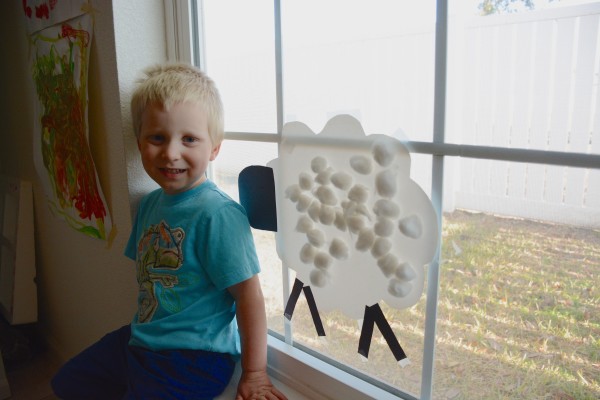 Sheep Pretend Play
Materials Needed:
Black construction paper
White paper
Tape
Glue
Cotton balls
4 black socks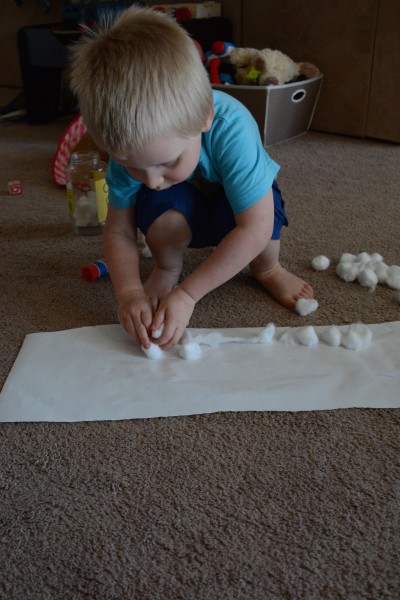 To make this easy-peazy sheep costume start by gluing some cotton balls onto a long and narrow piece of white paper. I cut ours out of a giant roll of paper we have, but 3 or 4 pieces of white paper taped together will work just as well.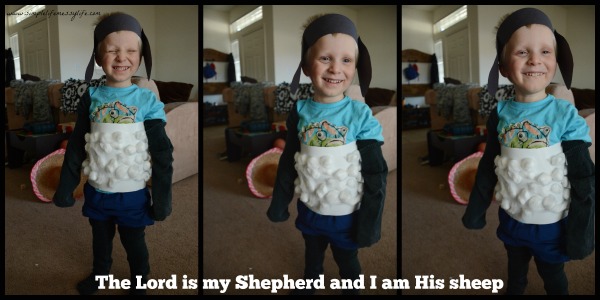 Once you've got a nice, fuzzy paper, you can assemble the rest of the costume. For the ears I cut two strips of black paper and taped them together in a circle the size of K's head. Then I cut out two ear shapes and taped them onto the headband. Put some black socks onto your hands and feet and tape the fuzzy fur around your belly and you are all set!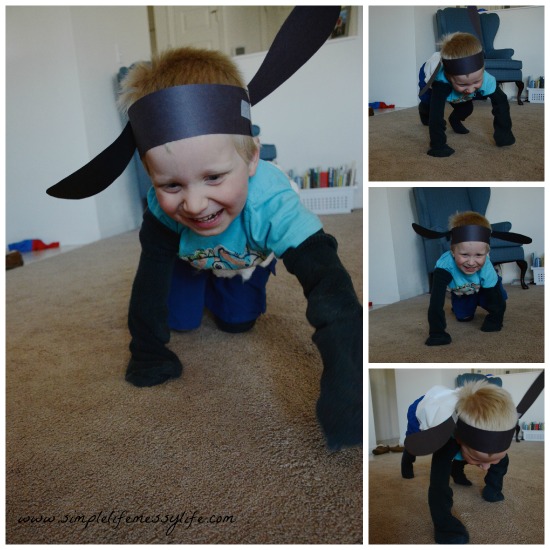 While playing pretend sheep we talked about how Jesus is our Shepherd because of how he loves and takes care of us. Of course we just had a lot of fun too!
Again, be sure to check out the main Jesus Bible Storybook Blog Hop page for all the great activities. If you are looking for more shepherd/sheep activities you can head over to our Play Through The Bible Series posts on David and Goliath and The Parable of the Lost Sheep.
---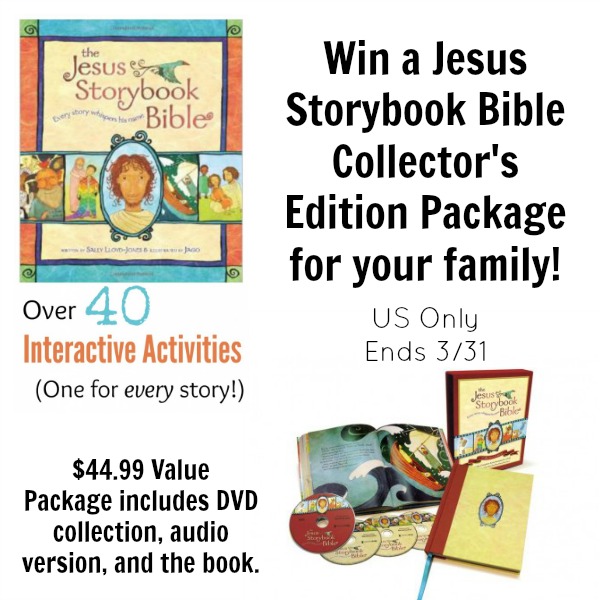 We are so thrilled to bring you a Jesus Storybook Bible Giveaway sponsored by Zonderkidz. We love using the Jesus Storybook Bible in our home and know you will love it, too. One winner will receive the Collector's Edition of the Jesus Storybook Bible valued at $44.99, complete with a beautiful copy of the book, an audio version of the stories, and a DVD collection with animated versions of the stories. This collection would be the perfect Easter gift for any child. Be sure to follow The Jesus Storybook Bible Facebook Page for more information, and stay tuned for the rest of the Jesus Storybook Bible Hands On Activity Series.
The giveaway is open to the US only and ends at 12:00 am CST on April 1, 2015. Please enter using the Rafflecopter form below. If you have trouble seeing the entry form on a mobile device switch to the classic version or click here to enter.
a Rafflecopter giveaway

---
Affiliate links may be included, thank-you for supporting Simple Life. Messy Life. with your purchases.