6 Tips for Making Bible Story Time Come Alive for Your Toddler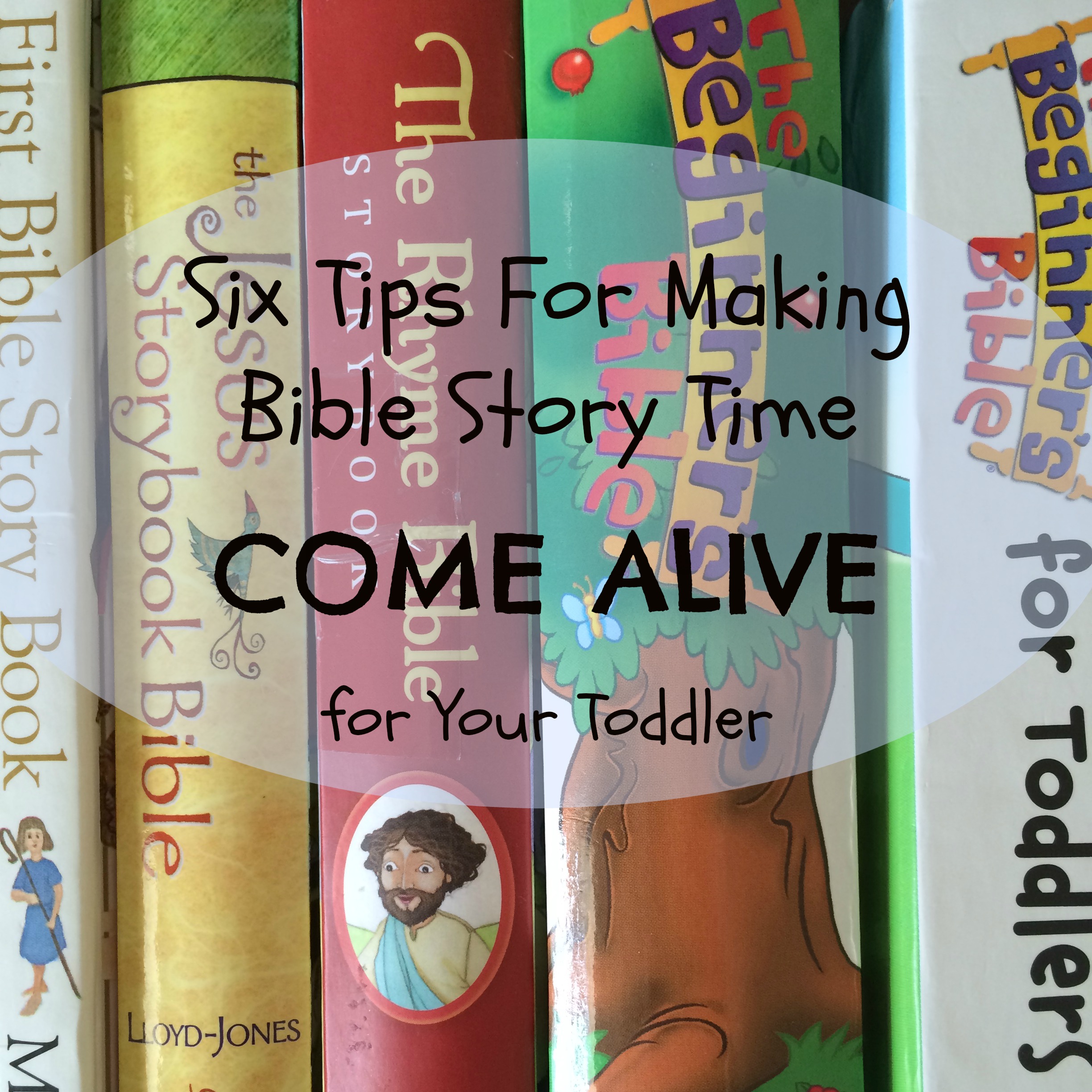 If you're like me, you want to get your child started reading God's word as soon as possible. Maybe you even started reading to your peanut while he or she was still in the womb. Then, you read to that squishy newborn as you rocked and snuggled. However, along the way something happened. That little babe you used to hold in your arms, who would be captivated just by the sound of your voice, grew up. Sitting still is a thing of the past now – you have a toddler.
So, how do you get a squirmy toddler to sit still long enough to have a daily Bible story time? Today, I'd like to share six tips I've learned as I've tried to introduce my son to reading the Bible. Hopefully, some of them will help as you impart God's word to your little one.
1. Make it a routine
Toddlers thrive on routine. Although we're not always as consistent as I'd like to be, we normally read K's bible story during breakfast. Once we were able to get that routine established, every breakfast time (and often at lunch as well) he would be begging for story time to start. The routine helps build the anticipation and also gets them started on making Bible reading a daily habit.
2. Choose a good children's Bible
There are seriously TONS of kids Bible's out there. Some are good. Some are not so good. There are also some that are great, but are above the level a toddler is able to understand. I can't speak for all the Bibles out there, (if you don't have a Bible you already like, I'd recommend looking through Amazon reviews or heading to the local Christian bookstore to page through the options) but here's what we do have experience with:
3. Read the story with some drama!
I am probably one of the worst actors ever, but when I read Bible stories to my son, I try my best to use tone, inflection, and excitement to bring the story to life. When the story says God was sad, slow down your speech and talk with a sad voice, frowning. When things are getting exciting, pick up the pace, talk a little louder. Use hand motions, too. When the story talks about God creating the sky big and wide, point to the sky and motion how big it is. Your excitement will naturally be contagious.
4. Read the same story multiple times in a row.
I'm sure by now you've noticed that toddlers love repetition. They want to eat the same foods, wear the same clothes, play with the same toys, and read the same books over and over again. Use this to your advantage and read the same story every day for a week. It may seem boring from an adult's perspective, but toddlers love reading things they are already familiar with. It really helps them become familiar with the story and remember the details better.
5. Take some time to discuss what you are reading.
For us, I ask that my son try not to interrupt while I'm reading, but after I've read the page we often pause so he can ask questions or point out things on the page that interest him. We will also often flip back through the entire story after reading to look at the pictures again while we summarize what happened. I will also ask him questions to see what he can remember. During the first few times we've read the story, I usually try to keep to simple questions that require "yes or no" answers or ask him what the characters names are. The more we've read the story, the more I see what he can remember.
6. Add an element of play.
Young children learn best through play, so it's a great idea to add that into your story time. It's very easy to do as well! Just take an element of the story and make it into a game or act it out. When you play through a story, you have a great opportunity to reinforce themes and vocabulary from what you just read. For example, the other day K and I read the Noah story. Afterwards, I grabbed a laundry basket and some stuffed animals and K pretended to be Noah. He piled all his stuffed animals into his "Ark" basket and jumped in with them, having a blast. The whole time we did this I called him Noah, cementing into his brain through play the name of the person God told to built a boat. We also talked about obeying God as he put the animals in the ark and pretended together that his boat was in the stormy flood. He had tons of fun and was learning God's truths all at the same time!
Coming Soon!
Are you looking for more ways to help your toddler begin to learn basic biblical truths? Then you are going to love what I have coming up soon! Me and my little helper have been working hard to write and test out an exciting toddler Bible study curriculum and we are so excited to share it with you!

Here's a sneak peek at how the study is going to be set up:
It will be released weekly, mostly likely on Thursday, so you will have plenty of time to prepare for the coming week.
It is being designed with busy parents in mind. Everything about this study is simple, easy to prepare, doesn't require tons of crazy craft supplies, and doesn't have to take a ton of time to do. All while being set up perfectly for how toddlers learn best!
We will be going through an entire children's Bible, following God' story from beginning to end.
I am so excited for this series to start! K and I have been having a blast reading, learning, and playing our way through the Bible, and I know your toddler will too. I knew I wanted to create this study because, although there are a ton of great resources out there, I was having a hard time finding something that was designed specifically for toddlers being taught at home by their parents. There are a lot of great resources for individual stories, or church preschool curriculums, but not a lot that would take a toddler through the entire Bible, without requiring me to take little bits from here and there around the internet.
So, if you've found yourself in a similar spot, wondering what the best way is to go about imparting basic biblical truths to your littlest learner, this study is for you. It will be debuting soon, so if you don't want to miss out, be sure to enter your email address below to get updates sent directly to your inbox. I would be honored to have you and your toddler join us on this journey through the Bible!
Affiliate Links included.