Advent Snacks (A Truth in the Tinsel Supplement) Days 19-24
*Affiliate links included*
In order to extend the learning while doing Truth in the Tinsel, I wanted to come up with a simple supplement. After doing some brainstorming, I came up with Advent Snacks! They are simple snacks, themed after each day in of Truth in the Tinsel, that you can easily make with stuff you probably already have lying around.
These snacks are most definitely not food art! While I think those crazy awesome snacks and the people that make them are amazing, that is not something in my skill set – or time allotment! This is food that you'll be able to whip together in a few minutes, making it so you can continue to nourish their spirits at the same time as you do their little bodies!
What if you don't have Truth in the Tinsel? No problem! Christmas is Christmas, and you can just as easily use any or all of these snacks without the TNT eBook. However, if you haven't given Truth in the Tinsel a shot, I highly recommend it! (You can read my review here)
Previous week's snacks:
Alright, are you ready to see this week's snacks? Let's get started!
Day 19 – Shepherds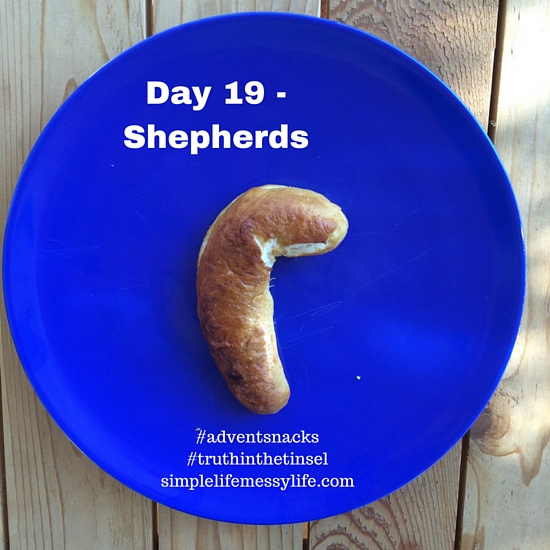 To make a shepherd snack I had the idea to make a shepherd's crook out of a soft pretzel. I was making these pretzels for a get together, so I figured it would be perfect to use a bit of the dough to make the crook. Well, it turned out a little plump! But it still worked out okay. You could also use homemade or store bought bread dough. Hm, breadstick shepherd's crooks.. mmmmmm.
Day 20 – Temple
This temple snack was made using crackers for the base, pretzel rods for the columns, and string cheese for the roof.
Day 21 – Star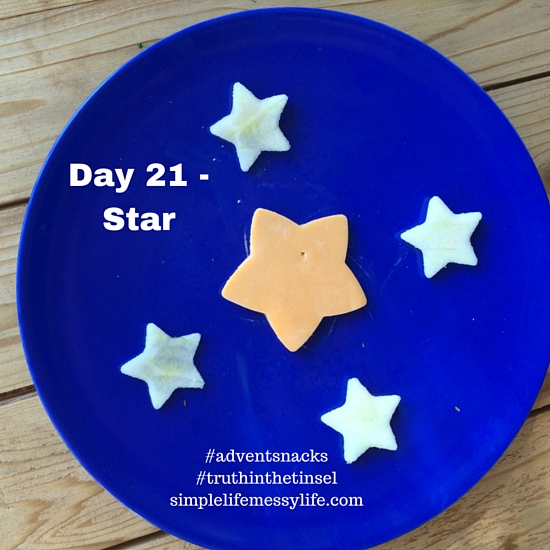 To make this star snack, you'll need one or two star cookie cutters. If you don't have a star cookie cutter, I highly recommend this cookie cutter set. You get 101 cookie cutters for under 20 bucks. That's what I call a deal! We use these cookie cutters for way more than just cookies! Snacks, play doh, art projects – there is a lot they are good for!
Anyways, that was a side note. To make this star plate I cut the white stars out of thinly sliced apple and the yellow star out of a cheese slice. Simple!
Day 22 – Wise Men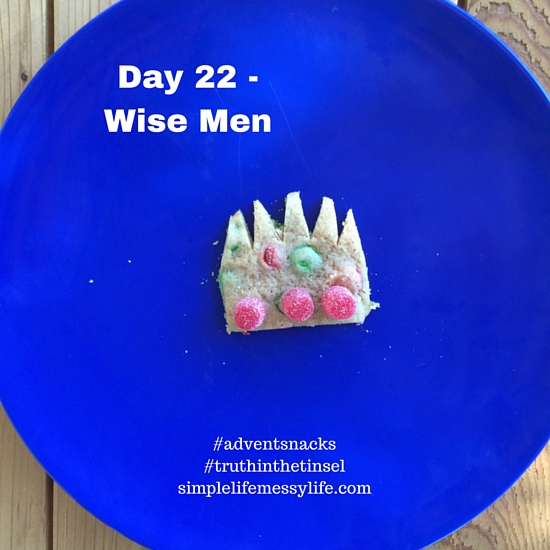 Most of the snacks so far have been at least fairly healthy, so I thought today we'd throw in a sweet! I cut this crown shape out of a cookie, adding a few gum drops for gems. It didn't turn out the prettiest, but K recognized what it was right away so I'll chalk that up to a win!
 Day 23 – Gifts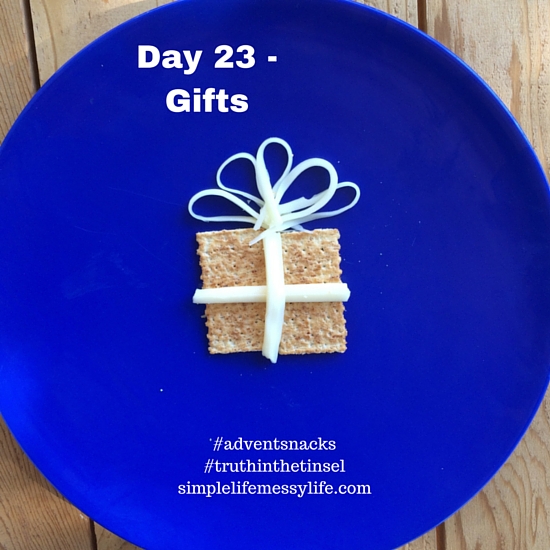 It took me a while to figure out how to make a snack to represent the gifts of the Wise Men, but I thought it ended up turning out pretty cute. The "gift" is made out of two club crackers and the ribbon is made out of string cheese.
Day 24 – Cross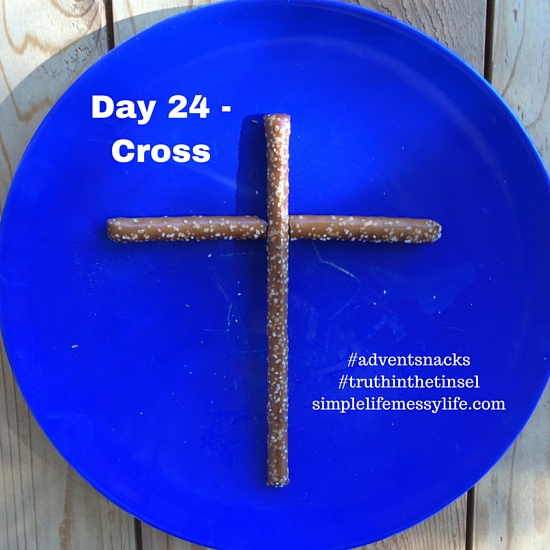 For the final snack to represent the cross, I was trying to think of something that would be a really cool snack. However, I finally decided that simple would actually be better in this case! So, all you need to make this cross snack is a few pretzel rods. If you want to serve more of a snack, you can make the two thieves' crosses as well.
That's all for Truth in the Tinsel snacks! I hope you had fun eating these yummy snacks with us!

Affiliate links included. Thank you for using your purchases to help support Simple Life. Messy Life.