Advent Snacks (A Truth in the Tinsel Supplement) Days 7-12
*Affiliate links included*
In order to extend the learning while doing Truth in the Tinsel, I wanted to come up with a simple supplement. After doing some brainstorming, I came up with Advent Snacks! They are simple snacks, themed after each day in of Truth in the Tinsel, that you can easily make with stuff you probably already have lying around.
These snacks are most definitely not food art! While I think those crazy awesome snacks and the people that make them are amazing, that is not something in my skill set – or time allotment! This is food that you'll be able to whip together in a few minutes, making it so you can continue to nourish their spirits at the same time as you do their little bodies!
What if you don't have Truth in the Tinsel? No problem! Christmas is Christmas, and you can just as easily use any or all of these snacks without the TNT eBook. However, if you haven't given Truth in the Tinsel a shot, I highly recommend it! (You can read my review here)
Here's the other week's snacks:

Alright, are you ready to see this week's snacks? Let's get started!
Day 7 – Song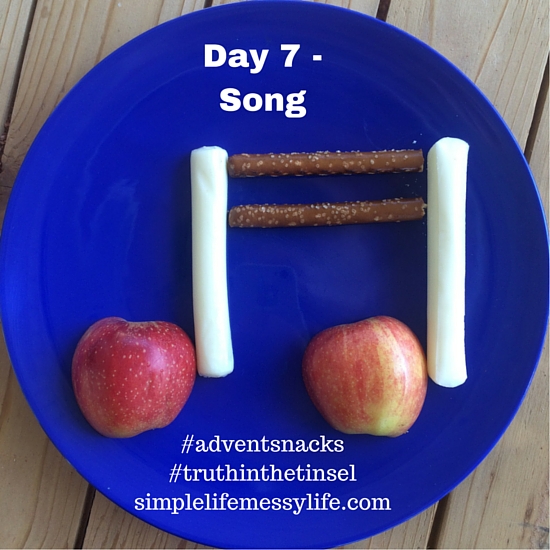 For day seven and Mary's song, I made this cute and simple music note snack. Made out of an apple cut in half, two cheese sticks, and some pretzel rods – it's sure to make you siiiiing! 🙂
Day 8 – Sun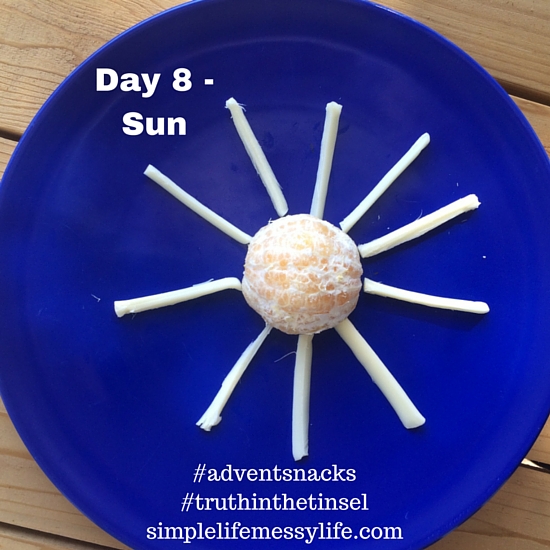 In day 8 of Truth in the Tinsel we read about Zechariah describing Jesus as the "rising sun." For our sun snack, I placed half an orange on a plate and arranged "strings" from a cut in half string cheese around it.
Day 9 – Joseph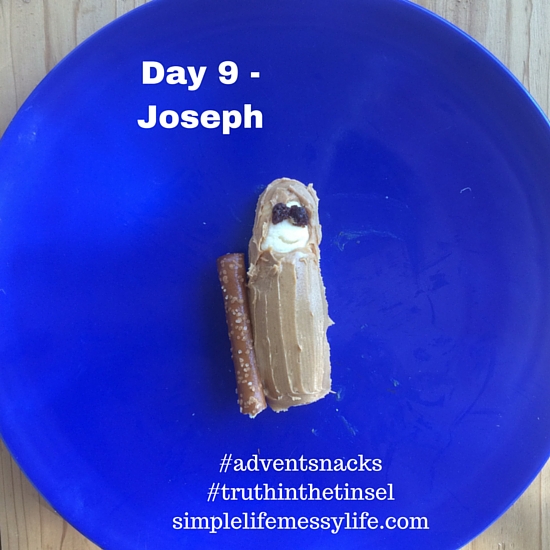 For day 9 our Joseph snack ended up looking a little silly, but it sure was tasty! To make this snack, cut a banana in half and then slice a bit off the back long ways (so it lays flat on the plate without rolling). Then, cover him in some peanut butter "clothes." I used a raising cut in half for the eyes, but they were still a little big, mini chocolate chips probably would have been better. To finish him off, I cut out a little mouth and gave him a pretzel rod walking stick.
Day 10 – Dream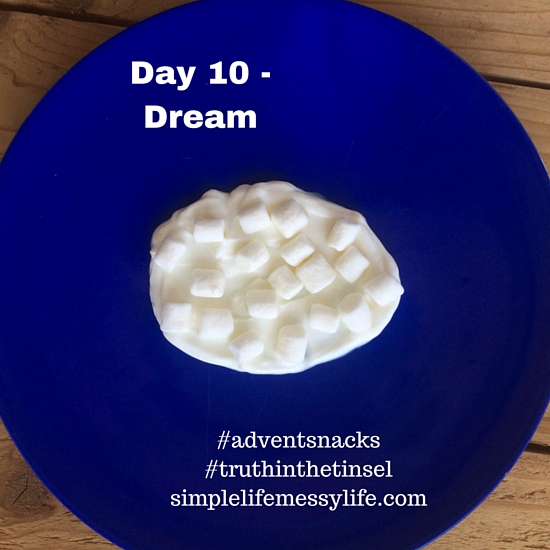 For a snack that represents Joseph's dream, I made this fluffy pillow (or dream cloud) by spreading out some plain greek yogurt and sprinkling some mini marshmallows on top. It was pretty tasty. Marshmallows and yogurt, who knew?
 Day 11 – Jesus' Name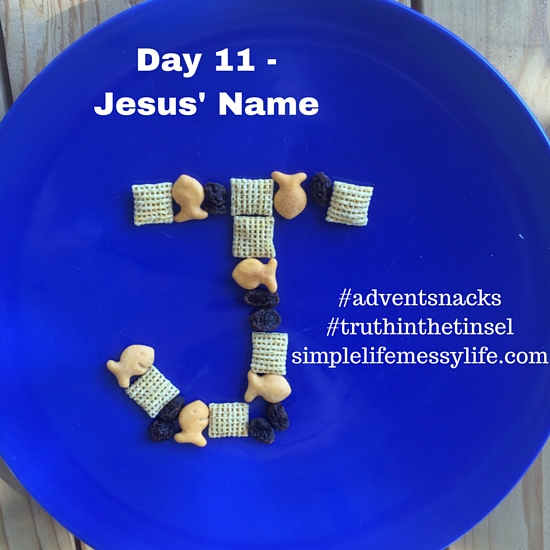 For this snack, there are so many ways you could go with it! I just took some snack mix (rains, fish crackers, and chex) and made a J for Jesus. But you could spell out his whole name, use any kind of snack mix, you could use letter shaped crackers or pretzels to spell his name, or even cut his name out with letter cookie cutters!
Day 12 – Census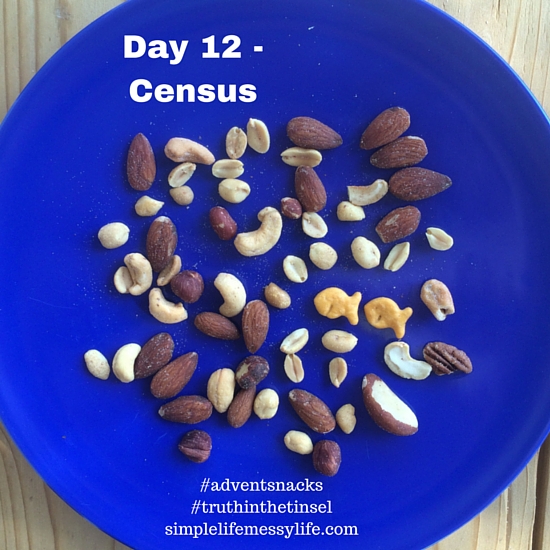 On day 12 we learn about the census that brought Mary and Joseph to Bethlehem. For the snack, just spread out any kind of snack mix (I used mixed nuts) on a plate, contrasting it with two different little pieces of snack to represent Mary and Joseph lost in the crowd (I used fish crackers).
That's all for Truth in the Tinsel days 7-12! Look for the next six days coming soon! Let me know about your favorite TNT supplement in the comments below!