The Top Ten Things Getting Me Through My Last Trimester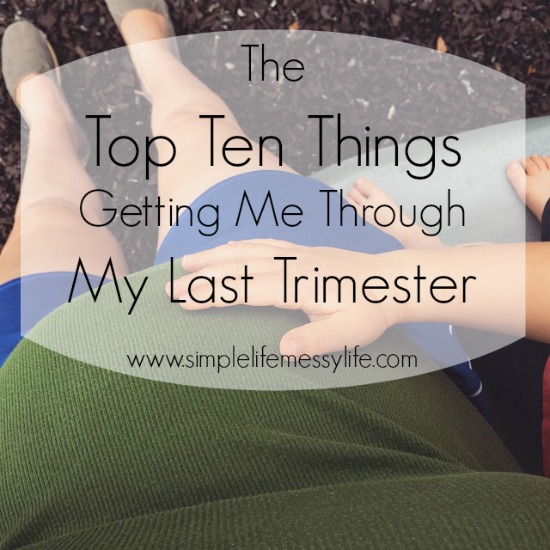 As I try to keep my focus on the to-do list and off the fact that this baby could make its appearance any day now, I thought it would be fun to share the things that have helped me through this last uncomfortable stage of pregnancy.
So, here they are. The top ten, in no particular order.
1. Watermelon
One word. YUM.
Okay, more than one word. What has been the deal with the last few weeks? Its like the appetite of my first trimester all over again! Nothing sounds good. Unhealthy things sound good. Weird things sound good. Then nothing sounds good again. I'm hungry after just eating. But have to choke down food when I'm starting to feel shaky from not eating. It's crazy!
Enter, watermelon. It always sounds good. Sure, it doesn't exactly satiate, but it is so stinking tasty.
2. Bedtime Snack
Speaking of food, for the last few months as soon as 9pm rolls around you better believe I'm grabbing a bedtime snack. And not just any bedtime snack. It's gotta be cereal.
I know, cereal. Bedtime snack of champions.
And not just any cereal. Peanut Butter Captain Crunch. Hey, gotta shoot for 80/20 with the healthy diet, right?
3. Nightly Walks
We've been keeping up on our nightly walks for the most part, and for all the reasons I talked about here, I'm still loving them. Plus, they keep my ever growing body moving, which can only be a good thing.
It won't be long now and I'll be doing continuous laps around the neighborhood in an attempt to encourage this little one to make his or her entrance into the world. Will that work? I don't know. (Hint: It didn't with big brother!)
4. A Goofy Little Three Year Old
My child. How I love him.
He just keeps getting goofier and goofier. I love it. He makes me smile every day.
He has a newfound obsession with Star Wars and walks around humming Darth Vader's theme. Although, he doesn't really know it, so it just comes out as very intense humming.
He loves to dance and show me his "moves."
He is completely convinced that he will be getting a baby brother.
He is my first miracle baby and every day I think I love him more.
5. Afternoon Quiet Time
Yes, yes, I really do love my child. But that 90 minutes of (mostly) peace and quiet in the afternoon is priceless as well. I've even managed to sneak in a few naps to combat the end of pregnancy exhaustion! Score!
6. Wild Kratts
Speaking of being exhausted, want to know my super secret trick for getting a few more minutes of shut eye in the morning? Wild Kratts.
You see, sometimes my lovely son likes to wake up with the sun (you know, "The sky's awake, so I'm awake! Let's play!") and I do not. Solution? Invite said child into my cozy bed and turn on an episode of Wild Kratts (Amazon Prime, yes!).
First of all, the Kratt brothers are awesome. I used to watch them on their show "Kratt's Creatures" when I was a young 'un. Second of all, K gets to learn all about animals when he watches, which he loves. Third of all, Wild Kratts is like 100 times less annoying than our previous show of choice, Mickey Mouse Clubhouse. Win-win-win.
7. My Pregnancy Uniform
Being just a hair shy of 6 foot, it has always been hard to find long enough shirts. Add to that a growing belly and slowly but surely I have grown out of almost every maternity shirt I own.
Combine that with our lovely southern heat and I've pretty much lived in a maternity tank top and stretchy athletic shorts. It's like yoga pants version 2.0. Please don't be jealous of my mad style.
8. My To-Do List
I keep at least four of them at all times. My planner, the one by my bed, two dry erase boards on the fridge, and the random assortment of loose papers scattered on my counter.
You see, if it doesn't get written down it doesn't get done. I think you'll find my picture next to the entry for "pregnancy brain" in the dictionary (well at least wikipedia!). My husband finds this a continual source of teasing delight. Don't worry, I still love him.
9. Super Easy Meals
Seeing as spending hours in the kitchen preparing food which I may or may not even want to eat (see #1) is not high on my priority list, easy meals have been a necessity. Enter, grilled chicken. I marinate it early in the day, make a few simple veggie or fruit sides, and hubby takes care of the grilling when he gets home. Beautiful!
10. My Awesome Hubby
Speaking of my hubby, he's great. I've had a lot more sickness/pains this go around and he is always willing to step in and help out. Couldn't do this without him!
Well, that's my top ten! What helped get you through the end of your pregnancy?