Hero Training – Week 6 – Joyful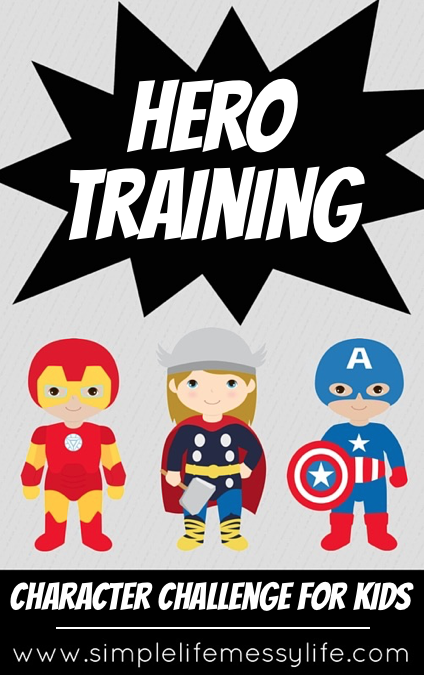 Week six is a fun one, because it is all about JOY! You know it'll be a good time when you spend a week focusing on being joyful! 🙂
If you haven't read the introduction to the series yet, check it out here (it has all the instructions and info you'll need).
Get past weeks here: week one (helpful), week two (self-controlled), week three (creative), week four (attentive), week five (diligent)
I hope you have fun doing the challenges and, don't forget, if you're joining in be sure to use the hashtag #herotrainingcc on instagram and twitter!
Lesson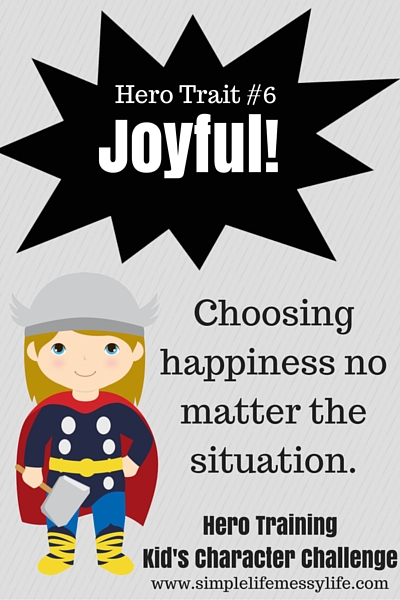 Hero Trait: Joyful
Definition: Choosing happiness no matter the situation.
Super Hero: Thor (because he is very joyful, always smiling and laughing)
Memory Verse: A joyful heart is good medicine, but a broken spirit dries up the bones. (Proverbs 17:22)
Examples of Jesus Displaying this Trait:
Jesus had joy in the cross (Hebrews 12:2)
Discussion Questions:
What are some ways that Jesus was joyful?
Can you think of a time that you were joyful?
Have you ever seen someone be joyful even when things weren't good in their life?
Why is it important to be joyful?
How can we be joyful even when bad things happen?
Notes:
Differentiating between joy and happiness is kind of a difficult distinction for a child. We talked about how being joyful is kind of like being happy, except that we can choose to be joyful no matter what is happening.
We also talked about how Jesus found joy even in the cross, because he knew what would happen because of it. Like Jesus, we can remember the good and be joyful in every situation.
I asked K what good things would help him be joyful even when things weren't going how he liked – he said pizza! Too funny. I followed that up with how even when everything is bad we will always know that God loves us and we can be joyful about that. 🙂
Every week we listen to the song "Jesus is my Superhero" to remember who is the best super hero of them all! We talk about how Jesus is the best hero because he saved us and about how he is the only one who can do all the hero traits perfectly. I found this awesome version (Lego stop motion!) of the song on youtube and K loved it!
Challenges
Challenge #1
Memorize this week's verse!
Challenge #2
Have a joyful dance party!
Turn up some good music and get your groove on! K's current favorite is Toby Mac. We like to look songs up on Youtube or stream radio from Pandora.
Challenge #3
Do something for someone to bring them joy.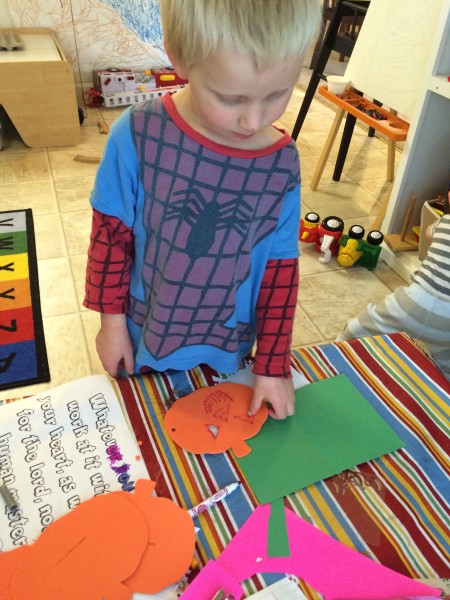 Making a craft to give to someone
I asked K who and what he would like to do and then I offered my own suggestion. However, he had it in his mind exactly what he wanted to do and who he wanted to do it for. My advice – if your kiddo has an idea, let them roll with it if possible. It may seem silly to you and me, but for them it will be so much more meaningful to bring their own idea to fruition.
Challenge #4
Journal about (or dictate) a time that you were sad or angry.
What made you feel that way? Is there something you could have done or thought about to help you choose to be joyful?
Challenge #5
Draw a picture of a joyful moment in your life.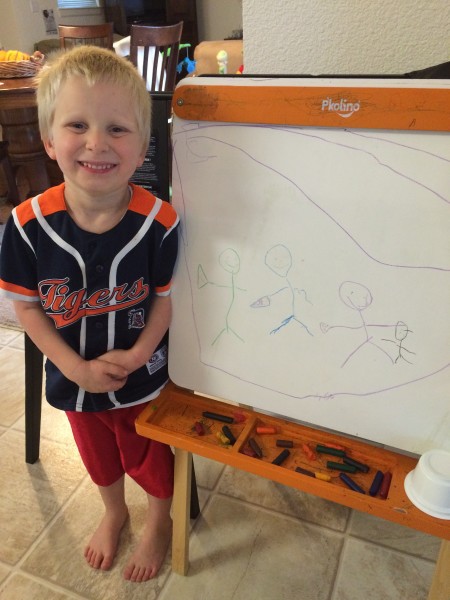 Why yes, my child did decide that his joyful moment was… eating pizza! Notice the triangles in our hands. Cause, ya know, it's not like he's experienced getting a baby brother, deciding to believe in Jesus, opening presents on Christmas morning, or any of that crazy business. Pizza is where it's at. Ah well, who doesn't love a good slice of pizza? 🙂
Character Badge
Once you've completed all the challenges you've earned another character badge! Find the tutorial here to make your own super hero cape and character badges.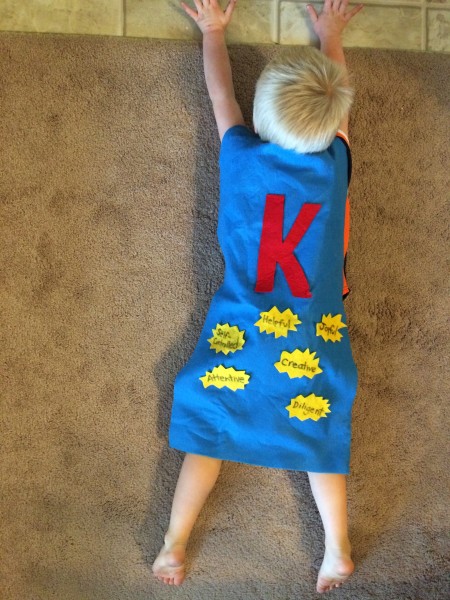 If you come up with another way of giving "badges" (or something similar) to keep track of your child's progress – I'd love to see it! I'd also love to see how you complete the challenges! Tag your post with #herotrainingcc on Instagram or Twitter!
Well, that's it for week six of Hero Training! If you join in, I'd love to hear from you. Let me know how it is going in the comments!
Affiliate links included.