*Updated* Home Preschool Room Tour (Home Preschool 101 Series)
This post is part of the series "Home Preschool 101." It is a peek into how we do homeschool preschool.
Here are all the posts (links will go live as published)…
Our Simple Preschool Plan 2015-2016
Our Top Eight Preschool Building Materials
Our Top Five Preschool Science Supplies
Our Top Ten Preschool Arts and Craft Supplies
Fruit of the Spirit Curriculum Review
My Favorite Preschool Resources
---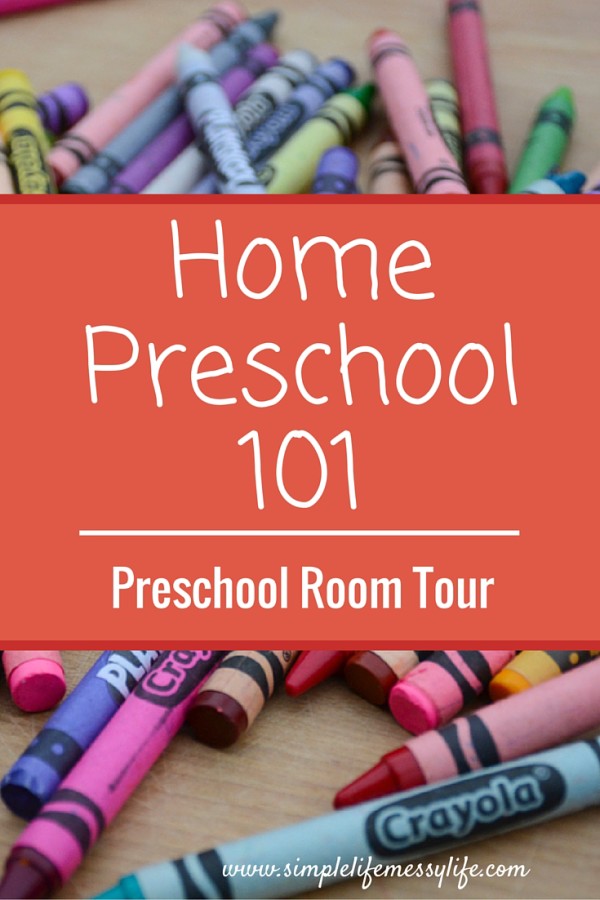 A while back I shared a tour of our dining room, which we use as our preschool room. (You can find it here). I've made some changes recently, so I wanted to give an updated tour as part of the Home Preschool 101 Series.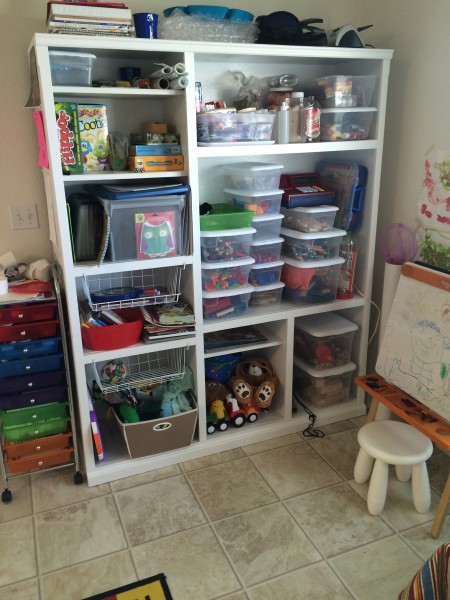 First, I'll start with our wonderful white shelf. We bought this shelf years ago second hand for cheap (it is an old entertainment center). We painted it, used it in our room, stored it for a couple years, moved, painted it again, and now it has found it's home here in the dining room.
The shelf has had a bit of an organizational makeover since the first room tour and I'm pretty happy with how it turned out. I grabbed a bunch of different sized bins from Wal-mart to store all the building materials, games, learning toys, sensory materials, and other random things. They all stack so neatly now! (Our nature tray got moved to that green tray)
The very top right shelve has sensory bin supplies and other things that I don't want K to be able to reach. The top of the shelf has my laminator, camera, some books, and a few other random things.
The shelves on the left from top to bottom hold: card-making supplies and other things that should be out of reach, preschooler appropriate games, paper (in the file box) an books. The bottom shelves currently hold toys but I am thinking about rearranging them sometime soon.
You might notice the absence of something that took up a lot of space previously – craft supplies! All our craft supplies are now stored in the colorful and handy "art cart" (to the left of the shelf) that I found at Sam's Club.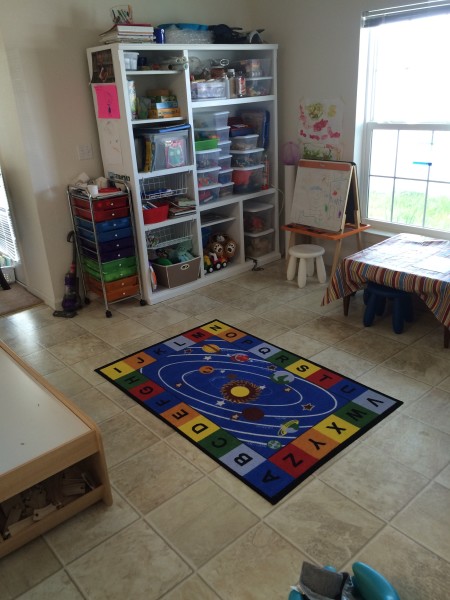 Here's a picture that is a little more zoomed out. You can see the white shelf, the art cart and our craft table (an old coffee table with a tablecloth on it) and easel sitting in new locations. We picked up some kid stools from Ikea to add seating to the little table. I pushed the dining room table to the side and added this great rug I found on Amazon. To the left is a big train table that we use all the time for activities and building materials (found it for free on the curb!).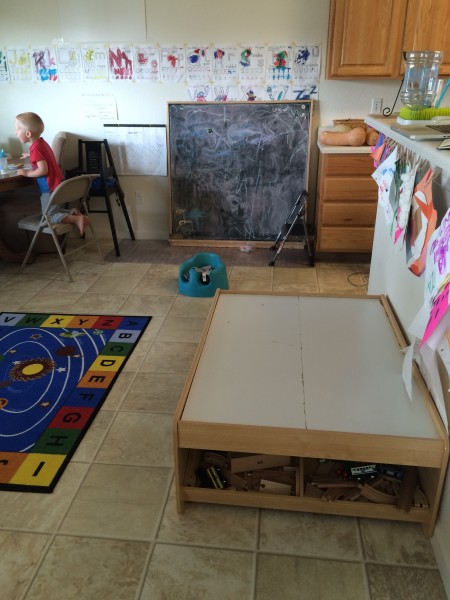 One last picture, from the other direction. You can see the edge of where the dining table is, our giant chalkboard, calendar (and other wall hangings), and another shot of our huge (free!) train table. Above the train table the wire that used to hold all K's Play Through The Bible Crafts now holds all his daily creations.
And that's it! It's not fancy, and I'm always shifting things around, but it works for us! It's great to have a place for all our materials and now it is the perfect place to contain all K's things that need to stay away from little baby hands.
---
*UPDATE*
So, apparently I'm addicted to moving things around because I rearranged again before I could even get this post up.
Here's what I did…
I fixed the area on the white shelf that I wasn't happy with. Moved some toys out and swapped them with the toddler toys that were up in K's room. I moved the baskets all to one cubby, too. So now there are four shelves in that one cubby. That area will have our nature tray on top, and then the other three shelves are for learning activities that reflect what we are currently working on. K can access these materials whenever he feels like working on them.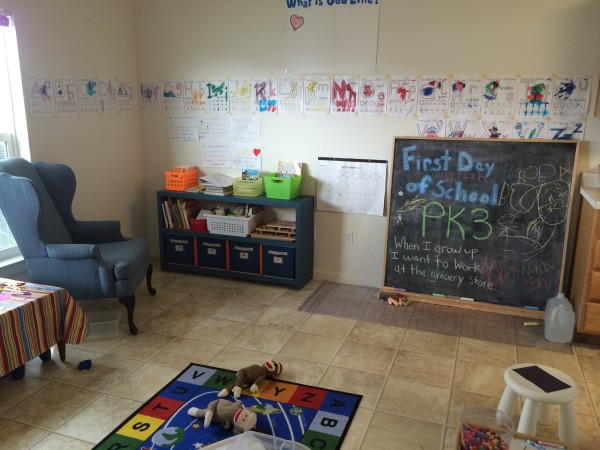 The big change was that I finally gave up on this space functioning as a dining room! I moved the table out and put it somewhere else. Then, I moved one of K's shelves from his room and put it where the table was for extra storage. I think it ended up working out really great!
Where do you store your preschool materials?
Affiliate links included. Thank you for using your purchases to help support Simple Life. Messy Life.