Hero Training! Kid's Character Challenge – Week 7 – Patience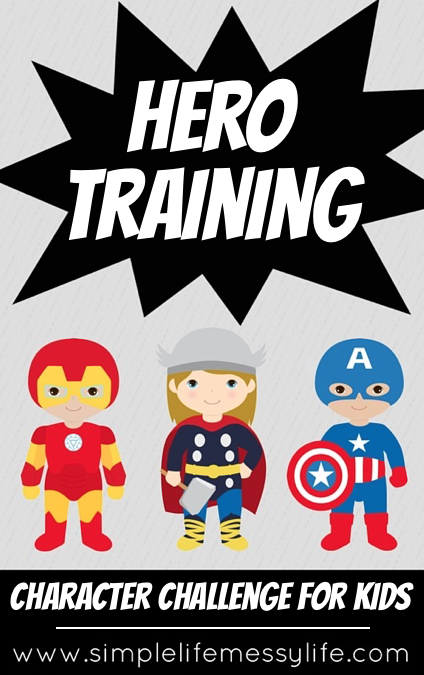 I can't believe we only have two weeks of Hero Training left! We will be finishing up just in time for you to start your Advent activities (are you doing Truth in the Tinsel?). This week we are working on a much needed virtue around here – patience!
If you haven't read the introduction to the series yet, check it out here (it has all the instructions and info you'll need).
Get past weeks here: week one (helpful), week two (self-controlled), week three (creative), week four (attentive), week five (diligent), week six (joyful)
I hope you have fun doing the challenges and, don't forget, if you're joining in be sure to use the hashtag #herotrainingcc on instagram and twitter!
Lesson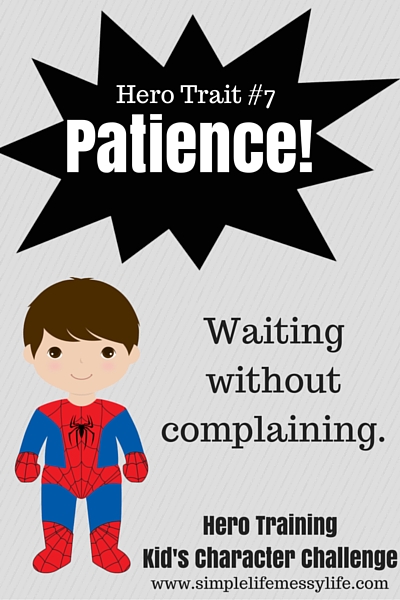 Hero Trait: Patience
Definition: Waiting without complaining.
Super Hero: Spiderman (honestly, this is the first one that I just really didn't have a reason for connecting the hero to the trait – but K didn't seem to mind!)
Memory Verse: "Be completely humble and gentle; be patient, bearing with one another in love." (Ephesians 4:2)
Examples of Jesus Displaying this Trait:
Jesus was patient with Paul (1 Timothy 1:16)
Jesus was patient with the disciples (Mark 4:35-40)
Discussion Questions:
What are some ways that Jesus was patient?
Can you think of a time that you were patient?
Has someone ever been patient with you?
Why is it important to be patient?
When are some times that you need to be patient?
Notes:
We used the peg people we made here to play out some stories of Jesus having patience with his disciples. We also talked about the story of Paul a little bit.
With a new baby to get used to these past few months, K has heard a lot about being patient. This was great for getting some extra practice in!
Every week we listen to the song "Jesus is my Superhero" to remember who is the best super hero of them all! We talk about how Jesus is the best hero because he saved us and about how he is the only one who can do all the hero traits perfectly. I found this awesome version (Lego stop motion!) of the song on youtube and K loved it!
Challenges
Challenge #1
Memorize this week's verse!
Challenge #2
Act out a scenario where you have to be patient.
This was great for K to learn more about being patient. We role played a couple common scenarios in our house. In the first, K asked me to read a book, but had to wait patiently while I finished what I was working on. In the second, K practiced waiting for baby J to finish playing with a toy he wanted. I played the part of baby J and he thought it was quite hilarious.
Challenge #3
Learn the motions to the patience song. 
We found this really fun song that is about being patient. We listened to it a couple times and tried out the fun motions that go along with it. We listened to it via this youtube video.
Challenge #4
Make a snack that requires you to be patient.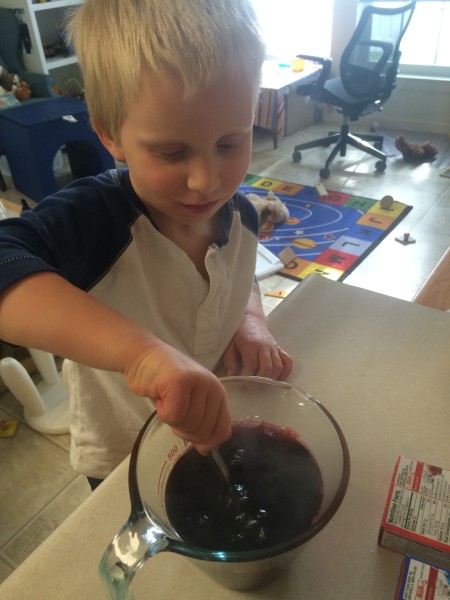 Make a yummy treat that you have to wait on for a while before you can eat it. We thought about making popsicles, but decided to make Jello instead. Waiting for it to set up in the fridge was a good time to practice patience!
Challenge #5
Make a glue suncatcher
Similar to challenge #4, this craft requires waiting patiently to see the finished product. If this specific craft doesn't work for you, feel free to substitute it with any other craft that requires a little bit of waiting. We found the inspiration for this craft here.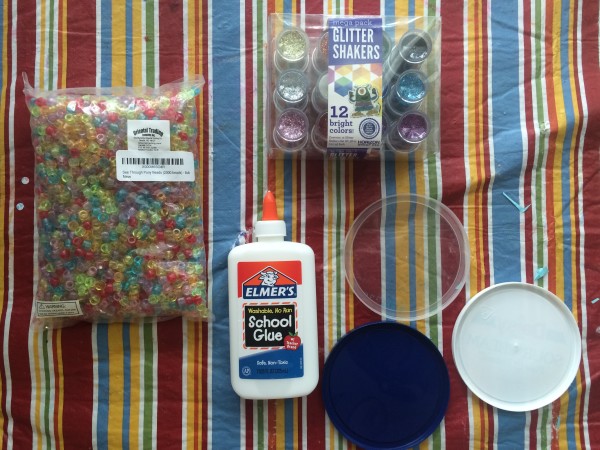 Supplies Needed:
Elmer's glue
Plastic lids (from yogurt containers, etc)
Pony beads
Glitter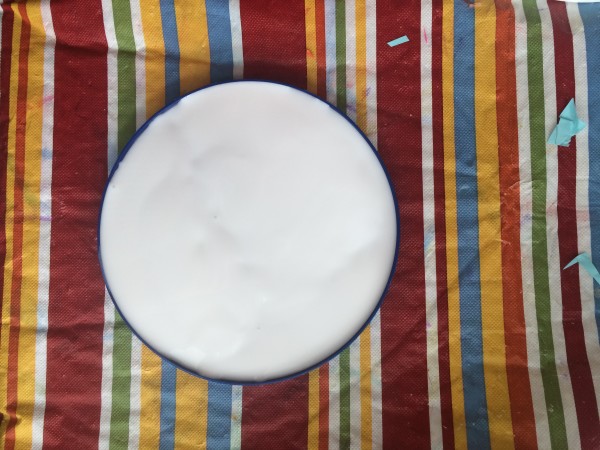 First, fill up the lid with the glue. You'll need quite a bit because the glue will shrink as it dries.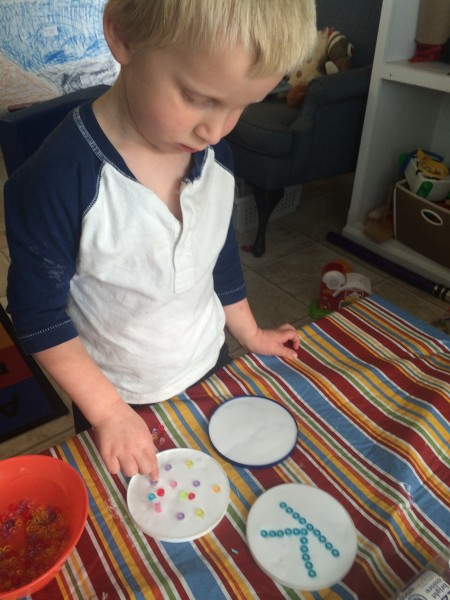 Place beads in the glue in whatever design you want.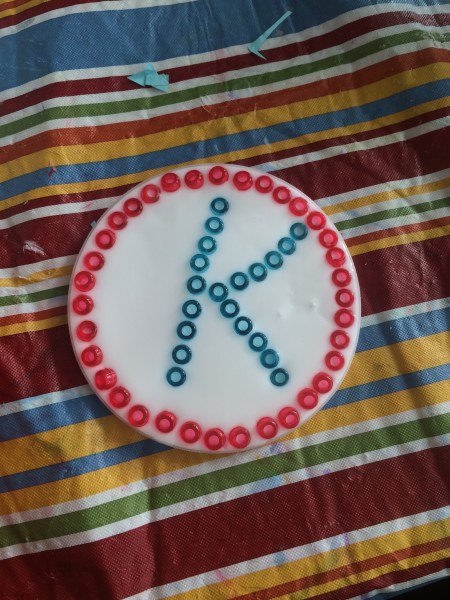 I did one too. Couldn't resist, it was so much fun!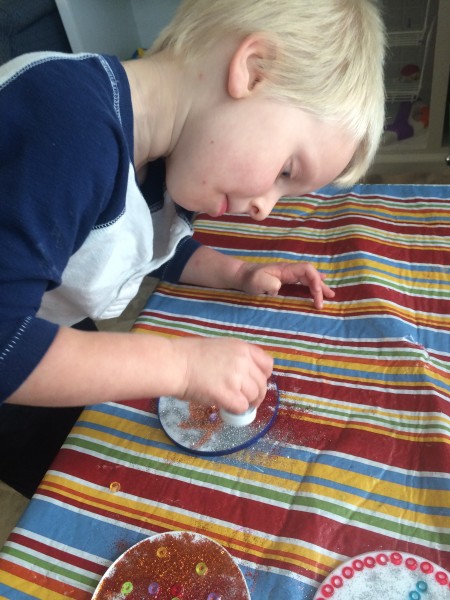 Next, sprinkle on a little (or a lot!) of glitter. I'm not going to lie, K is almost four years old and I'm pretty sure this is the first time we've braved the use of glitter! If you're not feeling the glitter, feel free to skip this step. In retrospect, we should have put a tray underneath to contain the mess!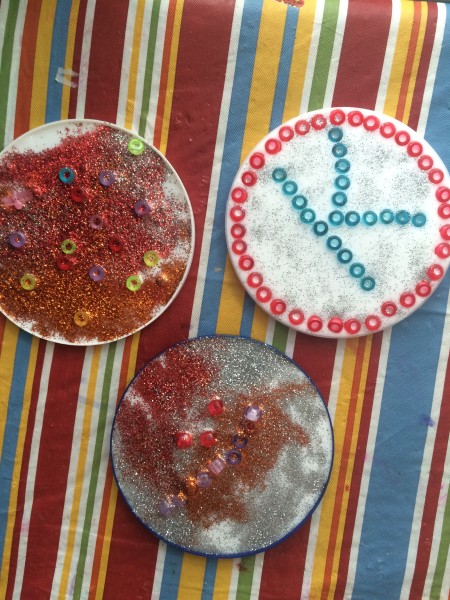 Now comes the patient part! From what I read, they should take 3-4 days to dry. Ours aren't quite done yet, so I'll post an update when they are finished!
**UPDATE**
They turned out SO CUTE! This was a really fun craft and we'll definitely be doing it again. Make sure you really fill that lid up with glue, because it shrinks a lot.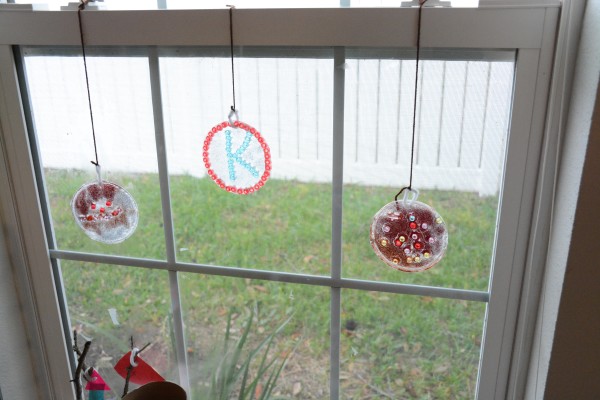 Character Badge
Once you've completed all the challenges you've earned another character badge! Find the tutorial here to make your own super hero cape and character badges.
If you come up with another way of giving "badges" (or something similar) to keep track of your child's progress – I'd love to see it! I'd also love to see how you complete the challenges! Tag your post with #herotrainingcc on Instagram or Twitter!
Well, that's it for week seven of Hero Training! If you join in, I'd love to hear from you. Let me know how it is going in the comments!
Affiliate links included.