Hero Training! Kid's Character Challenge – Week 8 – Truthful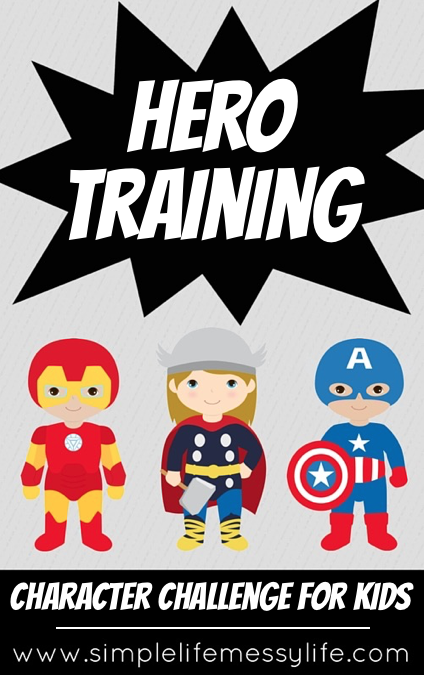 It's the last week of Hero Training! Woo! What a blast! This week is all about being truthful. I don't know about you, but in our family telling the truth is very serious business. K knows that lying will get him in big trouble, so it was great to use this time to dig a little deeper into why we always tell the truth.
If you haven't read the introduction to the series yet, check it out here (it has all the instructions and info you'll need).
Get past weeks here: week one (helpful), week two (self-controlled), week three (creative), week four (attentive), week five (diligent), week six (joyful), week seven (patient)
I hope you have fun doing the challenges and, don't forget, if you're joining in be sure to use the hashtag #herotrainingcc on instagram and twitter!
Lesson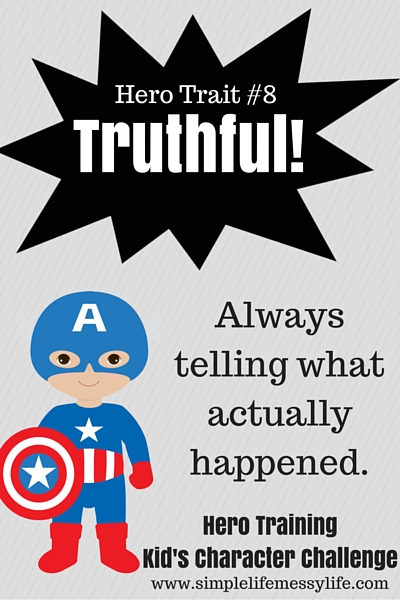 Hero Trait: Truthful
Definition: Always telling what actually happened.
Super we : Captain America (He seems like a pretty honest guy!)
Memory Verse: "So stop telling lies. Let us tell our neighbors the truth, for we are all parts of the same body." (Ephesians 4:25)
Examples of Jesus Displaying this Trait:
Jesus is the way, the truth, and the life. (John 14:6)
Jesus was honest with Peter when he called him out for speaking what was false. (Matthew 16:23)
Jesus was honest with the Pharisees (Matthew 23)
Discussion Questions:
What are some ways that Jesus was truthful?
Can you think of a time that you were truthful?
Can you think of a time when you weren't truthful?
Why is it important to be truthful?
Notes:
We talk a lot about being truthful because it is very important in our house. Lying is something that will get you more in trouble than whatever the original infraction was.
We talked about how Jesus said he is the truth. We should want to tell the truth to be more like Jesus.
The other reason for telling the truth that we talked about is that when we lie, people can't trust us anymore.
Every week we listen to the song "Jesus is my Superhero" to remember who is the best super hero of them all! We talk about how Jesus is the best hero because he saved us and about how he is the only one who can do all the hero traits perfectly. I found this awesome version (Lego stop motion!) of the song on youtube and K loved it!
Challenges
Challenge #1
Memorize this week's verse!
Challenge #2
Read the story of "The Boy Who Cried Wolf" and act it out.
I just told K the story from memory, but you can also find it here. K liked the story, but he really liked acting it out. He played the part of the boy, I was the townspeople, the baby was the sheep, and a stuffed animal was the wolf. He thought it was hilarious and it helped him remember the story.
Challenge #3
Talk with your mom or dad about the consequences for lying. 
Sometimes it's good to review the consequences for certain behavior. We talked about what would happen if he were to lie and why we treat lying so seriously.
Challenge #4
List as many truths about Jesus as you can.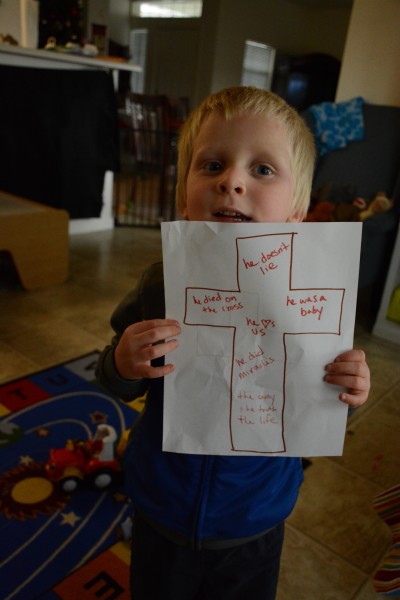 Since Jesus is the truth, we decided to list a bunch of true things about him. I drew the outline of a cross on paper and wrote what we came up with inside.
Challenge #5
Broken Truth "Craft"
This craft isn't really a craft, it is more of an object lesson in the disguise of a craft. I think it really helped the message sink in for K!
Supplies Needed:
Piece of white paper
Piece of colored paper
Scissors
Glue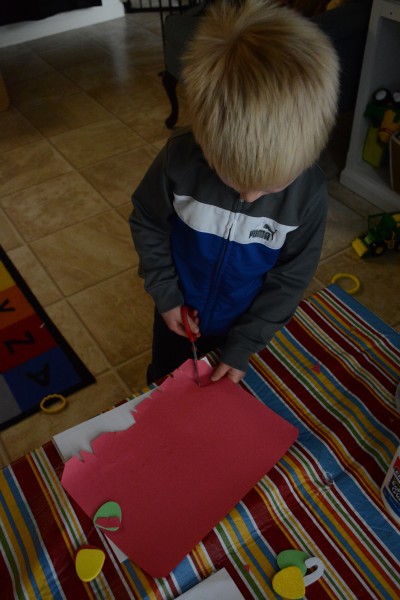 First, have your child cut up the colored piece of paper. Have them make as many little pieces as possible. Don't tell them why quite yet!
Once they are done cutting, tell them to try and glue the colored paper back together just like it was before they cut it. It won't take long for them to realize this is not possible!
Explain that the paper is like broken trust. Once trust is broken, it is very hard, and sometimes even impossible, to repair the trust like it once was.
I wasn't sure if K would make the connection – but he definitely did! This is his "this isn't possible!" face. It led to a good discussion! (Note: at this point, the "craft" is over, since you can't actually do it. Feel free to let your child continue to create with the paper and glue though!)
Character Badge
Once you've completed all the challenges you've earned another character badge! If you've done the last seven challenges then this is the last one! (Find the tutorial here to make your own super hero cape and character badges.)
If you come up with another way of giving "badges" (or something similar) to keep track of your child's progress – I'd love to see it! I'd also love to see how you complete the challenges! Tag your post with #herotrainingcc on Instagram or Twitter!
Well, that's it for week eight of Hero Training! I can't believe we're finished! It's been so fun, I hope you and your little ones have enjoyed it too!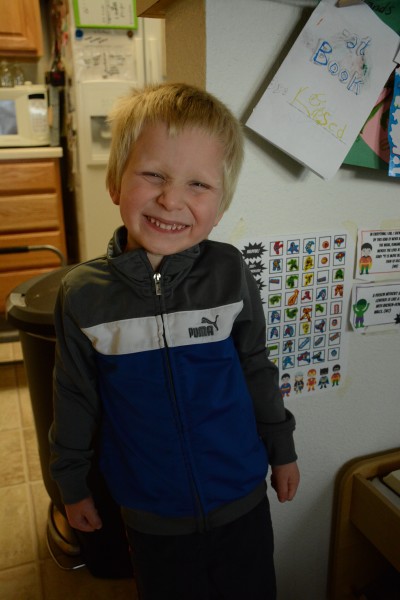 K with his completed chart!
Affiliate links included.